If you or someone you love has been injured in a recent Tampa boating accident, contact Vanguard Attorneys for a free consultation with one of our experienced Tampa boat accident lawyers. You may be eligible for financial compensation from one or more parties, such as the owner or operator of the boat, or the vessel's manufacturer. As your legal advocates, our Tampa personal injury lawyers will help you fight for justice and fair financial compensation.
Tampa Bay is known for boating. It is a major destination for recreational and commercial boaters, with thousands of water vessels currently registered to Hillsborough County residents. Unfortunately, not every boating excursion goes off without a hitch. Every year, hundreds of preventable boat accidents cause serious and sometimes fatal injuries.
Why Choose Us?
We are trial attorneys with decades of combined legal experience among our lawyers. We have what it takes to handle even the most complex boating accident claim.
Our Tampa boating accident attorneys have a wide network of resources and close community ties to help you achieve the highest possible settlement for your boating accident case.
We have successfully recovered millions of dollars on behalf of Tampa residents in personal injury settlements and verdicts.
Your lawyer will dedicate personal time and attention to your boating accident case. You will work directly with your lawyer, not a paralegal or assistant.
How Can a Boating Accident Attorney Help?
Hiring a boating accident lawyer in Tampa can make the legal process easier for you and your family – especially if you are still dealing with the effects of the accident, such as nursing serious injuries. Your boating accident lawyer can handle complicated legal matters for you while you concentrate on healing, such as filling out and filing your injury claim, collecting evidence to prove negligence, hiring experts to strengthen your case, and negotiating with insurance claims adjusters.
Although no amount of money can make up for what happened to you, a fair and full financial award could help your family pay for necessary medical care. A lawyer can help you go up against an insurance company that may otherwise try to take advantage of you and devalue your claim. Tampa boat collision lawyers know how insurance companies operate and what to do to optimize your chances of obtaining just financial compensation for a boating accident in Tampa.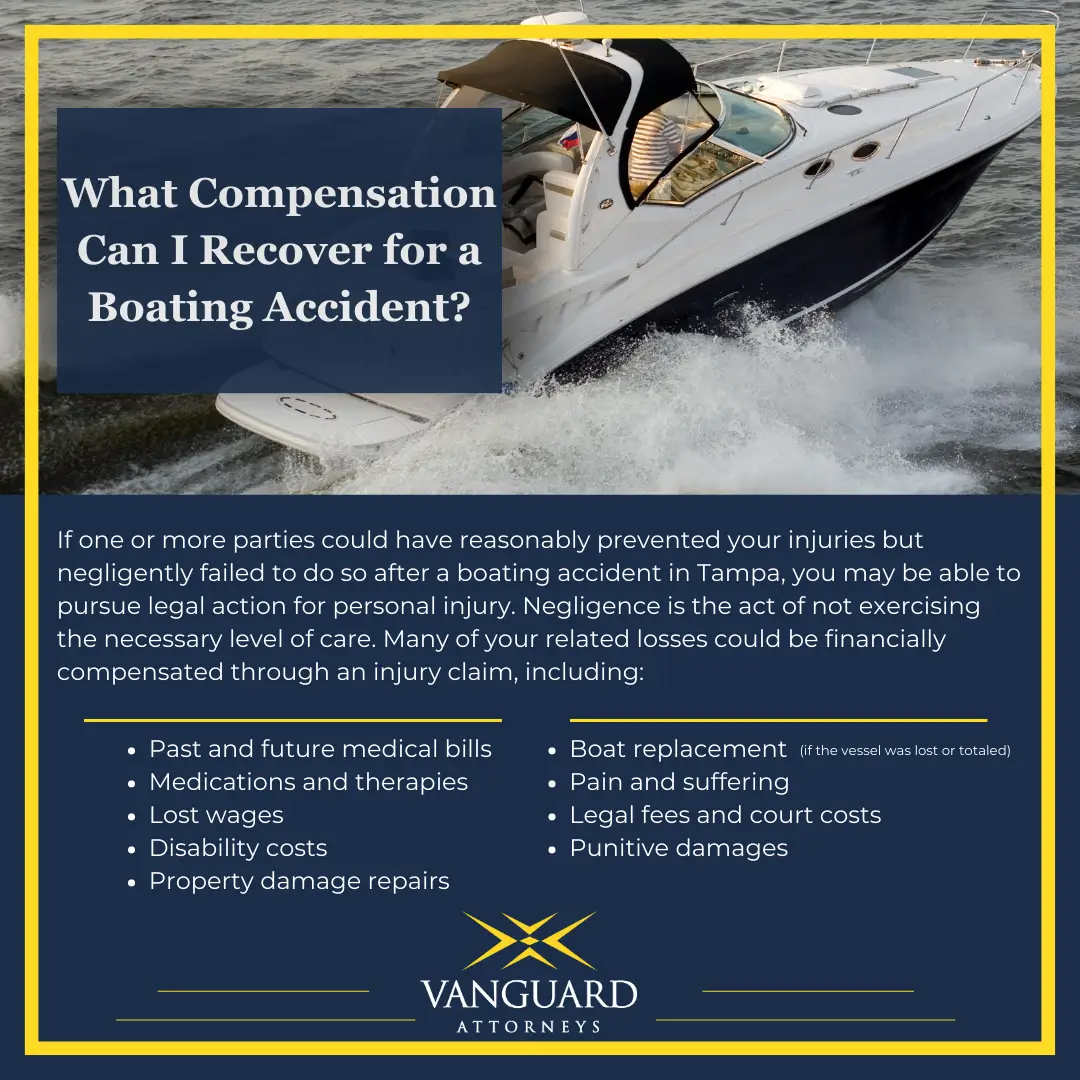 What Compensation Can I Recover for a Boating Accident?
In Tampa, you can file a personal injury claim for a boating accident if one or more parties reasonably should have prevented your injuries but negligently failed to do so. Negligence means that someone fell short of the required level of care. An injury claim could result in financial compensation for many of your related losses, including:
Past and future medical bills
Medications and therapies
Lost wages
Disability costs
Property damage repairs
Boat replacement (if the vessel was lost or totaled)
Pain and suffering
Legal fees and court costs
Punitive damages
At Vanguard Attorneys, our Tampa boating accident lawyers can investigate your accident to determine who is at fault. Then, we can help you collect evidence and pursue maximum financial compensation from all available insurance companies and sources. We will fight for the case results that you deserve, even if that means taking your case to trial.
What Are the Different Types of Boating Accidents?
A boating accident can take place in many different ways. Understanding the types of boating accidents could help you avoid or prevent one:
Boat-to-boat collisions
Boat-to-dock collisions
Collisions with fixed objects
Running aground
Run-over accidents
Slip and fall accidents on deck
Electrical hazards
Fires and explosions
Carbon monoxide poisoning
Falling overboard
Sinking/capsized vessel
Flooding
Propeller contact accidents
Drowning accidents
It is critical for boat owners and operators in Tampa to always boat responsibly. Anything that goes wrong on a boat or another type of vessel can lead to tragedy for those involved.
Causes of Boat Accidents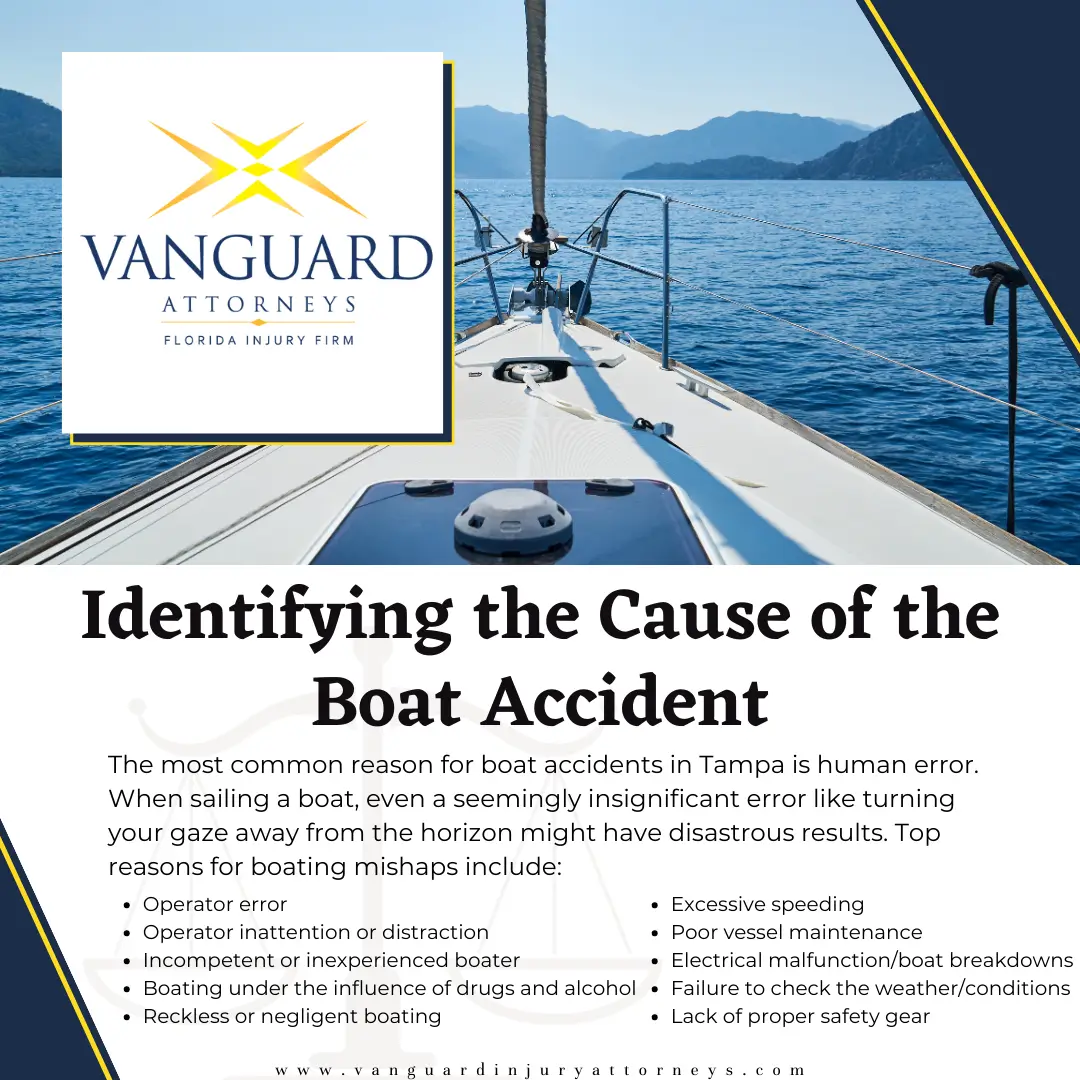 Human error is the number one cause of boat accidents in Tampa. Even a minor mistake while operating a boat, such as looking away from the water ahead, can lead to disaster. Some of the top causes of boating accidents are:
Operator error
Operator inattention or distraction
Incompetent or inexperienced boater
Boating under the influence of drugs and alcohol
Reckless or negligent boating
Excessive speeding
Poor vessel maintenance
Electrical malfunctions or boat breakdowns
Failure to check the weather and water conditions before embarking
Lack of proper safety gear
Identifying the cause of the boat accident is one of the first steps toward obtaining compensation for your losses. If the operator of the boat or another party should have done something differently to prevent the crash, he or she may be held financially responsible for your injuries and property damage.
Common Injuries in a Boating Accident
The type of injury suffered by a boating accident victim often corresponds with the type of accident. Falling overboard, for example, can result in drowning and a brain injury due to a lack of oxygen. A slip and fall accident on deck could result in bruises, lacerations, head trauma, a hip fracture, and muscle sprains and strains. Electrical hazards can cause electric shocks, electrocutions, fires and burn injuries. Other injuries associated with boating accidents include broken bones, drowning, back and spinal cord injuries, losses of limbs, and severe lacerations. In the most serious cases, boating accident injuries can be fatal.
Florida Boating Accident Statistics
Florida is one of the top states for boating accidents each year. In 2020 alone, 836 boating accidents took place, according to the Florida Fish and Wildlife Commission (FWC). This was a 16 percent increase from 2019. Tragically, a total of 79 people lost their lives in Florida boating accidents in 2020. Almost half (44 percent) of all boating accidents in 2020 were caused by operator inattention or failure to maintain a proper lookout.
Contact a Tampa Boating Accident Lawyer Today
You have been through enough as a survivor of a boating accident in Tampa, Florida. Let our lawyers take care of the rest. Contact Vanguard Attorneys for a free initial case consultation if you or a loved one was recently injured in any type of boating accident in the Tampa Bay area. We will help you pursue justice using personalized and proven legal strategies. For more information about your legal rights as a boat accident victim, call our Tampa boat accident attorneys at (813) 471-4444.