At Vanguard Attorneys, our sports injury lawyers have been helping injured athletes get justice for over 15 years.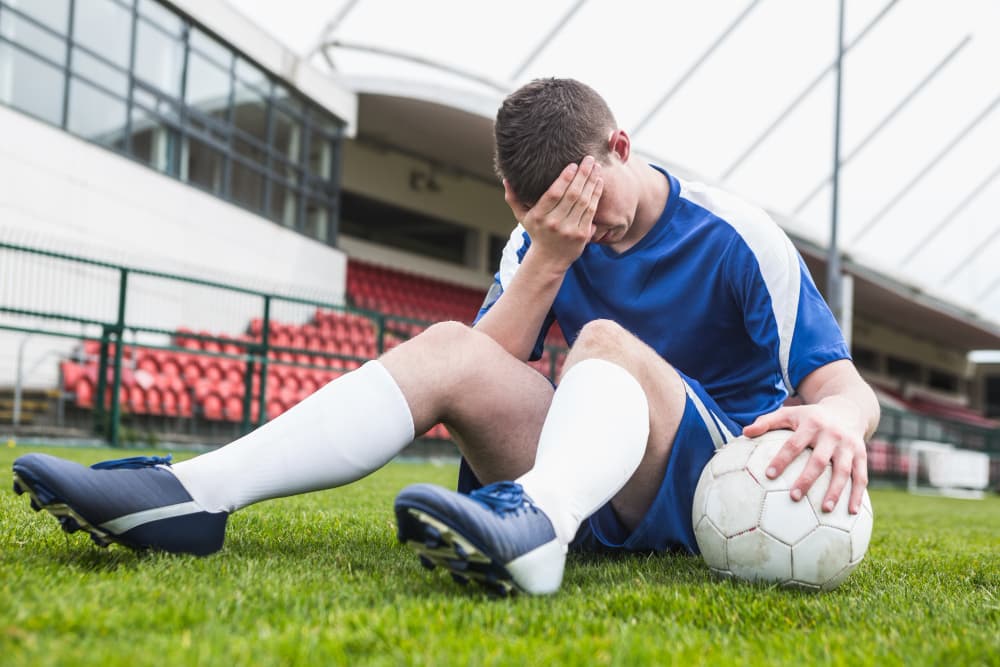 If you or a loved one suffered an injury while playing a sport in Tampa, you may be entitled to financial compensation.
For a free consultation with a sports injury lawyer, call (813) 471-4444.
No matter what sport your injury occurred in, our attorneys will aggressively pursue maximum compensation on your behalf.
Why Choose Our Sports Injury Attorneys
Vanguard Attorneys has an outstanding record of success with sports injury claims in Tampa and all of Florida.
Our lawyers are committed to holding schools and sports organizations accountable for negligence to make sports safer for Florida athletes.
Call today for a free consultation. We will review your case and explain your legal options for getting justice and maximum compensation.
Common Severe Sports Injuries
The most common severe injuries in sports are:
Traumatic brain injuries and concussions
Spinal cord injuries
ACL/MCL knee ligament tears
Achilles tendon ruptures
Shoulder dislocations and rotator cuff tears
Broken bones, fractures, and dislocations
Eye injuries, such as detached retinas or damaged corneas.
Dental injuries, like knocked out teeth.
Neck and back injuries, including herniated discs.
Internal organ damage or trauma leading to organ removal/dysfunction.
Severe lacerations, burns, or abrasions that cause permanent scarring/disfigurement.
Loss of limbs or appendages, like fingers, toes, hands, feet.
How Much is My Sports Injury Claim Worth?
The amount of financial compensation you can recover in a sports injury case depends on the circumstances and severity of your injury.
The more severe the injury and the more it causes long-term or permanent impairment, the higher the potential damages.
Multi-million dollar verdicts and settlements are possible for catastrophic injuries like spinal cord paralysis or severe brain damage.
In Florida, there's no limit on the compensatory damages a plaintiff can recover in a personal injury case. That includes economic and non-economic losses like pain and suffering damages.
In sports injury cases, some of the factors that influence compensation are:
The type and severity of the injury.
More traumatic injuries like fractures, dislocations, concussions, spinal cord damage, etc. often result in higher settlements or verdicts.
Time spent in medical treatment and rehabilitation.
If negligence caused an injury requiring multiple surgeries and months or years of physical therapy, the claim value typically increases.
Ongoing medical expenses.
We'll seek compensation for all past and future medical costs related to the injury, which could include medications, specialized equipment, home healthcare, etc.
Lost income.
If the injury prevented you from working for a period of time, you deserve compensation for that lost pay. Loss of future earnings for injuries impacting your career are also recoverable.
Pain, suffering, and emotional distress.
The physical and emotional toll sports injuries take is often severe. Our lawyers will aggressively seek additional payouts for this.
Our lawyers have recovered multi-million dollar verdicts and settlements for our clients.
You can trust our team of attorneys to win maximum compensation for your sports injury.
What Are the Elements of Negligence in a Sports Injury Claim?
To win compensation for a sports injury claim, you must prove four key elements of negligence:
Duty of care. The party responsible for the injury had an obligation to protect the safety and well-being of the injured athlete.
Breach of duty. The responsible party failed to uphold the duty of care through unsafe actions or failure to take reasonable precautions.
Causation. Breach of the duty of care directly resulted in the athlete suffering the injury.
Damages. Because of the injury, the victim endured identifiable losses like medical costs, lost income, pain and suffering, etc.
Our lawyers work with experts to investigate accident scenes and collect evidence to prove the negligent actions (or inaction) of the defendant caused the client's injury.
We'll collect witness statements, facility records, accident reports, medical documentation, and other evidence to build a strong claim.
Who Can Be Held Responsible in a Tampa Sports Injury Case?
Seeking compensation for your sports injury starts with identifying liable parties whose negligence led to the accident.
A single injury can involve multiple liable defendants.
Depending on the specific circumstances, we may pursue injury claims against:
Coaches and training/medical staff
Team coaches and staff owe players a duty of care to create safe conditions, offer proper instruction, and prevent/treat injuries.
Public and private schools
Schools must ensure sports programs are run safely and that facilities/equipment meet safety standards.
Local community and recreational sports organizations
Like schools, these groups are responsible for keeping players safe in their sports leagues.
Sporting goods manufacturers
If defective sporting equipment contributed to an injury, the company can be held liable.
Our sports injury attorneys will conduct a thorough investigation and identify all negligent parties.
Traumatic Brain Injuries in Youth Sports
According to the CDC, 283,000 children went to the emergency room each year for sports-related traumatic brain injuries from 2010-2016.
Contact sports accounted for about 45% of all sports-related traumatic brain injury emergency room visits.
According to the Florida Department of Health, concussions are most common in ice hockey and football injuries.
Other sports with high rates of concussion include equestrian sports, boxing, soccer, bicycling, martial arts, wrestling, and lacrosse.
Florida's Youth Athlete Concussion Bill
Florida's youth athlete concussion law has been in effect since July 1, 2012.
The law requires coaches and trainers to remove athletes from play if they suspect the player has sustained a concussion or other head injury.
The athlete is not allowed to continue practice or competition until an appropriate health care practitioner gives written medical clearance for the athlete to return to play.
If a coach or trainer allowed a player to continue playing after an apparent head injury took place, that negligent behavior may make them liable for the player's injuries.
Contact a Tampa, FL Sports Injury Lawyer
Sports injuries can have a major impact on your life. The sports injury lawyers at Vanguard Attorneys are here to help.
Contact us today to schedule your free case consultation with a Tampa sports injury lawyer.
Works Cited
Kelly Sarmiento, Jill Daugherty, Lara DePadilla & Matthew J. Breiding (2020) Examination of sports and recreation-related concussion among youth ages 12–17: results from the 2018 YouthStyles survey, Brain Injury, 34:3, 357-362, DOI:10.1080/02699052.2020.1723165
Florida Department of Health. Youth Sports Concussions Overview. Accessed October 2023, https://www.floridahealth.gov/programs-and-services/prevention/injury-prevention/youth-sports-concussions/index.html
Centers for Disease Control and Prevention. HEADS UP to Youth Sports: Concussion Resources. Accessed October 2023, https://www.cdc.gov/headsup/youthsports/index.html
Mayo Clinic News Network. Mayo Clinic Expert Offers Information on New Florida Concussion Law, Tips for Athletes. Accessed October 2023,
https://newsnetwork.mayoclinic.org/discussion/mayo-clinic-expert-offers-information-on-new-florida-concussion-law-tips-for-athletes/
Florida Bar Journal. Computing Economic Damages in Florida Wrongful Death and Personal Injury Cases. https://www.floridabar.org/the-florida-bar-journal/computing-economic-damages-in-florida-wrongful-death-and-personal-injury-cases/