If you are involved in a car crash, the Tampa car accident lawyers at Vanguard Attorneys can fight for your right to maximum compensation.
Our lawyers will guide you through each stage of the claims process and secure the settlement that you deserve. Car accidents happen every day on Florida roads.
These collisions can result in painful, debilitating injuries that could significantly impact your daily life, preventing you from going to work, completing daily tasks, and spending time with your family and friends.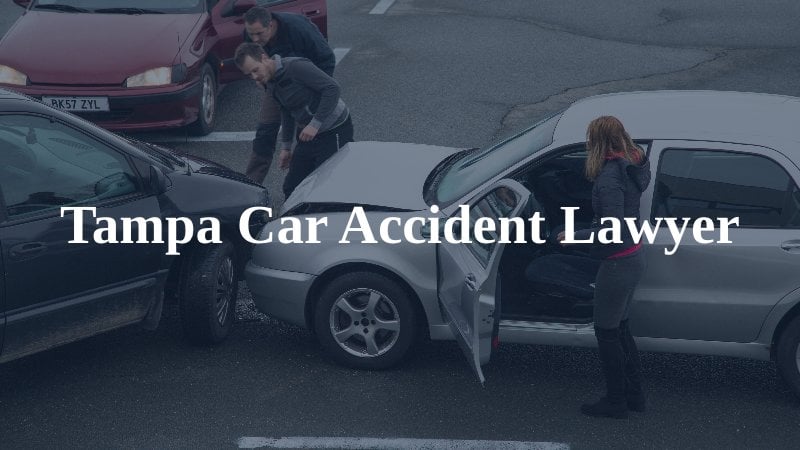 Navigate This Page
Why Choose Our Tampa Car Accident Attorneys
Our accident attorneys have decades of combined experience and have represented injured motorists throughout the Tampa area.
We value open and honest communication. Your Tampa car accident lawyer will work closely with you throughout your claim and will be available to answer any questions that you may have.
Our personal injury law firm in Tampa takes all cases on a contingency fee basis. You will not pay legal fees unless we secure a settlement on your behalf, limiting your out-of-pocket costs.
Our Car Accident Case Results
$1M in a Tampa t-bone car accident
$1.1M in a truck crash in Tampa
$490K in a multi-car collision on a Florida interstate freeway
Do I Need a Tampa Car Accident Attorney?
No one plans to find themselves in a car accident, and the resulting chaos can overwhelm anyone. Our Tampa personal injury lawyers want to help you through this complex process and make sense of what can seem like unending paperwork and confusing legal actions. Insurance laws in Florida produce complex legal questions and pitfalls that can force people into settlements that will not cover the cost of their injuries and damage to their vehicle. Our car accident lawyers have the necessary legal expertise and understanding to assist you through this process and help you try to get the results you want. For our clients, we are able to help negotiate with the other person's insurance company as well as keep track of all your medical bills and other costs associated with your accident. The insurance companies are trying to settle cases like yours every day and they count on your inexperience with their tricks. However, our Tampa accident lawyers at Vanguard Attorneys can help you navigate the confusing process to try and get you what you deserve. Our personal injury law firm prides itself of working as trial experts and we will fight for you, all the way to a court trial if the insurance company will not provide a fair settlement.
What Damages Can My Tampa Car Accident Lawyer Recover?
After a car accident, your expectations of what comes next can result in confusion and frustration and our Tampa car accident lawyers are here to help protect you and make sense of your next steps. We offer our clients a free consultation and will review the facts of your case to help you determine what next steps you should take, and if you will need to file a suit against an insurance company. When it comes to determining the value of your injury claim our Tampa auto accident lawyers take multiple variables into account including:
Future lost wages: if your injuries from your accident require you to miss work for a significant amount of time, you may have a right to the wages that you would have potentially earned during that time.
Lost wages or lost income: the compensation that you could have earned.
Medical bills: the cost associated with any doctors' visits, scans, or treatments for injuries caused by your accident.
Pain and suffering: this form of compensation can include coverage for medical treatment of anxiety, depression, fear and other mental injuries causing distress or mental anguish.
Funeral costs: a family member may have the ability to recover some of the damages from the list here, as well as funeral costs and death-related expenses if they lose a loved one in an accident.
If you'd like to speak with a Tampa car accident attorney about your case, contact Vanguard Attorneys without delay.
When Can You File a Third-Party Claim in Florida?
Florida is a no-fault state, meaning that injured car accident victims in car accidents are generally responsible for their own damages. You can only recover damages related to your financial losses through a first-party insurance claim, like medical expenses or lost wages. However, if your injuries meet Florida's serious accident injury thresholds, you could pursue a personal injury claim against the at-fault motorist's insurance policy. Third-party claims also enable you to recover compensation for the full extent of your injuries, including non-economic pain and suffering damages. Car accident injuries are considered serious if they involve one or more of the following criteria:
Significant and permanent loss of an important body function
Significant and permanent scarring or disfigurement
Permanent injury
Wrongful Death
Filing a claim is especially important in personal injury cases involving the death of a loved one.  The loss of a loved one is tragic and takes an incredible toll on families. This toll can be emotionally, but also financial.  Motor vehicle deaths create a significant financial loss that can never be replaced. In fact, in 2018, Florida fatal crashes created $4.40 billion in financial losses. $36 million of which was medical cost, the other $4.35 billion in lost earnings that that person would have earned had they not been killed. As difficult as it can be to think about after a loss, it is vital that your Tampa accident attorney understands the full impact that a death or serious injury has on you and your family's life. If you are unsure whether you qualify for a third-party claim, speak to an accident attorney at Vanguard Attorneys as soon as possible. Your Tampa car accident lawyer can examine your medical records and consult with medical professionals, helping identify the severity of your injuries. After your consultation, your lawyer can take the first steps toward pursuing financial compensation.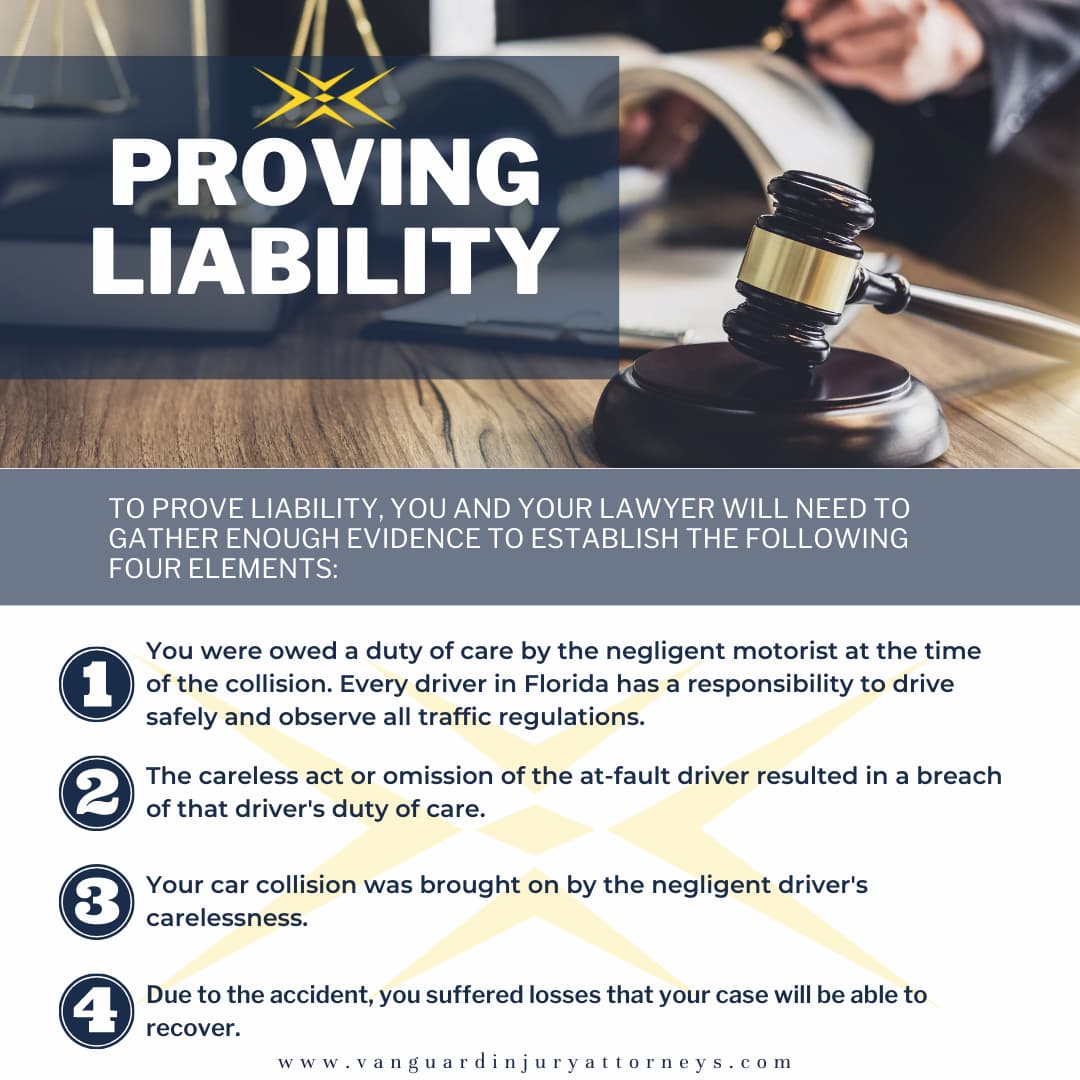 Proving Liability in Florida Car Accidents
If you believe that another party was responsible for your car accident and your injuries exceed the serious injury threshold, you may file a claim against the at-fault driver's insurance. To prove liability, you and your lawyer will need to gather evidence to establish the following four elements:
The at-fault driver owed you a duty of care at the time of the accident. All drivers have a duty to operate their vehicles safely and follow all Florida traffic laws.
The at-fault driver breached his or her duty of care through a negligent act or omission.
The at-fault driver's breach of duty caused your car accident.
You sustained damages in the accident that you can collect in your lawsuit.
For example, say that you are injured after a drunk driver swerves into your lane and collides with your vehicle. Drunk driving is illegal in Florida and committing this act is a violation of the driver's duty of care. Multiple pieces of evidence can establish causation, including police records and witness testimony. Proving liability in a Tampa car accident claim can be complex, especially if your accident involves multiple vehicles or an unclear chain of events. Your car crash attorney can conduct an in-depth investigation into your accident so that you can gather the evidence necessary to establish your right to maximum recovery.
Common Causes of Car Accidents
Despite being labeled as accidents, motor vehicle collisions are typically not accidents. In most cases, they are the direct result of human error or inattention and are entirely preventable.  This lack of care is referred to as negligence in car accident lawsuits.  Behaviors that may be considered negligent include:
Inattention
Driving while under the influence of drugs or alcohol
Fatigued driving
Failure to obey posted signs and signals
Impatient driving (speeding, unsafely switching lanes, tailgating, etc.)
Physically distracted driving (putting on makeup, eating, etc.)
Unmaintained automobiles (improperly secured materials, non-properly functioning brakes, broken turn signals, unlit headlights, etc.)
Visually distracted driving (texting, rubbernecking, failing to pay proper attention)
Unsafe speed for weather and road conditions
While human error is the most common cause of car accidents, other factors may come into play as well, including:
Poor road conditions or road maintenance
Lack of signs or traffic signals where crash occurred
Poor visibility
Condition of vehicle and vehicle part
Defective auto parts
Unsafe road design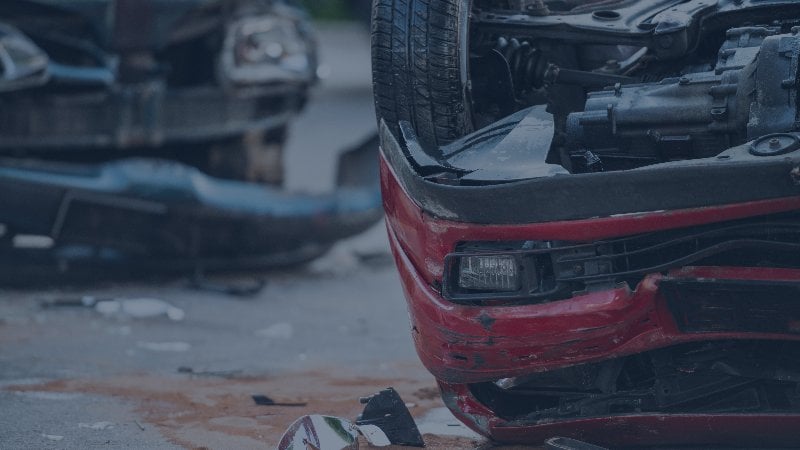 Common Car Accident Injuries
Car accidents can generate significant impact and force, causing serious injuries to motorists and their passengers. Many car accident victims sustain permanent complications as a result of their collisions, which require extensive and long-term medical care. Common types of car accident injuries include the following:
Broken bones
Internal organ damage
Burn injuries and scarring
Facial injuries and disfigurement
What to Do After A Tampa Car Accident
The hours, days, weeks and months that follow your accident have the ability to impact your recovery and what your life will look like for years beyond your accident. In the immediate days following your car accident it can seem overwhelming, but if you take these actions you can help the process and protect yourself.
Get Medical Care
Following your crash, make sure you seek appropriate medical attention as it can take days before symptoms show the full extent of your injuries.
Take Note of All Information
The time before you leave the scene of the accident can provide pivotal records of what has happened during your accident. Take photos of any damage, contact information of the other driver and their insurance company, and anything else about the scene that seems impactful to your accident can prove invaluable during the life of your car accident case.
Consult One of Our Car Accident Lawyers
Our team has the experience built over decades in the practice of personal injury in the Tampa area and statewide across Florida, and we want to help you through this difficult process. The expert Tampa car accident attorneys and our support staff at Vanguard Attorneys have gone through this process with countless other clients and can provide assistance with all aspects following your car accident including doctor's appointments, medical bills and the other person's insurance company.
We Consult with Industry Experts to Solidify Your Accident Claim
Many insurance companies have in-house lawyers who defend all of their claims, so they prefer to take a case to court rather than settle. Our team of car accident attorneys in Tampa has experience at trial and begin preparing your case for trial as soon as we take a case. We know how to litigate in Florida courts, and we will give you every advantage in a courtroom. After a complex and difficult auto accident, you could focus on a quick settlement, but for Vanguard Attorneys the most important part of the work we do is making sure that we can help our clients navigate what comes next for them and how to handle these new steps. When handling your Tampa personal injury case, we will prepare with field experts to testify in a variety of areas including:
Accident reconstruction
Forensic economics: the calculation of financial damages in litigation.
Forensic toxicology: the use of toxicology and disciplines such as analytical chemistry, pharmacology and clinical chemistry to aid medical or legal investigation of death, poisoning, and drug use.
Hedonics: refers to compensation for the loss of enjoyment or value of life and sometimes can mean the lost intangible value of life.
Lifecare planning: the plan for the lifetime needs of someone who suffers a permanent injury resulting in a disability.
Medicine
Psychology
Seatbelt function
We consult with these experts and they can explain how the car accident occurred and the impact it has had on your life.
Comparative Negligence in Florida Car Accident Cases
In some cases, the at-fault driver in your car accident may claim that you are partially responsible for the collision. If you are filing a third-party claim or lawsuit, these accusations could impact your ability to recover compensation. In the insurance process, the representative investigating your accident may use this information as justification to reduce or deny your injury claim. During a lawsuit, Florida's pure comparative negligence rules may impact your final award. According to Florida law, the court will reduce your settlement by the amount of fault that you share. For example, say that the court assigns you 40% of the fault and you request $200,000 in your claim. If the court believes that you are partially responsible for the collision, you will only receive $120,000 of your original award. In these situations, it is important to have an attorney on your side who can advocate for your best interests and help you secure the settlement that you deserve. A lawyer from Vanguard Attorneys can defend you against accusations of fault and gather the evidence necessary to prove the other party's liability, protecting your future settlement.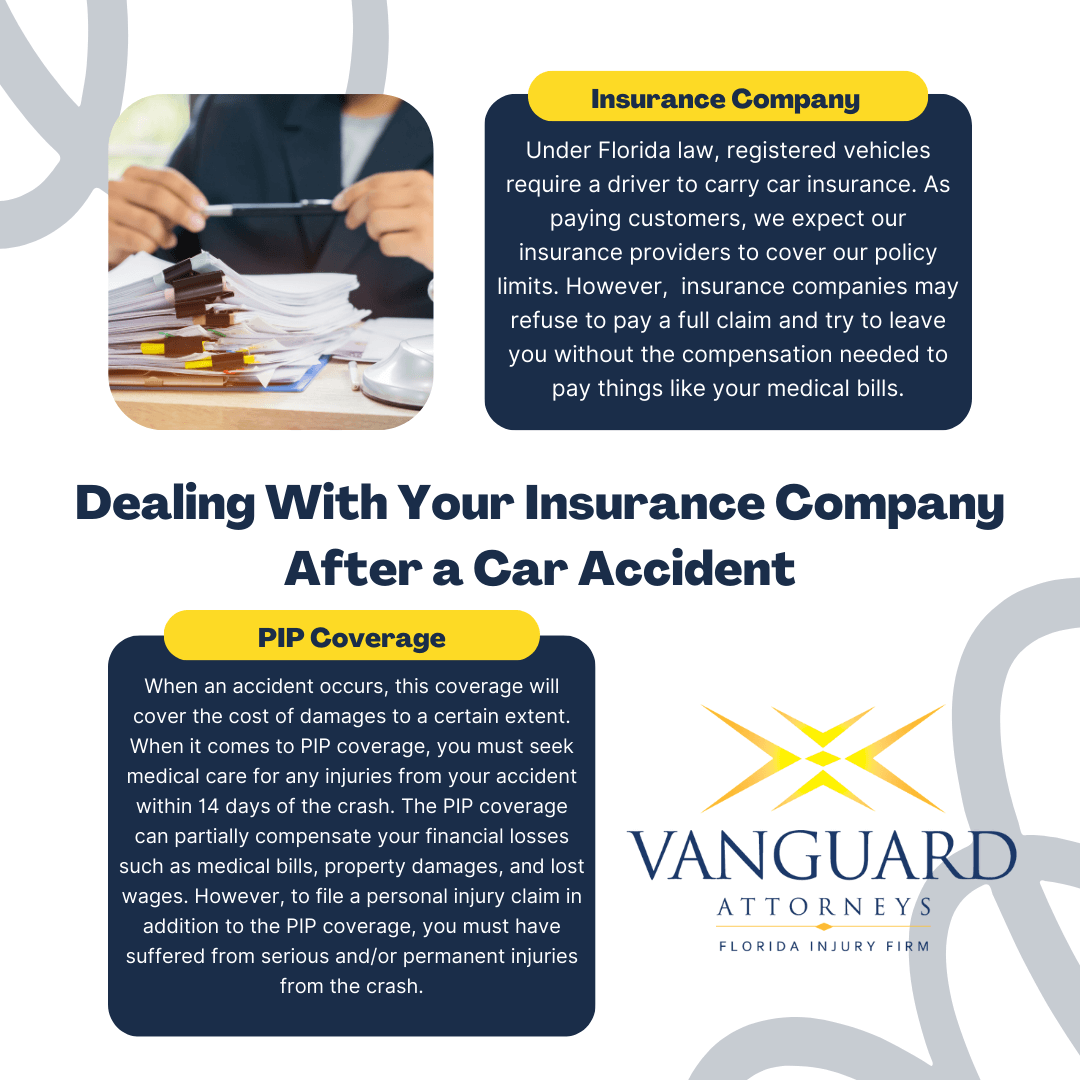 Dealing with Your Insurance Company After a Crash
Under Florida law, registered vehicles require a driver to carry car insurance. As paying customers, we expect our insurance providers to cover our policy limits. However, a myriad of complexities can occur when handling a personal injury claim following a car accident. Unfortunately, insurance companies may refuse to pay a full claim and try to leave you without the compensation needed to pay things like your medical bills. Our team of auto accident lawyers in Tampa bay can work with the insurance companies to ensure your claim meets the complex requirements and investigate all aspects of your accident to create a claim that demonstrates that the other driver was at fault and therefore bares the burden of your losses. At Vanguard Attorneys we begin preparing for trial as soon as we take on your case and prepare for any argument the insurance company may have against paying your claim.
PIP Coverage
The coverage that all Floridians must carry is called Personal Injury Protection (PIP) coverage. When an accident occurs, this coverage will cover the cost of damages to a certain extent. However, PIP coverage can limit your ability to take legal actions, so immediately after a crash, it is vital that you contact a car accident lawyer to help handle this process. When it comes to PIP coverage, you must seek medical care for any injuries from your accident within 14 days of the crash. We also need to discuss how PIP coverage works when you have suffered from an emergency medical condition, a medical condition that requires immediate medical attention and could reasonably be expected to result in serious jeopardy to the patient's health. In these types of situations, PIP coverage will typically pay for 80% of your medical expenses and 60% of lost wages, depending on the language of the policy. The PIP coverage can partially compensate your financial losses such as medical bills, property damages, and lost wages. However, to file a personal injury claim in addition to the PIP coverage, you must have suffered from serious and/or permanent injuries from the crash.
How Long Do I Have to File a Car Accident Claim?
If you get injured in an automobile accident in Florida, a law called the statute of limitations imposes a strict deadline on your right to hold someone responsible with a personal injury claim. Florida's statute of limitations on car, truck, motorcycle and other auto accident claims is four years from the date of the crash, in most cases. This is double the statute of limitations for general negligence actions, which is two years as of March 2023.
You may have more or less time than four years from the date of your car accident to file a claim, however, in special circumstances. If a child was injured in the car crash, for example, that child may be given four years from the date that he or she turns 18 to file a related injury claim. If you need to bring a claim against the government in Florida for a crash caused by a road defect, you have three years to file a notice of your claim.
Statutes of limitations can be tricky. If you wait too long and file after your statute of limitations has expired, the courts in Tampa will most likely refuse to hear your car accident case. This is why it is essential to contact an attorney as soon as possible about a potential car accident claim. Four years may seem like a long time, but your deadline can approach quickly. Take legal action sooner rather than later for a stronger case and to file well within your time limit.
How Do You File a Claim After a Car Accident in Tampa?
If you wish to file a car accident claim in Tampa, start by contacting your own car insurance company. Under Florida's no-fault law, each driver's own personal injury protection coverage will pay for medical bills after most car accidents. You must see a doctor within 14 days to be eligible for first-party PIP benefits.
If you meet the requirements (e.g., if you or a loved one suffered substantial injuries), you may be able to file a claim with the at-fault driver's insurance company. Your own car insurance company will investigate the crash to determine fault and liability after you report the collision. If a third-party claim is available to you, your insurance company can communicate with the at-fault party's insurer to seek reimbursement for your losses.
A fault-based claim will require you or your lawyer to establish liability and the four elements of negligence, as listed above. While most Florida car accident cases reach successful settlements, if an insurance company rejects your claim or refutes liability for your injuries, your attorney may need to take your case to trial in Hillsborough County. You can trust your lawyer to advocate for you in front of a judge and jury in a car accident court case, if necessary.
What Happens When Multiple Parties Are Liable in Auto Accident Cases?
In Florida, a car accident case involving multiple at-fault parties will assign a percentage of fault to each party. Each defendant will be liable only for his or her percentage of fault. For example, if a negligent driver is found to be 85 percent responsible for causing a car accident but an equipment manufacturer is 15 percent liable for a faulty seat belt that malfunctioned and contributed to the victim's injuries, each defendant will pay an amount equivalent to his or her allocated percentage of liability until 100 percent of the plaintiff's losses are covered.
Call Now for Your Free Consultation With Our Tampa Car Accident Attorneys
If you are injured in a car accident, the Tampa car accident lawyers at Vanguard Attorneys can help. Our attorneys can represent your case and help you secure the compensation that you deserve. Contact us today to schedule a free case consultation with a Tampa car accident lawyer. Our personal injury law firm is located in the Ybor City Historic District off of Nuccio Parkway and East 5th Ave. We proudly serve all of Florida, including Tampa, Brandon, Riverview and Town 'n' Country.
---
"Had a great experience with Grace, Karina and everyone at Vanguard. You will be well taken care of if you need help after an accident."

– Glen A.