At Vanguard Attorneys, our Tampa slip and fall attorneys can help you file an injury claim against the at-fault individual or entity. Our Tampa slip and fall attorneys will do everything possible to obtain the fair compensation you need to pay for medical care, physical therapy, and other injury-related costs. By making efficient use of the latest technology, our approach to personal injury law is streamlined and effective.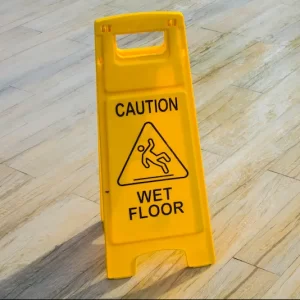 As our client, you may also benefit from the following:
Personalized attention made possible by a small caseload
Spanish-speaking services
Step-by-step guidance during the claims-filing process
To retain experienced legal counsel, contact our Tampa slip and fall lawyers at Vanguard Attorneys right away! Call (813) 471-4444.
Navigate This Page
Why Choose Vanguard Attorneys
Our Tampa personal injury lawyers have decades of experience representing slip and fall accident victims. We will leverage our skills and knowledge to protect your best interest and maximize your claim.
Slip and fall injuries can be painful and require significant recovery. Our personal injury law firm will handle your entire claim from consultation to settlement, allowing you to focus on treatment.
Our Tampa slip and fall lawyers take all cases on a contingency fee basis. You will only pay legal fees if we secure a financial award on your behalf.
Damages Available for Slip and Fall Victims in Tampa
Under Florida law, you can recover damages for your physical, emotional, and financial losses after a slip and fall accident. There are two main categories of damages: economic and non-economic.
Economic Damages
Economic damages involve your financial, tangible losses, such as the following.
Past and future medical expenses
Property damage sustained in the accident
Lost wages and loss of future earnings
Disability accommodations
Non-economic Damages
On the other hand, non-economic damages refer to the pain and suffering that you experienced. Examples of non-economic losses include the following.
Emotional distress
Permanent disability
Depression and anxiety
You may wonder how much compensation you can expect to receive in your claim. The value of a slip and fall settlement depends on the losses that you experienced. When your Tampa slip and fall attorney evaluates your case, he or she can help you identify the damages that you qualify for and estimate your potential settlement.
How Long Do You Have to File a Slip and Fall Accident Lawsuit?
In Florida, slip and fall accident victims must act quickly. According to a law known as the statute of limitations, you must file your lawsuit within four years of your accident. If you miss the filing deadline, the court will likely dismiss your case. As a result, you will not be eligible for a settlement.
In these situations, it is important to speak with a Tampa slip and fall lawyer as soon as possible. While there are some exceptions to the statute of limitations, they are not very common. To protect your right to compensation, contact Vanguard Attorneys to identify your appropriate filing deadline.
Common Injuries in Slip and Fall Accidents
If you have been injured on private or public property, you are probably dealing with a great deal of pain. Depending on the severity of your injuries, you may be unable to work for some time.
Slip and fall accidents can result in serious injuries that require significant medical care. These injuries can require weeks, months, or even years of recovery, impacting your ability to work. In some cases, you can develop permanent complications, necessitating long-term treatment.
Common injuries in slip and fall accidents include the following.
Soft tissue injuries
Broken bones, especially in the hips or legs
Spinal cord damage
Cuts, sprains, and bruises
Internal bleeding
Slip and fall incidents can be caused by a wide range of conditions, from slippery substances on floors, uneven walkways or steps, loose or missing handrails, flooring that is loose or uneven (such as carpet or floor tiles), ice, and many other dangerous conditions.
Legal Options for Tampa Slip and Fall Victims
Property owners are expected to maintain a safe environment for visitors. Those who do not may be held accountable for negligence when unsafe conditions lead to injuries.
If you are injured in a slip and fall accident, you could pursue legal action. Property owners, including landlords, store owners, and other businesses, have a duty to maintain safe premises. If these parties notice a hazard on their properties, they must fix it as quickly as possible and warn visitors of potential danger.
You can file a lawsuit or a property insurance claim against the property owner if you suffer a slip and fall due to his or her negligence. Through your claim, you can recover compensation for the medical care, lost wages, property damage, and other losses that you sustained in the accident.
To secure compensation in a slip and fall claim, you will need to prove the following facts.
Duty: The at-fault party owed you a duty of care at the time of the slip and fall.
Breach of Duty: The at-fault party breached his or her duty of care through a negligent act or failure to act.
Causation: The at-fault party's breach of duty caused your slip and fall accident and resulting in injuries.
Damages: You sustained damages that you can collect in your lawsuit.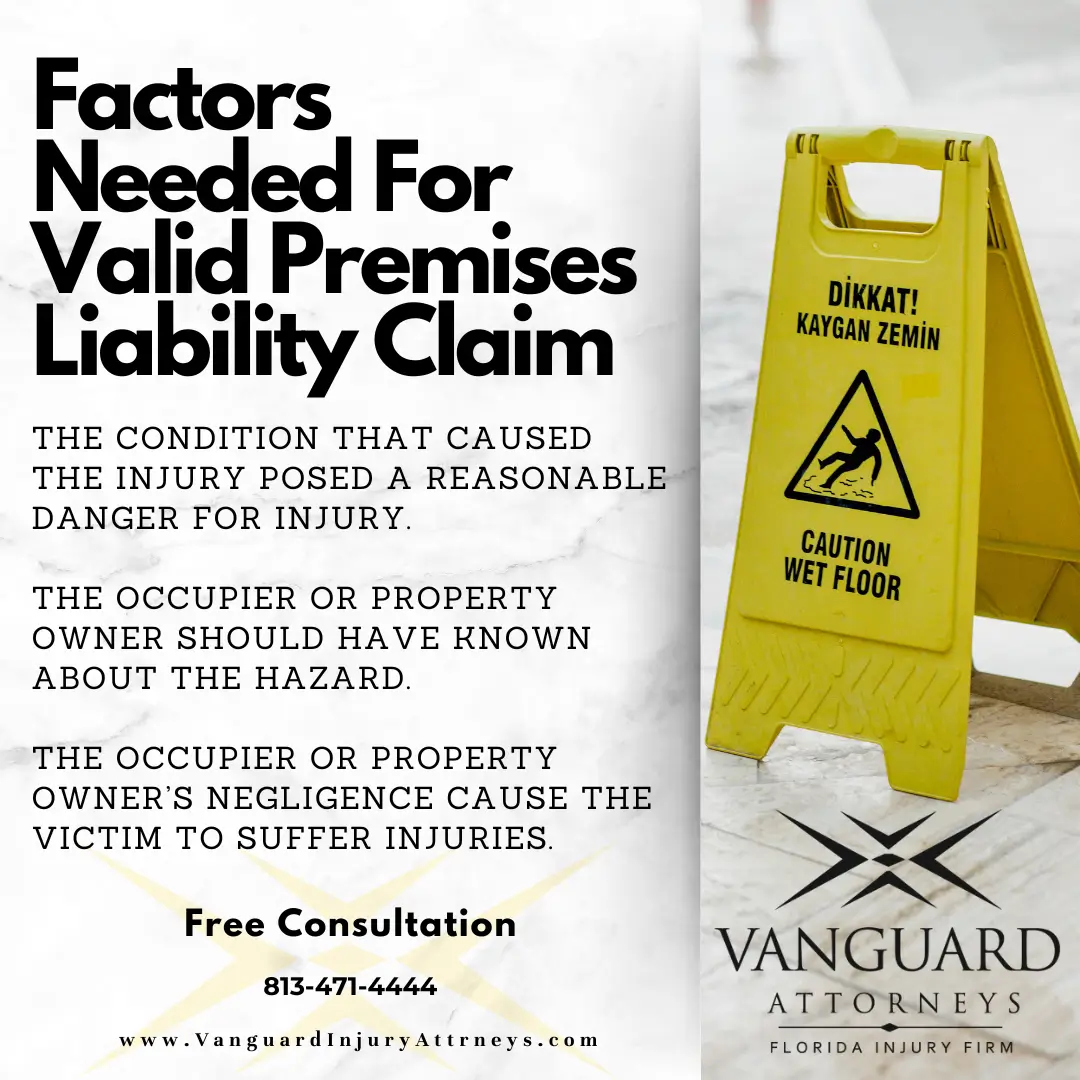 Factors Needed For Valid Premises Liability Claim
Each state has its own premises liability laws. In Florida, the following factors need to be proven before a premises liability claim can be considered valid:
The condition which caused the injury posed a reasonable danger for injury
The occupier or property owner should have known about the hazard
The occupier or property owner's negligence cause the victim to suffer injuries
Florida Statutes
768.0755
In slip and falls caused by a slippery substance on floors, the state of Florida has a specific statute for liability outlined in Florida Statutes 768.0755.
768.0755 Premises liability for transitory foreign substances in a business establishment.
1. If a person slips and falls on a transitory foreign substance in a business establishment, the injured person must prove that the business establishment had actual or constructive knowledge of the dangerous condition and should have taken action to remedy it. Constructive knowledge may be proven by circumstantial evidence showing that:
(a) 

The dangerous condition existed for such a length of time that, in the exercise of ordinary care, the business establishment should have known of the condition; or

(b) 

The condition occurred with regularity and was therefore foreseeable.
Florida Comparative Negligence Rules
In slip and fall lawsuits, it is common for property owners to defend themselves by claiming that the victim was partially responsible for the accident. The at-fault party in your case may claim that you were distracted, wearing the wrong footwear, or warned about the hazard before the incident. In other cases, the property owner may claim that he or she did not have enough time to respond to the hazard and is therefore not liable for your damages.
If a court or insurance company accepts this claim, you could struggle to recover full compensation. During the insurance stage, a representative may use this information against you and either reduce or deny your claim as a result. If you are filing a lawsuit, Florida's comparative negligence laws will affect your settlement.
According to state law, a court may reduce your final settlement by the amount of liability that you share. If you hold approximately 40% of the fault, for example, the court will reduce a $20,000 settlement to $12,000.
If you plan on filing a slip and fall claim, you need a slip and fall lawyer who can advocate for your best interests. A Tampa slip and fall attorney from Vanguard Attorneys can defend you against accusations from share liability and establish your right to maximum recovery.
Types Of Premises Liability Cases Our Team Handles
There is a wide range of dangerous property conditions that can cause a guest to suffer serious and, in the worst cases, fatal injuries. At Vanguard Attorneys, we handle various cases including those involving:
Electrocution injuries
Near-drowning or drowning accidents
Dog bites and attacks
Slip and fall or trip and fall accidents
Exposure to hazardous irritants and toxic fumes
Because we know these types of cases can create serious hardships for a victim and his or her entire family, we offer free initial consultations to our prospective clients. This first step allows us to better understand the unique needs of our clients and answer their questions. With decades of combined experience to our name, we are committed to protecting your rights, from start to finish. Our firm is driven by a desire to secure justice for the injured men and women who seek our help.
Speak to a Tampa Slip and Fall Lawyer
If you are involved in a slip and fall accident in Tampa, FL, the slip and fall lawyers at Vanguard Attorneys can help. Our attorneys will advocate aggressively for your right to compensation and help you secure the settlement that you deserve.
Contact us today to schedule your free case consultation and discuss your legal options with a Tampa slip and fall lawyer.