If you have been injured from a dog bite accident, the Tampa dog bite attorneys at Vanguard Attorneys will work to protect your rights and get you the compensation you deserve. Our Tampa personal injury law firm has decades of combined experience in handling even the most complex kinds of cases in Tampa.
Dogs may be considered man's best friend, but in a matter of seconds, a dog bite accident can cause serious injuries. Oftentimes, these dog attacks require medical attention and, in some cases, surgery to correct the damage. Victims of Tampa dog attacks may also need psychiatric care to deal with the trauma after the accident.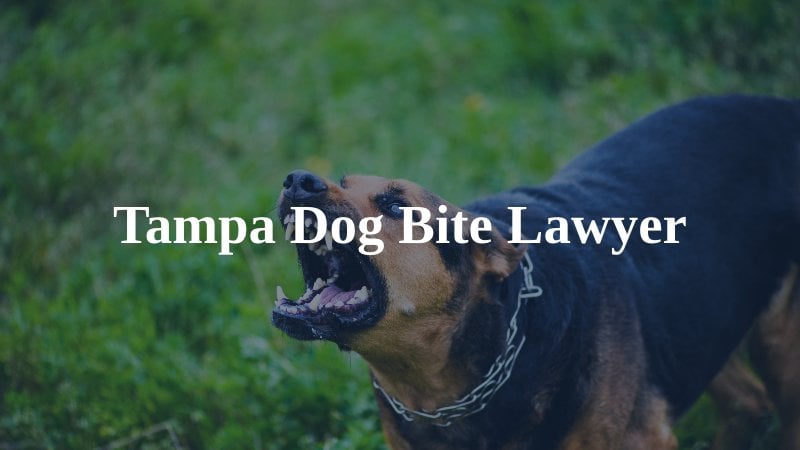 Navigate This Page
How Can a Dog Bite Lawyer Help Me?
You've been through enough as the victim of a dog attack in Tampa. Let a Tampa dog bite lawyer take care of the legal process for you while you rest and focus on healing. Handing your dog bite case over to an attorney ensures the best possible chances of winning your case. This is especially important if you or a loved one suffered catastrophic injuries in Tampa that will affect you for life.
Your Tampa dog attack lawyer will go up against one or more defendants in pursuit of maximum financial compensation on your behalf.
What Damages Can I Recover for a Dog Bite?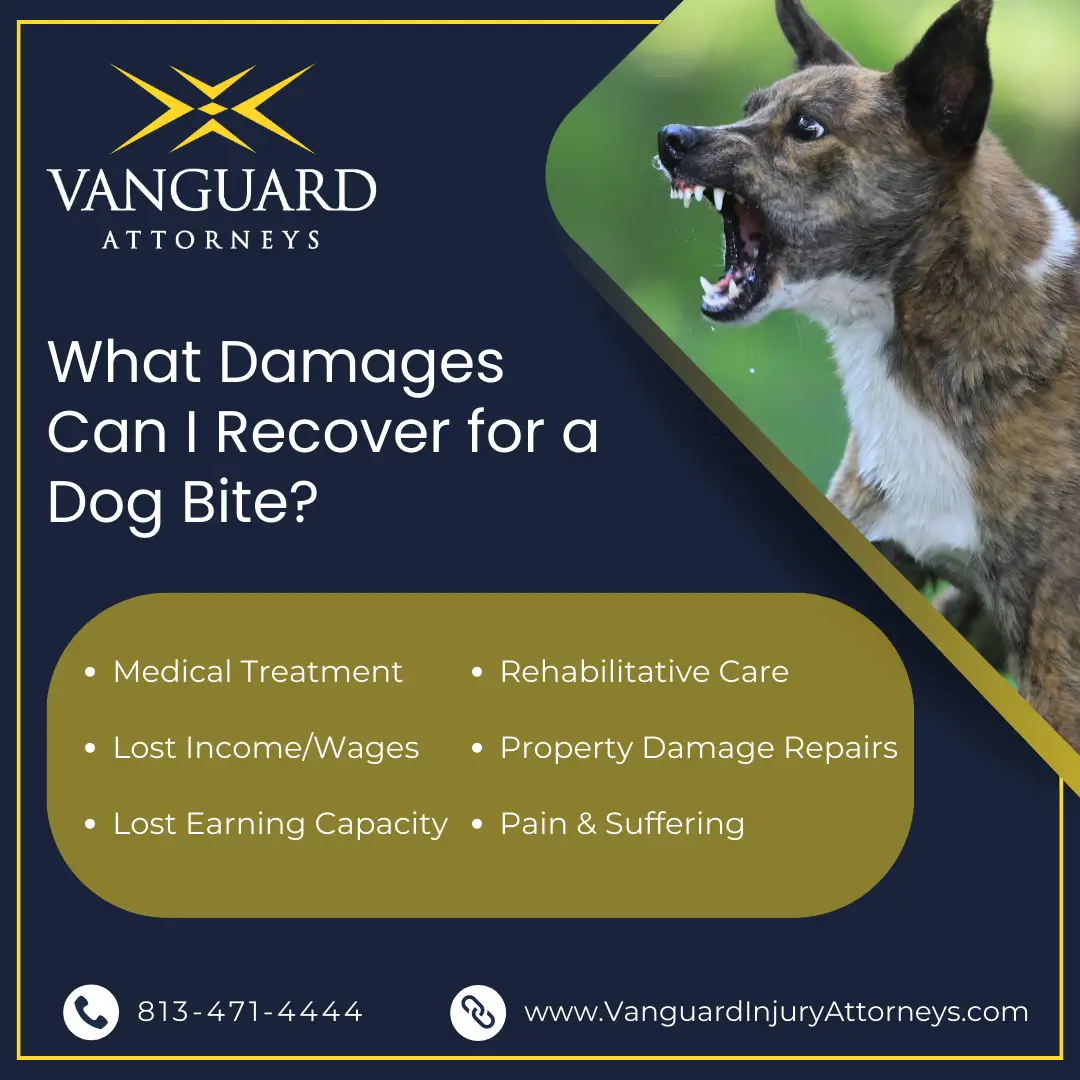 It is important to know that you have rights under Florida laws, which specifically address an owner's liability for damages the dog has caused. The dog owner is responsible if the dog attacks you while you are on public property or lawfully on private property. This means the owner of the pet may be obligated to financially reimburse you for the harm caused. Our Tampa dog bite lawyers will work diligently to secure maximum compensation for you.
Filing an injury claim may help you secure damages for:
Medical treatment: hospital visits, stitches, IV fluids, surgeries, rehabilitation, medications and any other required medical care or medical expense.
Income loss and lost wages: the income and employment opportunities that you lost from the date of the attack to the date you file a claim.
Lost earning capacity: the amount of future earnings you have lost due to a long-term or permanent disability caused by the dog attack.
Rehabilitative care: dog bite victims may need rehabilitative care or therapies to heal the trauma of the injury.
Property damage repairs: compensation to pay for repairs to any property that the dog damaged or destroyed in the attack.
Pain and suffering: noneconomic damages for the intangible losses you suffered because of the attack, such as physical pain, psychological trauma and emotional distress.
To determine the value of your dog bite injury claim, consult with our Tampa dog bite lawyers. We will calculate your damages based on receipts and expenses connected to the incident, as well as an estimate of future foreseeable losses. Then, we will pursue maximum financial compensation for your dog bite injury case using proven legal strategies. Most injury cases reach settlements, but we can go to trial on your behalf, as well, if an insurance company does not offer a fair settlement amount.
How Long Do I Have to File a Dog Bite Lawsuit in Florida?
The Florida Statutes Section 95.11(3) states that an action for the recovery of damages that is founded on negligence must be brought within four years. This is Florida's general statute of limitations on all personal injury cases, with only some exceptions. This includes dog bite injury claims that are not founded on negligence and use the strict liability law.
What if the Statute of Limitations has Expired?
If you fail to file your dog bite injury claim within four years of being bitten, you may be barred from making a financial recovery. In Florida, the courts will almost always refuse to hear a case that is brought after the statute of limitations has expired. Although four years may seem like a long time, the deadline can approach quickly. Act fast to stay within the time limit to recover compensation.
Taking prompt legal action can also protect you by providing stronger evidence to support your dog bite injury case. If you wait too long, evidence such as eyewitness testimony may not be available. Contact a Tampa dog bite lawyer at Vanguard Attorneys without delay if you think you have a Tampa dog bite injury claim.
Florida's Dog Bite Law
According to Florida Statutes Section 767.01, the owner of a dog is liable (financially responsible) for any damage done by his or her dog to any person, domestic animal or livestock. The owner of any dog that bites someone while the victim is in a public place or lawfully on private property is liable for damages suffered by the victim. This is a strict liability law, meaning it is not necessary to prove negligence in connection to the animal attack to hold the pet owner liable.
To be eligible for financial compensation, you do not have to prove that the owner of the dog contributed to the accident by allowing the dog to be off-leash or run at large. It is enough to demonstrate that the dog caused your injuries or property damage. However, if you contributed to the dog bite incident in any way, such as by trespassing, this could reduce the liability of the pet owner and your financial recovery.
Does Florida Have a 'One Bite' Rule?
No, Florida does not have a 'one bite' rule. This is a law where a pet owner will only be held responsible for a dog bite injury if the dog has bitten someone else in the past. With one or more bite incidents in a dog's history, the pet owner is expected to take steps to prevent any future attacks. For example, the owner should use a muzzle when walking the dog or post a "Bad Dog" sign on his or her property.
In a one-bite state, a pet owner is only held liable if he or she is negligent in failing to prevent an attack. The pet owner needs to have known (or reasonably should have known) that the dog was potentially dangerous and failed to do anything to prevent a future bite.
In Florida, however, the strict liability law does not require evidence of negligence or a previous attack. You can qualify for financial compensation even if the dog owner had no reason to suspect the animal's vicious propensities.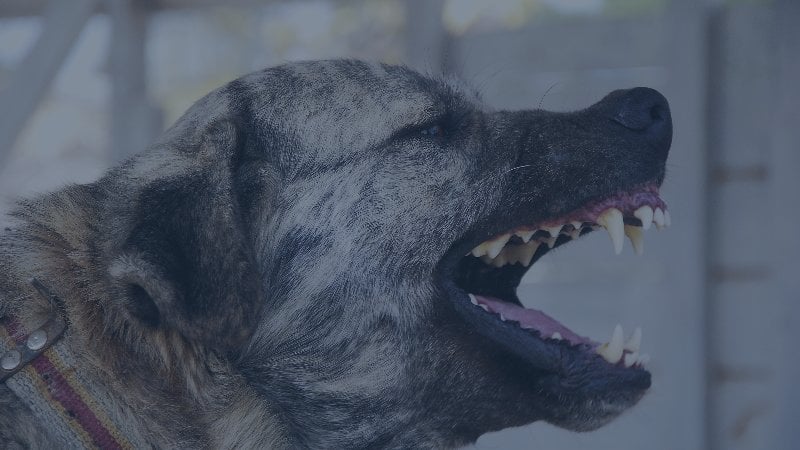 Who Is Liable for a Dog Bite?
In Florida, the strict liability law holds pet owners responsible for most dog bite injuries. The person who owns or was in control of the dog at the time of the attack will be legally and financially responsible for any harm done to a dog bite victim, even if the individual had no prior knowledge of the dog's vicious tendencies (e.g., the dog had never bitten someone before). There are some scenarios, however, when someone other than the owner or controller could be held responsible.
Under Florida's premises liability law, a dog bite injury could fall under a property owner's obligation to keep a premises safe, depending on the circumstances. Property owners are responsible for ensuring reasonably safe premises for visitors, including protection from dangerous dogs. If the owner of the property – or the landlord of a rental property – failed to remove or control a potentially dangerous dog, he or she could be liable for a bite injury under the legal theory of negligence.
To hold someone other than the owner/controller of the dog liable for a bite injury in Florida, you or your premises liability lawyer typically must prove negligence. This requires clear and convincing evidence that the defendant fell short of the required duty of care, such as a property owner's duty to keep lawful visitors safe from harm. Evidence to support this type of claim may include eyewitness statements, property maintenance records, expert testimony, photos, videos and any history of the dog biting someone previously.
Various Ways Defendants Deny Valid Dog Bite Claims
If you file a dog bite injury claim against a pet owner or another party in Florida, you may have to counter one or more defense arguments.
Claiming Trespassing
In Florida, it is a defense against dog bite liability to show that the victim was unlawfully upon private property (trespassing). If you did not have permission to be on the pet owner's property at the time of the dog attack, this may interfere with your ability to recover fair compensation.
Claiming the Owner Posted a Sign
Florida law also states that a pet owner will not be liable – except for injuries to a child under the age of six or if the owner was negligent – if the owner displayed a sign stating "Bad Dog" in a prominent place on his or her premises.
Claiming the Victim Provoked the Dog
In some cases, it may also be possible to fight liability for a dog bite injury if the victim instigated the attack or provoked the dog.
Claiming the Dog was Performing Official Duties
Finally, dogs that were performing their official duties as police K9s or in another such capacity are not liable for dog bite injuries.
For assistance navigating potential defenses to your dog bite injury claim in Tampa, contact Vanguard Attorneys. Our experienced dog bite lawyers in Tampa will carefully review your case and prepare for defenses that may arise. In Florida, under the rule of comparative negligence, you can still recover partial compensation even if you are allocated a percentage of fault for your injuries.
Common Injuries Suffered in Dog Attacks
When a dog attacks in Tampa, the outcome can be devastating for the victim. A dog can cause many severe injuries, including:
Lacerations
Deep puncture wounds
Uncontrolled bleeding
Broken bones
Muscle and soft-tissue injuries
Degloving
Evisceration
Crush injuries
Facial trauma
Eye injuries
Scarring and disfigurement
Rabies and other diseases
Infections
You or a loved one may be eligible for financial compensation after suffering any of these serious injuries in a dog attack in the Tampa Bay area. Speak with an experienced Tampa dog bite lawyer to explore your legal options during a free case evaluation.
What to Do After a Dog Bite Injury in Tampa
It is important to know what steps to take after suffering a dog bite injury. These steps can make it easier to obtain fair financial compensation for your injuries and related losses, such as medical expenses. Here's what you should do after a dog attack in Tampa:
Get to safety. If the situation is an emergency, dial 911 to reach your local law enforcement agency immediately.
If your injuries permit, obtain the information of the pet owner, including his or her name, address and telephone number.
Immediately clean your wounds with soap and warm water. Then seek professional medical attention for further treatment to avoid infections.
Report the dog bite injury to the Hillsborough County Animal Services and Rabies Control by calling (813) 744-5660. An Animal Services officer may visit you in person to obtain more information.
Contact a dog bite injury lawyer in Tampa at (813) 680-2007 for assistance holding the pet owner financially responsible for your bills and losses.
Dog bite reporting is important so that the county has up-to-date information on dangerous dogs. This can hold the owner of the dog accountable – especially if the same dog goes on record injuring someone else in the future. Once you contact Vanguard Attorneys, we can help you with the other steps that it takes to recover financial compensation for dog bite victims.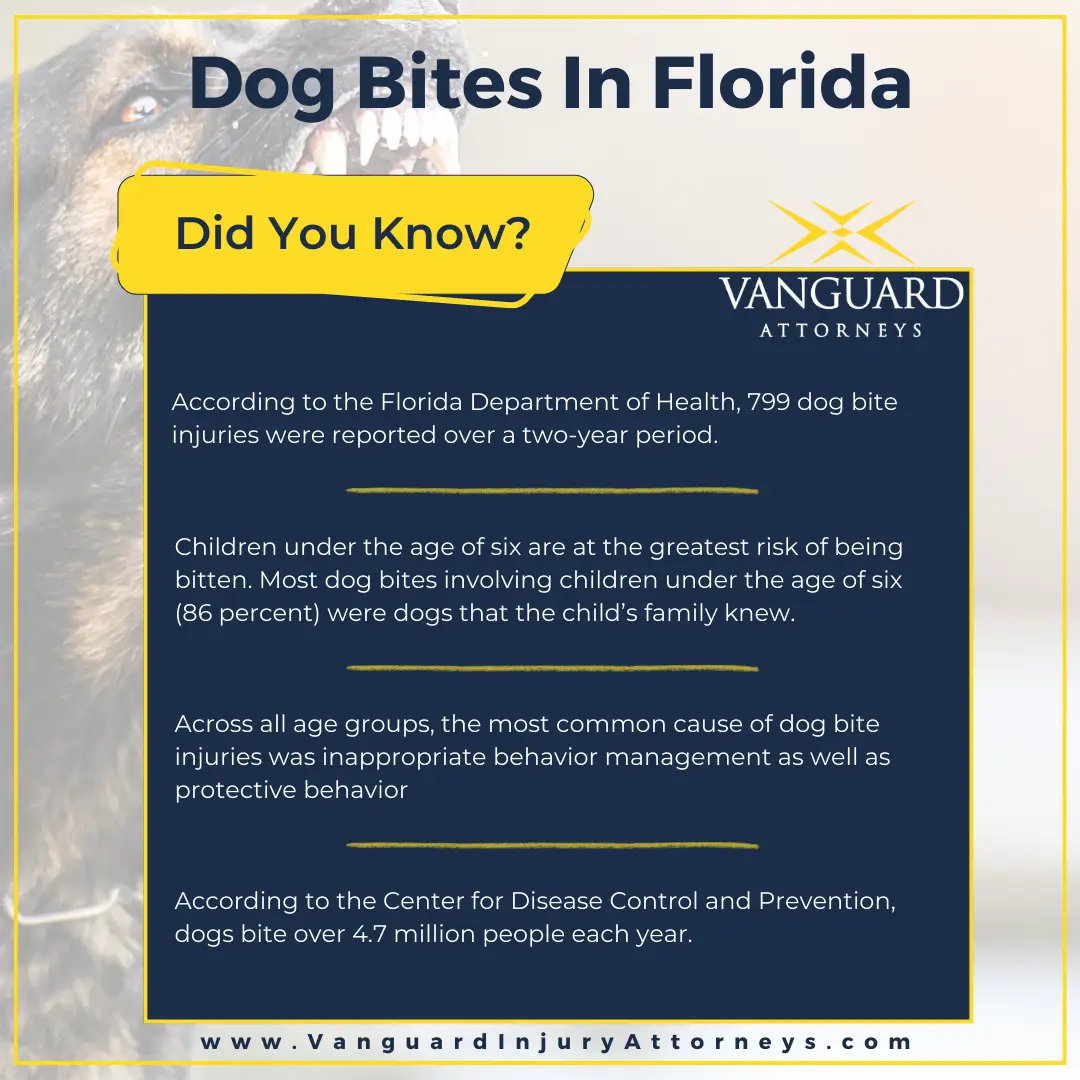 Florida Dog Bite Injury Statistics
Violent dog attacks happen every year in Florida. According to the Florida Department of Health, 799 dog bite injuries were reported over a two-year period. Children under the age of six are at the greatest risk of being bitten. Most dog bites involving children under the age of six (86 percent) were dogs that the child's family knew.
Across all age groups, the most common cause of dog bite injuries was inappropriate behavior management. This includes interacting with the dog while it was being fed or chewing on a toy. Another common cause was protective behavior.
According to the Center for Disease Control and Prevention, dogs bite over 4.7 million people each year.
Contact a Tampa Dog Bite Lawyer for a Free Consultation
To help you receive a fair outcome, our Tampa dog bite attorneys will begin working immediately to analyze what occurred during the animal attack. An experienced lawyer from our personal injury law firm will obtain important evidence and investigate the injuries you sustained.
We will take pictures of the injuries inflicted, take witnesses' statements, and obtain photographs of the dog(s) when possible. Let us help you enforce your legal rights and work to get you appropriate compensation for your dog bite injuries. Contact our Tampa law office today.