Our Tampa motorcycle accident attorneys will fight for your right to maximum compensation and help you secure the settlement that you need to support your current and future needs. Injured Tampa motorcyclists may be eligible for financial compensation through an insurance claim or personal injury lawsuit. If you plan on pursuing this type of claim, you need a motorcycle accident lawyer on your side who can advocate for your best interests—and the lawyers at Vanguard Attorneys can help. Start by scheduling a free consultation with our experienced legal team today.
Why Choose Our Tampa Motorcycle Attorneys
We are a smaller boutique personal injury law firm with decades of combined legal experience. We have the skills, resources, and knowledge necessary to fight for your right to recovery.
We value open and honest communication. Your Tampa personal injury attorney will work directly with you throughout your case.
The aftermath of a motorcycle accident can be painful. Our personal injury law firm will handle all aspects of your case so that you can focus on recovery, not complex litigation.
We operate on a contingency fee basis, meaning our motorcycle injury attorneys only receive compensation if we are successful in recovering compensation for you.

Navigate This Page
What Damages are Available in Motorcycle Accident Claims?
Tampa motorcycle accidents can be very difficult to recover from alone. By securing a settlement through an insurance claim or lawsuit, however, you can receive the financial support necessary to meet your future needs. Under Florida law, motorcyclists have the right to recover compensation for two types of damages: economic and non-economic. While economic damages involve your tangible financial losses, non-economic damages refer to the physical and emotional pain and suffering that you experienced. Examples of damages available in motorcycle accident claims include the following:
Past and future medical care
Medical expenses
Lost wages
Lost income
Chronic pain
Disability accommodations
Emotional distress and mental anguish
Property damage
Punitive damages
Motorcycle accident settlements can range from a few thousand dollars to hundreds of thousands of dollars and higher. However, the value of your claim will depend on the individual losses that you experienced. Your Tampa motorcycle accident lawyer from Vanguard Attorneys can help you identify the types of compensation that you could claim, using this information to calculate your potential award.
Proving a Florida Motorcycle Accident Claim
To secure compensation in a third-party claim or lawsuit, you will need to show that the defendant's negligence caused your motorcycle accident. Multiple pieces of evidence could help you establish liability, including witness statements, medical records, police reports, and surveillance footage. During the insurance process, you and your motorcycle injury lawyer will need to provide your motorcycle accident case representative with sufficient evidence proving the at-fault driver's liability. The representative will then determine whether you qualify for compensation and how much money you should receive. To prove a personal injury lawsuit, you will need to gather enough evidence to prove four important facts.
The at-fault party owed you a duty of care.
The at-fault party breached his or her duty of care.
The breach of duty caused your motorcycle accident.
You sustained damages in the collision that you can collect in your lawsuit.
For example, say that you are injured when a driver changes lanes without checking or signaling. You collide into his vehicle and sustain several broken bones. In this situation, the driver owed you a duty to follow all Florida traffic laws and drive the vehicle safely. By making an unsafe lane change, the driver breached his duty of care. To establish causation, you can leverage many pieces of evidence. For example, the police report from the motorcycle crash may include a statement from the responding officer on how he or she believed that the collision occurred, validating your version of events. Your medical records could establish the nature and extent of your injuries. Testimonies from expert witnesses, such as medical professionals and accident specialists, can clarify and validate complex areas of your Tampa motorcycle accident case.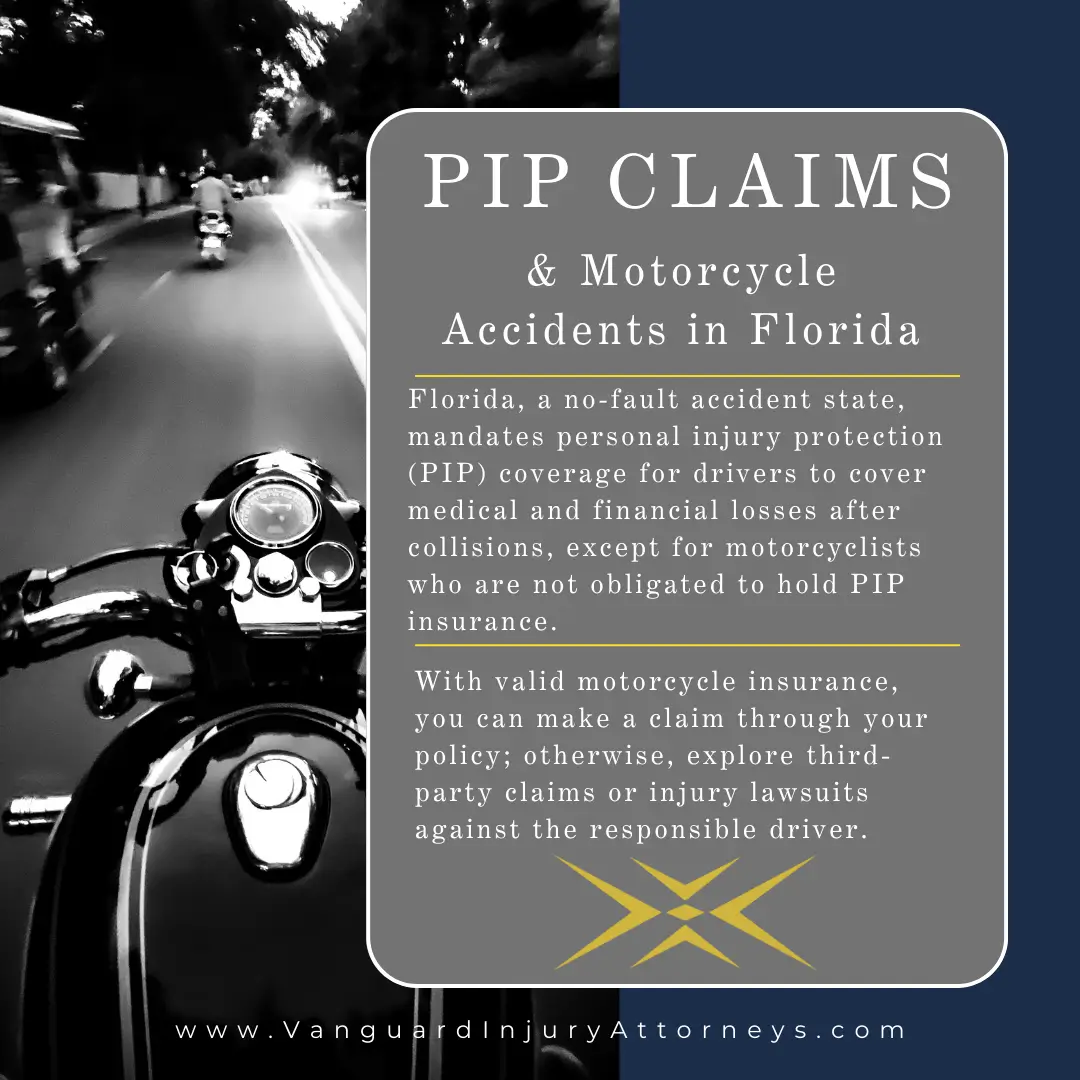 Can You File a PIP Claim for a Tampa Motorcycle Accident?
If you are injured in a motorcycle accident on Tampa roads, you need financial support to recover from the accident. However, it can be very difficult for motorcyclists to secure compensation in Florida due the state's laws and insurance requirements. Florida is a no-fault accident state, meaning that all drivers must carry personal injury protection (PIP) coverage. In the event of a collision, PIP coverage pays for medical care and other financial losses for the policyholder. However, PIP insurance does not cover motorcycle riding, and Florida does not require motorcyclists to hold this type of coverage. If you do have motorcycle insurance, you can file a claim against your own policy as long as you have the appropriate coverage. If you do not have this type of insurance, however, you could pursue a third-party claim or personal injury lawsuit against the at-fault driver.
Conducting an Extensive Investigation for Your Case
With extensive experience in motorcycle law, our Tampa accident lawyers are equipped to handle your personal injury claim. Many other law firms aren't ready to handle the complexities that come along with motorcycle accident cases and choose to settle for policy limits, leaving the client in a financial mess. However, this isn't our team's approach. We will begin gathering information and evidence by:
Taking photographs of all the vehicles involved
Having your motorcycle stored for expert examination
Preserving all the gear worn at the time of the accident
Our compassionate Tampa motorcycle accident lawyers aren't afraid to fight insurance companies who try to cheat bikers out of what is fair. We know that motorcycle law requires thoughtful and deliberate representation and we are prepared to do so. While you are recuperating, Vanguard Attorneys will be working diligently to protect your rights.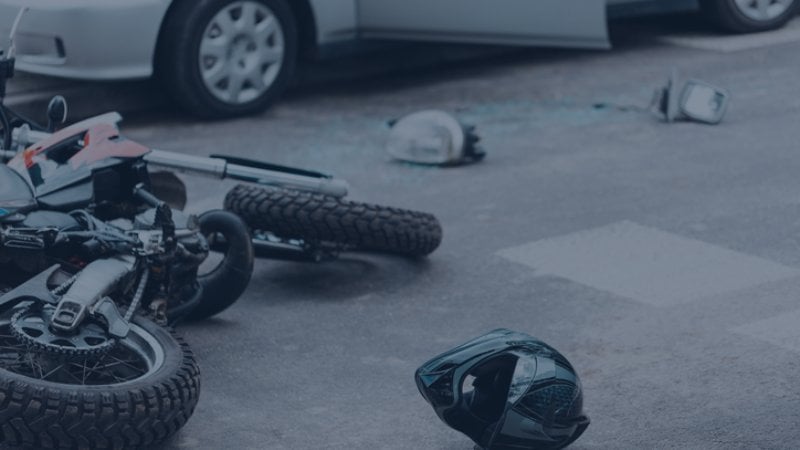 Common Motorcycle Accident Injuries
Due to their smaller size and lack of outer shells, motorcyclists are very vulnerable to damage on the road. Collisions between motorcyclists and other drivers can result in serious physical injuries, such as the following.
Spinal Cord Injuries
The spinal cord is responsible for helping the brain and the body communicate. During a motorcycle accident, the spinal cord can become torn or damaged. As a result, a motorcyclist can lose all or some feeling and function below the injury site.
Internal Injuries
A motorcycle accident can generate significant force, and a motorcyclist can develop internal organ damage due to blunt force trauma. Organ damage and internal bleeding can be extremely dangerous and fatal without prompt treatment.
Lower Extremity Injuries
Motorcyclists are very susceptible to damage in the lower half of the body. During a collision, a motorcyclist can sustain broken bones in the legs as well as soft tissue injuries.
Traumatic Brain Damage
An injury to the brain can lead to permanent complications and even death. During a collision, a rider can hit his or her head on an object or hard surface or suffer a penetrating injury, leading to traumatic brain damage. While helmets can help protect motorcyclists from sustaining a traumatic brain injury, this type of damage can still occur during an accident. These serious injuries can have a major impact on a motorcyclist's life. Some Tampa motorcycle accident victims require extensive and long-term medical care to recover. In many cases, motorcyclists pass away due to their injuries.
Motorcycle Accident Statistics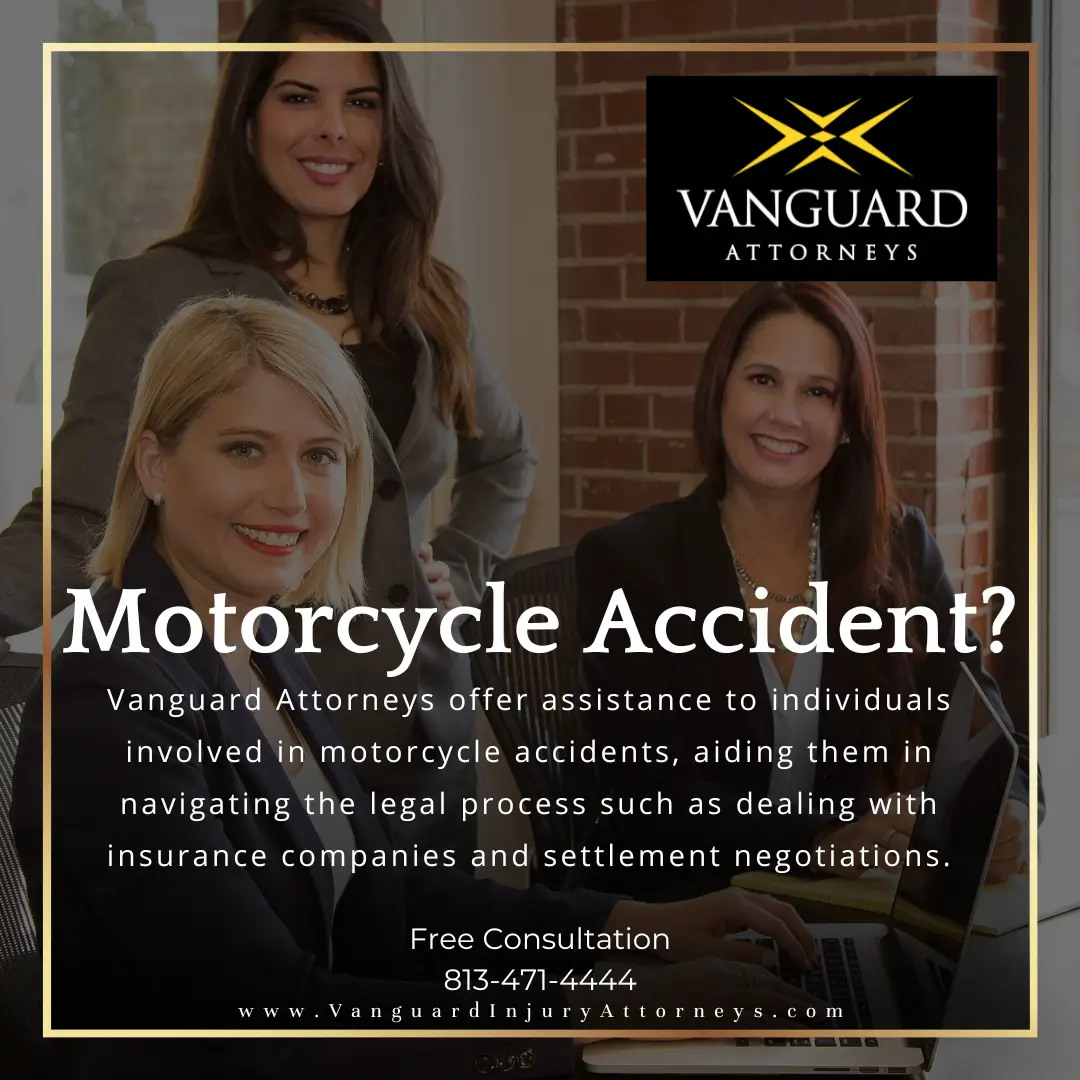 The unfortunate reality is that we share the road with people who are often distracted and not on the lookout for bikers. According to the National Highway Safety Administration, 4,502 motorcyclists were involved in fatal motorcycle accidents in 2010. With the frequency of these accidents, it is more important than ever for bikers to be alert and aware on the roadways. Statistics show that, per mile driven, motorcyclists are 37 times more likely than a passenger car occupant to die in a collision and 9 times more likely to be injured. We have seen how devastating motorcycle accidents can be, and we encourage all riders to take a motorcycle safety course. Many times, motorcycle accidents occur because car or truck drivers are distracted or inexperienced. Unfortunately, a day that starts with a beautiful ride can end in tragedy because of a careless driver.
Contact Our Tampa Motorcycle Accident Attorneys
A motorcycle accident can result in painful injuries and significant losses. If you plan on filing a claim, Vanguard Attorneys can help you with the legal process, including talking with the insurance company and negotiating a settlement offer. Contact us today to schedule a free consultation and discuss your legal options with a Tampa motorcycle accident attorney.