You may be eligible for legal action if someone else's negligence caused your spinal cord injury. In these situations, the Tampa spinal cord injury lawyers at Vanguard Attorneys can represent your claim and help you secure the compensation that you deserve.
The spinal cord is one of the most important structures in the body. It is responsible for helping the brain and the body communicate, impacting feeling, function, and movement. If you suffer from a spinal cord injury, the long-term impacts can be secure.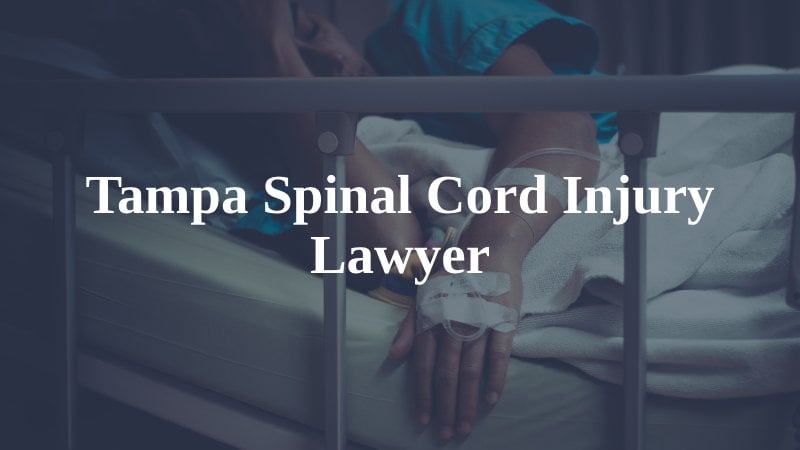 Navigate This Page
Why Choose Our Spinal Cord Injury Attorneys
Our Tampa personal injury attorneys have helped injured residents recover millions in settlements and jury verdicts. We are dedicated to protecting your best interests.
We understand how painful a spinal cord injury can be. Our firm will handle your entire claim from consultation to settlement, allowing you to focus on recovery.
We take all cases on a contingency fee basis for maximum affordability. If we do not win your spinal injury case, you will not be charged for our services.
Why You Need a Tampa Spine Injury Lawyer
A spinal cord injury can be painful and require significant recovery time. It can be difficult to handle a lawsuit or insurance claim on your own during this time. Hiring a Tampa spinal cord injury attorney can handle all aspects of your claim on your behalf, allowing you to focus on healing and treatment rather than complex litigation.
Spinal cord injuries often result in high-value settlements due to the need for long-term medical care and other significant damages. An attorney can help you identify all avenues to compensation and accurately estimate your potential award, enabling you to recover the settlement that you need to pay for your future care.
Additionally, your spinal injury lawyer can negotiate on your behalf, prepare your case to trial, and help you prepare for each stage of your case. With a lawyer on your side, you can hold the at-fault party accountable and advocate aggressively for your highest possible settlement.
Our Tampa Case Results
$100K in a premises liability case that result in serious injuries to the client's neck and back
$3.8M in a motorcycle accident collision
$1M in a Tampa t-bone car accident
What Compensation Can I Recover for My Spinal Cord Injuries?
A successful spinal cord injury claim in Florida could reimburse you and your family for several losses associated with your accident and injury. You could hold one or more defendants financially responsible for your economic and noneconomic losses. A settlement or judgment award could include an amount to pay you for your:
Past and future necessary medical care
Physical therapy and rehabilitation
Prescription and over-the-counter medications
Medical devices and disability accommodations
Around-the-clock or live-in care
Lost wages and lost future capacity to earn
Loss of consortium
Diminished enjoyment or quality of life
Legal fees and out-of-pocket costs
Inconvenience
Physical pain and suffering
Emotional distress and mental anguish
Punitive damages, in some cases
A Tampa spinal injury attorney can make a list of your compensable losses before filing your demand letter with an insurance company. Understanding all of the losses for which you may be entitled compensation can help you pursue the amount that you deserve for your spinal cord injury.
What Is My Spinal Cord Injury Case Worth?
There is no such thing as an average spinal cord injury settlement – case values are based on a variety of factors that are specific to the individual. You will need to speak to an attorney to find out how much your case is worth. One determining factor is the severity of the injury. In general, severe spinal cord injuries have higher settlement values than minor back injury claims. Other factors include your age, income, the number of defendants that are liable for your injury and the amount of insurance coverage available. Some clients receive tens of thousands while others are eligible for settlements in the millions for permanent injuries.
How Long Do I Have to File an Injury Claim?
In Florida, a law called the statute of limitations gives the majority of accident victims just four years to file personal injury claims. With only some exceptions, if you fail to come forward within four years of your accident (or from the date that you discover your spinal cord injury), the courts will refuse to hear the case. This is why it is important to contact a personal injury lawyer in Tampa as soon as possible after a devastating accident.
Who is Liable for a Spinal Cord Injury in Florida?
If you suffer a spinal cord damage due to the actions of another person, you could file a lawsuit against him or her for the damages that you sustained. Depending on the cause of your injury, you could name multiple parties in your lawsuit, such as the following.
Motor vehicle drivers
Property owners
Truck drivers and their employers
Negligent supervisors or subcontractors
Manufacturers of defective products
Types of Spinal Cord Injuries
A spinal cord injury refers to any type of damage to the spine, its components, or the surrounding nerves and tissues. The vertebrae, disks or nerves of the spinal cord can suffer many types of injuries in a traumatic accident in Tampa. The type of spinal cord injury can determine how much it impacts the victim. Pain and stiffness from a minor back injury may heal within just a few days, for example, while a severe spinal cord injury could cause permanent paralysis.
Common types of spinal cord injuries involved in personal injury claims are:
Cervical spine injuries – damage to the upper seven vertebrae in the neck, which can result in quadriplegia (permanent paralysis from the neck down).
Thoracic spine injuries – damage to vertebrae T1-T12, located in the upper part of the back.
Lumbar or sacral spine injuries – damage to the lower back or sacral spine, which could result in paraplegia (permanent paralysis from the waist down).
Complete spinal cord injury – one that causes a total loss of the ability to move and feel below the point of injury.
Incomplete spinal cord injury – can cause health problems but victims may retain some movement or sensation.
Disk injuries – damage to the spinal disks that rest between each vertebra, such as ruptured, herniated or slipped disks.
The severity of a spinal cord injury depends in large part on the type. The spinal cord could suffer a fracture, muscle or ligament tear, disk injury, nerve damage, compression (crush) injury, and many other types of injuries. Whether or not a victim can make a full recovery from a spinal cord injury depends on the circumstances, such as the specific diagnosis and the mechanics of the injury. All spinal cord injuries should be taken seriously and addressed with professional medical care.
What Are the Signs and Symptoms of Spinal Cord Injuries?
Recognizing the symptoms of a spinal cord injury can allow a victim to get the medical care that he or she needs. It is especially important to receive professional care for a spine injury, as moving the incorrect way could exacerbate the injury and turn it into irreversible paralysis. Spinal cord injuries are typically diagnosed using x-rays, MRIs and CT scans to find out if damage has been done to any part of the spine.
An accident victim in Tampa may have a spinal cord injury if he or she experiences any of the following signs and symptoms:
Pain anywhere in the neck or back
Shooting pains radiating down the arms
Numbness or tingling sensations in the extremities
Weakness or paralysis in any part of the body
Loss of sensation anywhere in the body
Changes in sensation, such as how the body feels heat or cold
Trouble walking and balancing
Loss of bowel or bladder control
Breathing or respiratory problems
Every patient is unique. If you get in an accident that affects your back, neck or head, remain calm and try to limit your movements until you've seen a doctor – even if you feel fine. Some spinal cord injuries have delayed symptoms. Do not wait to go to a hospital for medical care after an accident in Tampa. If your symptoms are severe, wait where you are until paramedics arrive. They can stabilize your neck and spine before moving you to protect you from further injury.

The Long-Term Impact of a Spinal Cord Injury
Dealing with recovery and rehabilitation after a spinal cord injury can be overwhelming. With catastrophic effects on the human body, this type of injury will often require major lifestyle changes not only for the person who experienced the spinal cord injury but for loved ones and caregivers as well.
A spinal cord injury often results in paraplegia or quadriplegia, and a host of other significant medical problems. These forms of paralysis can impact a victim's quality of life and independence. The victim may not be able to return to work or make a living. Spine injuries can have a lasting effect on the victim emotionally and psychologically, as well.
Causes of Spinal Cord Injuries
Many spinal cord injuries in Florida are preventable. They happen when someone is negligent, careless, reckless or wanton. In other words, when someone falls short of the duty to exercise ordinary care. If a preventable accident results in a spinal cord injury, the victim has the right to pursue a claim for damages against the at-fault party. At Vanguard Attorneys, we help clients with many different types of spinal cord injury cases. For adults, the leading cause of Florida spinal cord injuries are:
In each of the preceding situations, it is likely that the negligence of another caused the spinal cord injury. If you have experienced this type of injury, it is crucial to seek medical attention immediately. In some instances, the effects of the injury can be managed by prompt and skilled medical care. Once proper medical attention is obtained, we would like to be by your side to do all that we can to guide you through this difficult time. The cost of living with a spinal cord injury can be considerable and, if it was a result of someone else's negligence, you deserve to be compensated for what you have endured.
Spinal Cord Injury Statistics
Around the world, between 250,000 and 500,000 people around the world develop a spinal cord injury annually. In the United States alone, an estimated 17,000 new spinal cord injury cases occur each year.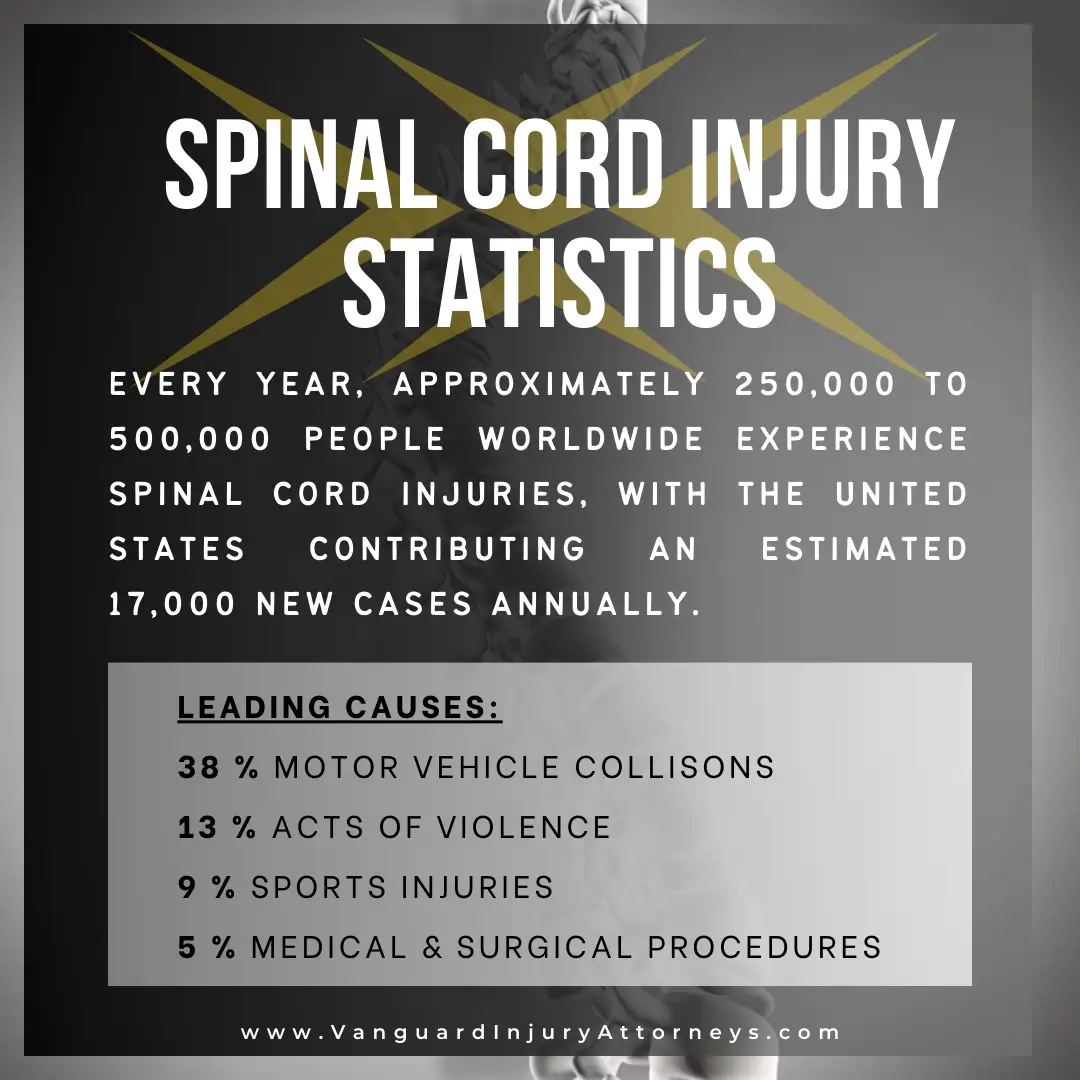 According to the available data, the following incidents are the leading causes of spinal cord damage in the United States.
Motor vehicle collisions contribute to 38 percent of new spinal cord injuries each year.
30 percent of spinal cord injuries occur due to falls.
13 percent of spinal cord injuries occur due to acts of violence, such as gunshot wounds.
9 percent of new spinal cord damage cases occur due to sports injuries.
5 percent of new spinal cord injury cases occur due to medical and surgical procedures.
Contact Our Tampa Spinal Injury Attorneys Today
As your Tampa personal injury law firm, we will be available to talk with you about the facts surrounding the spinal cord injury and prepare your personal injury claim for damages against the responsible party. Our Tampa spinal cord injury lawyers will do everything possible to secure the maximum compensation you need and deserve. Let Vanguard Attorneys put our decades of combined experience to protect your rights as an injured individual. We can review the details of your case during a free initial consultation.
If you'd like to speak with a representative about your case, call us today. Our personal injury law firm is located in the Ybor City Historic District off of Nuccio Parkway and East 5th Ave. We proudly serve all of Florida, including Tampa, Brandon, Riverview and Town 'n' Country.
---
"Vanguard has been a blessing to myself and my family. They truly care about you and treat you as such! In a situation where most feel lost, they make sure to guide you through it all!"

– Colton Mulholland