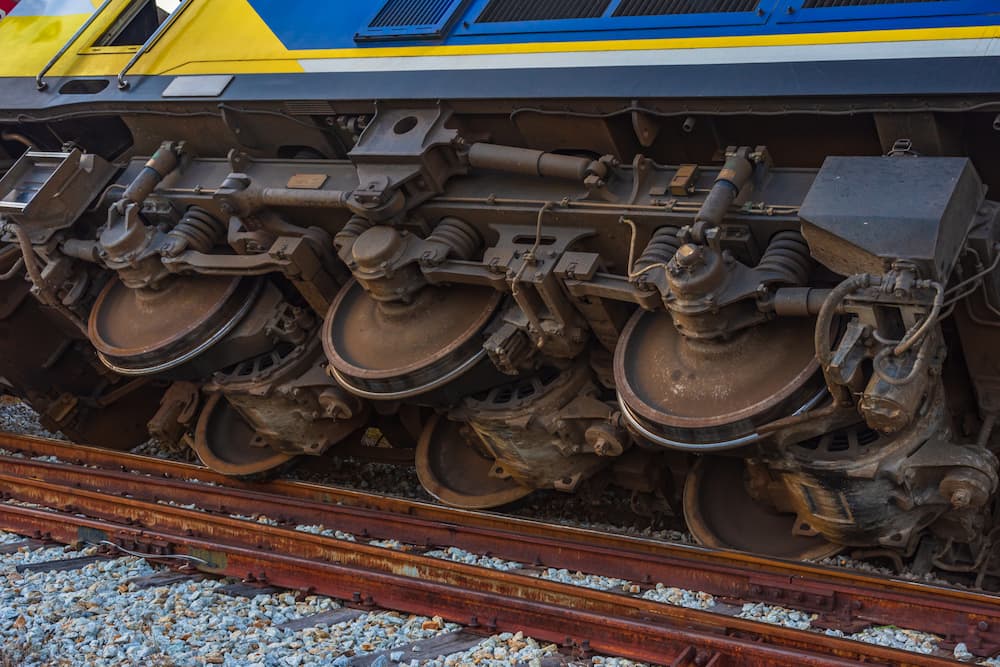 Florida Train Accident Lawyers
The Florida train accident lawyers have knowledge, resources, and a level of commitment to our clients that can't be matched by other firms. We level the playing field against powerful railroads and insurance companies. Our record of successful verdicts and settlements speaks for itself.
At Vanguard Attorneys, we have decades of experience handling personal injury claims, including many complex railroad and train accident cases. Our clients trust us to maximize compensation for catastrophic injuries and wrongful deaths.
If you or a loved one has been injured in any type of Florida train accident, contact us for a free consultation and a free case evaluation.
If injured in any type of train accident or railroad equipment, we can help. Some specific cases we handle include:
Amtrak accidents
Brightline collisions
Tri-Rail incidents
Freight train crashes
Light rail transit accidents
Rail yard accidents
Railroad worker injuries (FELA)
Crossing collisions
We will conduct a thorough independent investigation, build the strongest case possible under state and federal laws, and fight for the maximum damages you deserve.
Common Causes of Florida Train Accidents
Train crashes are often caused by operator negligence – speeding, distraction, intoxication, etc., improper track maintenance and defects, mechanical failures like faulty brakes, malfunctioning crossing signals, gates, and lighting, unsafe loading/cargo issues causing derailments, and weather conditions reducing visibility or traction.
Our attorneys leave no stone unturned when investigating the causes of an accident. We hire respected rail operations experts to recreate crashes and identify factors that railroads will try to conceal.
Financial Compensation After a Train Accident
Injured victims may be entitled to damages for past and future medical treatment, lost income and reduced earnings capacity, pain, suffering, mental anguish, disabilities or disfigurement, wrongful death of family members, and property losses from destroyed vehicles, etc.
We thoroughly calculate and document all accident costs and have obtained record verdicts and settlements for clients.
Is There a Cap on Damages in Train Accident Cases?
When injured in a train accident in Florida caused by negligence, there are no caps or limits on the compensation you can recover. Personal injury damage awards are not capped under Florida state law.
Some key points:
Economic and non-economic damages both have no caps. You can get full compensation.
Punitive damages also have no caps in appropriate cases. Punitive damages punish and deter egregious behavior.
Jury awards over a certain threshold are subject to closer judicial review, but there are still no caps.
Your compensation is based on the extent of losses and injuries suffered. No arbitrary limits.
Our experienced Florida train accident lawyers will pursue the maximum available compensation based on your injury and losses. We fight hard to win the full compensation you deserve.
Florida Railroad Worker Accident Lawyers (FELA)
Working on the railroads poses major risks. If injured on the job, you may have a Federal Employers Liability Act (FELA) claim against negligent rail companies and third parties. The statute of limitations for FELA cases is only three years, so speak with our FELA lawyers as soon as possible.
Why Hire a Train Accident Lawyer?
Because we have decades of litigation expertise, including taking cases to trial, bring deep resources and specialized knowledge of railroad claims, conduct thorough and independent investigations, can compel evidence production from resistant railroads, and will fight for maximum compensation for you.
Do not go it alone against major railroads and insurance companies. Their goal is to deny and minimize your claim.
Trespassing Accidents Can Still Lead to Railroad Injury Claims
When unauthorized individuals walk along tracks or through rail yards, tragic accidents often occur resulting in injuries or deaths. In some cases, the victim being partly responsible, railroads still have a duty of care to pedestrians and drivers who accidentally trespass.
If your loved one died in a train trespassing accident, potential negligence claims can include failure to place proper fencing or barriers along tracks, lack of posted warning signs about trespassing dangers, not maintaining secure rail yard perimeters, operating the train at an excessive speed, failure to keep a proper lookout for people near tracks, and not sounding audible warnings like the train horn.
Our attorneys understand the complex legal issues when victim fault is involved. We know how to secure fair compensation for families.
Can You Sue Amtrak After a Train Accident in Florida?
Yes – Amtrak is liable for rail accidents caused by their negligence. That includes failure to maintain their equipment or railroad and negligence of railroad workers or train conductors. Lawsuits can be filed against Amtrak when they are at fault for passenger injuries, collisions with non-passengers, and other injuries that take place on premises owned by the railroad company.
Amtrak is the major intercity passenger rail provider in the United States. Accidents involving Amtrak trains unfortunately occur in Florida. Can you pursue a claim against Amtrak if you are injured?
Potential claims against Amtrak for Florida train accidents include:
Operator negligence – Amtrak engineers may drive dangerously or disregard safety protocols.
Improper training – Amtrak may fail to adequately train operators on equipment and routes.
Track and equipment defects – Derailments and crashes may be caused by defective Amtrak rails or train components.
Rail crossing issues – Amtrak may fail to properly maintain crossing signals, gates, and safe sight lines.
Passenger supervision – Amtrak staff may fail to help passengers safely board, ride, and exit trains.
Our experienced attorneys are familiar with accident liability rules for passenger rail services like Amtrak. We know how to build strong cases by hiring rail operations experts and aggressively seeking evidence.
Do not hesitate to pursue fair compensation if you are the victim of an Amtrak accident in Florida. Contact our lawyers today.
Legal Options After a Brightline Accident
Florida's Brightline trains are the most dangerous in the nation. 57 people have been killed by Brightline trains in Florida since 2017. Brightline is operating a high-speed rail line for passenger trains in Florida between Miami, Fort Lauderdale, West Palm Beach, and other cities. The new trains reach speeds up to 125 mph. The high-speed rail has received a lot of positive attention as a new transportation option for Floridians, but it comes with a lot of risks.
Brightline has historically faced scrutiny for collisions and deaths along their tracks. If you're injured in an accident involving a Brightline train, you may have a legal claim depending on the specific circumstances and cause of the crash. Examples of potential negligence include:
Excessive train speeds
Failure to sound horns or warnings at crossings
Poorly maintained warning devices at crossings
Inadequate fencing or signage along track right-of-way
Dangerously designed tracks and railroad crossings
As Brightline becomes more popular, our attorneys are dedicated to ensuring they maintain safe practices by holding the company fully accountable for preventable accidents and injuries.
Contact our Florida train accident lawyers today to discuss your rights and legal options after any accident involving Brightline. We offer free, no-obligation consultations, second opinions, and case evaluations.
Florida's Most Dangerous Rail Crossings
Our lawyers are very familiar with hazardous rail crossings across Florida that have high accident rates, including Persimmon Ave, San Mateo; Lake Underhill Rd, Orlando; Powerline Rd, Deerfield Beach; Ravenswood Rd, Dania Beach; and Rice Creek Rd, Newberry.
If a victim is injured on one of these railroads, there's a chance that poor maintenance or design contributed to the collision.
Call Vanguard Attorneys After a Train Accident
Call (813) 471-4444 if you were injured in a train accident. Evidence can disappear quickly. Our team will help collect evidence, take witness statements, obtain data about the train, hire experts to investigate the scene, and protect your right to compensation. Do not trust the railroad company or the government to properly investigate themselves.
We know railroad litigation. Our numerous past verdicts and settlements in accident claims prove we have the experience, reputation, and resources to secure maximum compensation for our clients. Trust your case to train accident attorneys with a history of positive results.
Call today or contact us for a free consultation with our Florida train accident legal team.