If you have been injured in a bicycle accident, contact a Tampa bicycle accident lawyer at Vanguard Attorneys so we can begin working on your personal injury claim right away. We can provide you with a free consultation.
Why Choose Vanguard Attorneys
Our Tampa bicycle accident lawyers have decades of combined legal experience, representing injured cyclists across Tampa. We are dedicated to recovering the highest possible settlement on your behalf.
We have a diverse firm with women and people of color in leadership positions. We will leverage our unique experience, skills, and resources to craft a compelling case in your favor.
Bicycle accidents can result in painful, traumatic injuries. Our bicycle accident attorneys in Tampa will handle all aspects of your claim on your behalf, allowing you to focus on healing and recovery.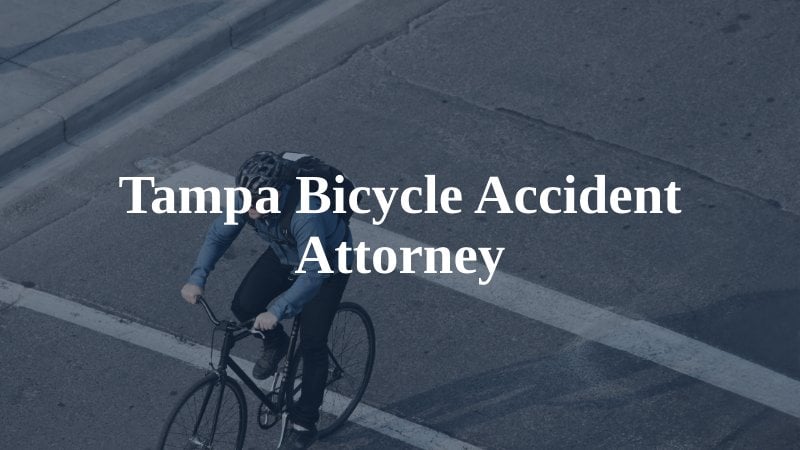 Navigate This Page
How a Bicycle Accident Attorney Can Help
When a motorist wants to claim that fault of the personal injury lies with the bicyclist for "coming out of nowhere," our team wants to be able to refute those claims. Our Tampa personal injury attorneys will obtain photographs of your bicycle accident injuries, the scene of the crash, and the motor vehicle involved.
We will also have your bicycle examined by an expert who can analyze important factors like:
Paint transfers
Chipped paint
Bent frames
Bent wheels
Damaged brake pads
We know that even the most careful bicyclists cannot always avoid a collision. As your attorneys, we will protect your rights and help you receive the financial compensation you deserve. If you would like to speak with a Tampa bicycle accident lawyer regarding your case, contact our personal injury law firm today.
Damages You Could Recover After a Bicycle Accident
Through a bicycle accident lawsuit, you have the right to recover two types of compensation: economic and non-economic. Economic damages involve the tangible, financial losses that you sustained, while non-economic damages involve intangible pain and suffering.
Examples of compensation available in Florida bicycle accident claims include the following.
Past and future medical expenses
Lost wages
Property damage
Disability accommodations
Chronic pain
Emotional distress
Post-traumatic stress disorder
In fatal bicycle accidents, the family of the bicycle accident victim may be able to recover compensation through a wrongful death lawsuit. Wrongful death damages can cover medical costs associated with the victim's fatal injuries, reasonable funeral and burial costs, lost wages and inheritance, loss of consortium, and more.
Can I Still Recover Compensation If I Wasn't Wearing a Helmet?
Yes. Don't let the fact that you were not wearing a helmet at the time of your bicycle accident prevent you from seeking financial compensation for your crash. You will still qualify for compensation even if you weren't wearing a helmet if you did not cause the accident. This is the case regardless of your age and whether you were legally required to wear a helmet at the time of the collision under Florida law.
Florida Statutes Section 316.2065(18) specifically states that the failure to wear a helmet cannot be used as evidence of a victim's negligence or contributory negligence during a bicycle accident case. This applies to riders over the age of 16 as well as the failure of a parent or guardian to prevent a child from riding a bicycle without a helmet.
This is an important law to know, as the contributory negligence defense in a bicycle accident case could significantly reduce your payout. In the event that an insurance company tries to blame you for your injuries because you weren't wearing a helmet, contact a bicycle accident attorney in Tampa right away. An attorney can use this state law to argue your eligibility for compensation regardless of your helmet use.
How to Calculate Your Recoverable Damages
If you are curious about how much your bicycle accident case in Tampa might be worth, the best way to find out is by consulting with an experienced bicycle accident attorney. An attorney will analyze the specific facts of your case, such as the severity of your injuries and the insurance coverage available, to give you an accurate assessment of your case's value. In the meantime, you may be able to get an idea of the general value of your recoverable damages by calculating them yourself.
Economic Losses
Start with your economic losses. These are easier to calculate because they come with hard numbers and refer to objective monetary losses. Use your bills and receipts to add up all of the economic costs associated with your bicycle accident. This may include hospital and medical care bills, bicycle damage repairs, bicycle replacement, the wages that you have lost so far, and any travel or transportation costs. Don't forget to estimate your future economic losses, as well, such as how much income you will lose before you can return to work and any ongoing medical needs.
Non-economic Losses
Next, estimate the value of your noneconomic damages. This is not something that you can always accurately predict, as the value is widely left up to the discretion of a jury in a bicycle accident claim. The jury will listen to your story, assess your injuries, determine how much they have impacted your life, and base any pain and suffering award given on what they think you deserve. A jury can use one of the available equations to calculate a fair amount in noneconomic damages, but they do not have to.
One of the most common equations used by juries – and that you could use to estimate your potential noneconomic damages – is the Multiplier Method. This takes a victim's total economic damages and multiplies it by a number that is deemed appropriate for the severity of the injury, typically between one and five. To figure out your multiplier and learn how much your noneconomic damages could be worth, contact an attorney.
How Long Do I Have to File a Claim in Florida?
It is important not to wait if you believe you have grounds for a bicycle accident claim in Tampa. Waiting too long could put you at risk of losing your right to recover financial compensation forever by missing your filing deadline. Like all states, Florida has a statute that imposes a strict deadline on the right to file an injury claim. The statute of limitations is four years, in most bicycle accident cases.
The clock will typically start ticking on the date that your bicycle accident occurred. There are some exceptions, however, for injuries with delayed or hidden symptoms. In this scenario, you have four years from the date that you discovered or reasonably should have discovered through due diligence that you were injured.
You may have less than four years to file, however, if the person who hit you was a government agent. If you wish to file a claim against a government agency in Florida, you have a deadline of three years to bring your lawsuit. This deadline is shortened to two years for a wrongful death claim. This is why it is important to contact a Tampa bicycle accident attorney as soon as possible about a potential case.
Common Bicycle Injuries
When a bicyclist gets into a traffic accident, the outcome can be disastrous. Bikers typically have little to no physical protection in accidents. Unlike motor vehicle occupants, bicyclists do not have metal shells or airbags to protect them. They might not even have helmets, since Florida law does not require anyone over the age of 16 to wear them. This means that many bicycle accidents result in severe, catastrophic or life-threatening injuries for the bicyclist.
Examples of these injuries include:
Broken bones
Soft-tissue injuries
Lower extremity injuries
Cuts, severe lacerations and road rash
Head trauma
Skull fractures
Facial and eye injuries
Dental injuries and missing teeth
Back and neck injuries
Spinal cord injuries and paralysis
Crush injuries
Internal injuries and organ damage
Permanent scarring or disfigurement
If you suffered any type of injury in a recent bicycle accident in Tampa, you may qualify for financial compensation from the driver or at-fault party. This includes both minor and severe injuries. If you are not sure if you need to hire an attorney for your injury case, contact our law firm for a free consultation. We will listen to your story and ask you questions about your injuries to determine if you could benefit from hiring a Tampa bicycle accident attorney.
What are the Most Common Causes of Bicycle Accidents in Tampa?
Tampa Bay bicycle accidents are almost always preventable. Human errors such as dangerous and distracted driving contribute to the majority of these collisions. In most cases, bicycle accidents are caused by negligent and reckless drivers who participate in the following actions:
Distracted driving
Texting and driving
Impaired driving
Failure to yield
Failure to stop at stoplight or sign
Drowsy driving
Speeding
Reckless driving
Following too closely
Drivers who cause such bicycle crashes due to negligent actions should be held liable for bicyclists' injuries, emotional distresses, lost wages, and more. All drivers in Florida are required to carry insurance so that they are capable of paying for a bicyclist's injuries and losses after causing a crash.
Legal Options for Injured Cyclists in Tampa
If you were hit by a motorist while riding a bike in Tampa, you may be eligible for legal action. In these situations, the bike accident lawyers at Vanguard Attorneys can help you identify your optimal path to recovery and pursue the compensation that you deserve.
There are multiple legal options available to injured Tampa cyclists, such as the following.
First-Party Insurance Claims
Florida is a no-fault state that requires all motorists to hold personal injury protection (PIP) coverage in the event of an accident. If you are hit by a vehicle while riding a bike, you can file a claim under your own PIP insurance for monetary damages like medical expenses.
Personal Injury Lawsuits
A bicycle accident victim can file a personal injury lawsuit in Florida civil court if another party's actions caused your bicycle crash. As long as you can prove negligence in your bike accident claim, you can recover compensation for the full extent of your injuries and losses.
Third-Party Insurance Claims
If your injuries meet certain thresholds defined by Florida law, you can file a third-party claim against the at-fault motorist's insurance policy.
Different pathways are best for different types of bicycle accident cases. Your Tampa bicycle accident lawyer from Vanguard Attorneys can identify your optimal path to recovery and help you take your first steps toward filing a claim.
Florida Bicycle Laws
With the frequency and severity of these accidents, Florida bicycle law has become very important to us at Vanguard Attorneys. State laws regulate the way bicyclists and motorists share the roadway.
For example, when a motorist passes a bicyclist, the driver must remain a minimum of three feet away from the cyclist. When motorists drive negligently, carelessly, or recklessly, bicyclists on the road face the risk of suffering serious injuries. Unfortunately, when bicyclists are involved in such collisions, the results are often detrimental and life-altering. Such catastrophic injuries often require specialized and continuous medical treatment, which can be costly.
What You Should Do After a Bicycle Accident
The moments after a bicycle accident can be overwhelming. In these situations, it is important to seek help as soon as possible by calling 911 and reporting the accident to law enforcement. Seek medical attention as soon as you can, and save all records related to the collision and your injuries.
If you are able to move without putting yourself in danger or at risk further injury, document as much evidence as you can. Take photographs and videos of the accident scene, all involved vehicles, and your injury and property damage. Collect contact information from the at-fault motorist and any witnesses in the area. After seeking help, contact a Tampa car accident lawyer as soon as possible to learn more about your next steps.
Contact a Tampa Bicycle Accident Attorney Today
If you are injured in a bicycle accident in the Tampa area, the bicycle accident lawyers at Vanguard Attorneys can help you recover the compensation that you deserve. Contact us today to schedule your free case consultation and discuss your legal options with a Tampa bicycle accident lawyer.