Thousands of people across the Tampa area rely on rideshare services like Uber and Lyft. While these vehicles may seem safe, accidents involving Uber and Lyft drivers occur more frequently than one may expect.
If you are injured in a rideshare accident, the rideshare lawyers at Vanguard Attorneys can represent your insurance claim or lawsuit. Our Tampa rideshare accident attorneys will guide you through each step of the claims process so that you recover the settlement that you deserve. Call (813) 471-4444 for a free consultation.
Why Choose Vanguard Attorneys
Our Tampa personal injury attorneys are dedicated to securing the highest possible settlement on your behalf. We will advocate aggressively for your best interests.
Our firm is made up of diverse and talented leadership. Our attorneys have received multiple awards and recognitions, including Super Lawyers' Rising Star designation.
Vanguard Attorneys take all cases on a contingency fee basis. If we do not recover a settlement on your behalf, you will not need to pay legal fees.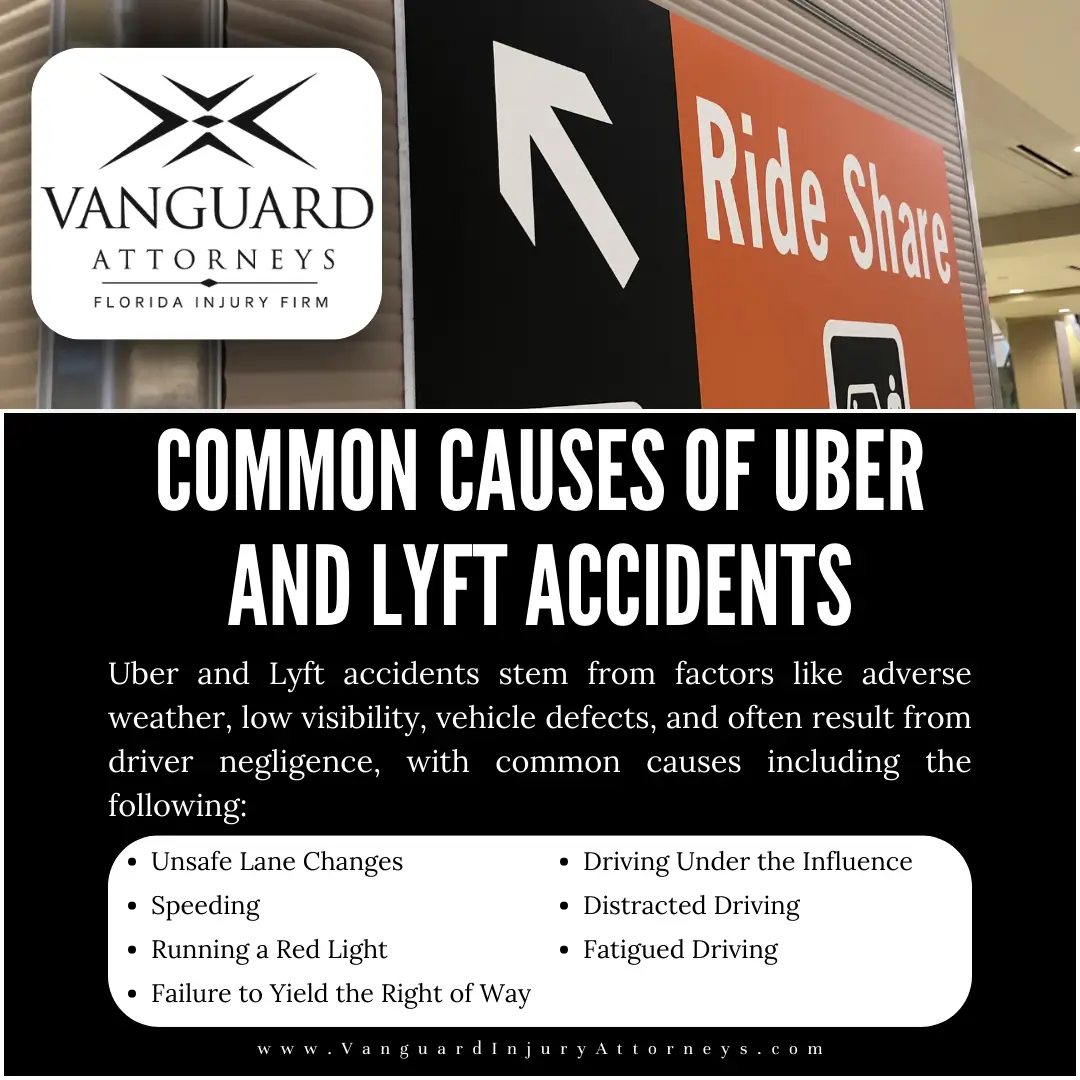 Causes of Uber and Lyft Accidents
Uber and Lyft accidents can occur for several reasons, including poor weather, low visibility, and defective vehicle parts. In many cases, driver negligence is responsible.
Common causes of Uber and Lyft accidents include the following.
Unsafe lane changes
Speeding
Running a red light
Failure to yield the right of way
Driving under the influence
Distracted driving
Fatigued driving
Legal Options for Rideshare Accident Victims in Tampa
Florida is a no-fault state when it comes to car accidents and requires all drivers to carry personal injury protection (PIP) coverage. If you are injured in a collision, you can recover compensation by filing a first-party insurance claim. You could also pursue a third-party claim or lawsuit under certain circumstances.
Uber and Lyft drivers have different insurance requirements. Personal car insurance policies often deny coverage if a driver is using the vehicle for commercial purposes. As a result. Florida requires rideshare companies to provide the following amounts of insurance to their drivers.
If the rideshare app is on, but the driver does not have a passenger assigned to the vehicle, Uber or Lyft must provide at least $50,000 in bodily injury coverage per person, $100,000 in bodily coverage per accident, and $25,000 for property damage.
If the Uber or Lyft driver has a passenger in the vehicle or is on the way to pick up a passenger, the company must provide up to $1 million in coverage for bodily injury and property damage.
If you are injured in an Uber or Lyft accident, there are multiple pathways to compensation that you can pursue. For example, if you are a passenger in the vehicle and the accident is caused by the Uber driver, you could file a claim under Uber's insurance policy. A Tampa accident lawyer from Vanguard Attorneys can evaluate your case and help you identify your optimal path to compensation.
Contact a Tampa Rideshare Accident Attorney
If you are injured by a rideshare driver in Tampa, FL, the rideshare lawyers at Vanguard Attorneys can help you recover the compensation that you deserve. Contact us today to schedule your free case consultation and discuss your next steps with our Uber and Lyft accident attorneys.