Those who have sustained serious injuries in pedestrian accidents should seek experienced legal representation right away. Our Tampa pedestrian accident lawyers at Vanguard Attorneys can stand by your side and fight to pursue maximum financial compensation for you. Because these types of cases are time-sensitive and require ample investigation in order to strengthen a personal injury claim, it is wise to retain seasoned advocacy immediately.
To discuss your case, call our Tampa personal injury attorneys today! We can provide you with a free consultation about your pedestrian case.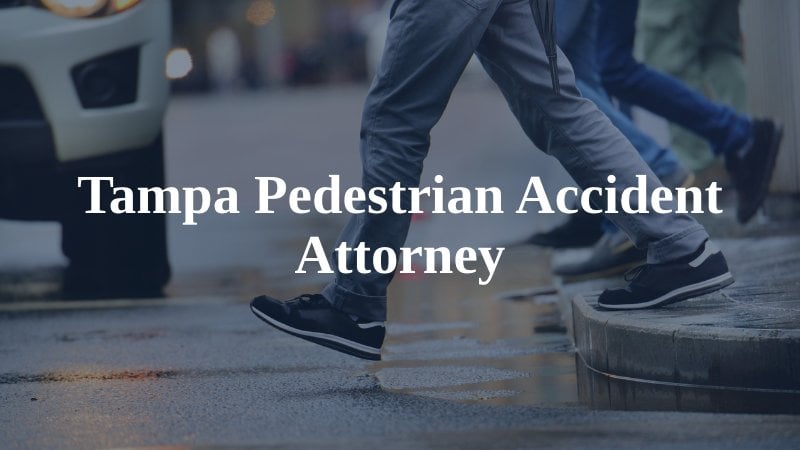 Why Choose Our Tampa Pedestrian Accident Attorneys
Our Tampa pedestrian accident attorneys have decades of experience representing injured pedestrians throughout the Tampa area. We will fight diligently for your right to maximum compensation.
Navigating a lawsuit or insurance claim can be difficult after a recent injury. Our pedestrian injury lawyers will handle all aspects of your claim on your behalf, allowing you to focus on recovery.
Vanguard Attorneys operates on a contingency fee basis for maximum affordability. If we do not secure a settlement in your case, you will not be charged any legal fees.
Why You Need a Tampa Pedestrian Accident Lawyer
Pedestrian accidents often result in painful, debilitating injuries that require extensive care and recovery time. While you are recovering from the collision, you need an advocate on your side who can fight for your best interests and prepare you for each stage of the insurance or litigation process.
If you are injured in a Tampa pedestrian accident, hiring an accident attorney can support your claim in several ways. A pedestrian injury lawyer has the time and resources to conduct a full investigation into your pedestrian crash, gather evidence to prove your claim, and prepare your pedestrian accident case for the negotiating table or courtroom.
When you hire a Tampa pedestrian accident lawyer to represent your claim, you signal that you are serious about obtaining maximum compensation. Your Tampa pedestrian accident attorney can also calculate your economic, non-economic and punitive damages and enlist the help of experts to testify on your behalf. If you are facing accusations of shared liability, your pedestrian accident lawyer can defend your side of the story and advocate aggressively for your maximum award.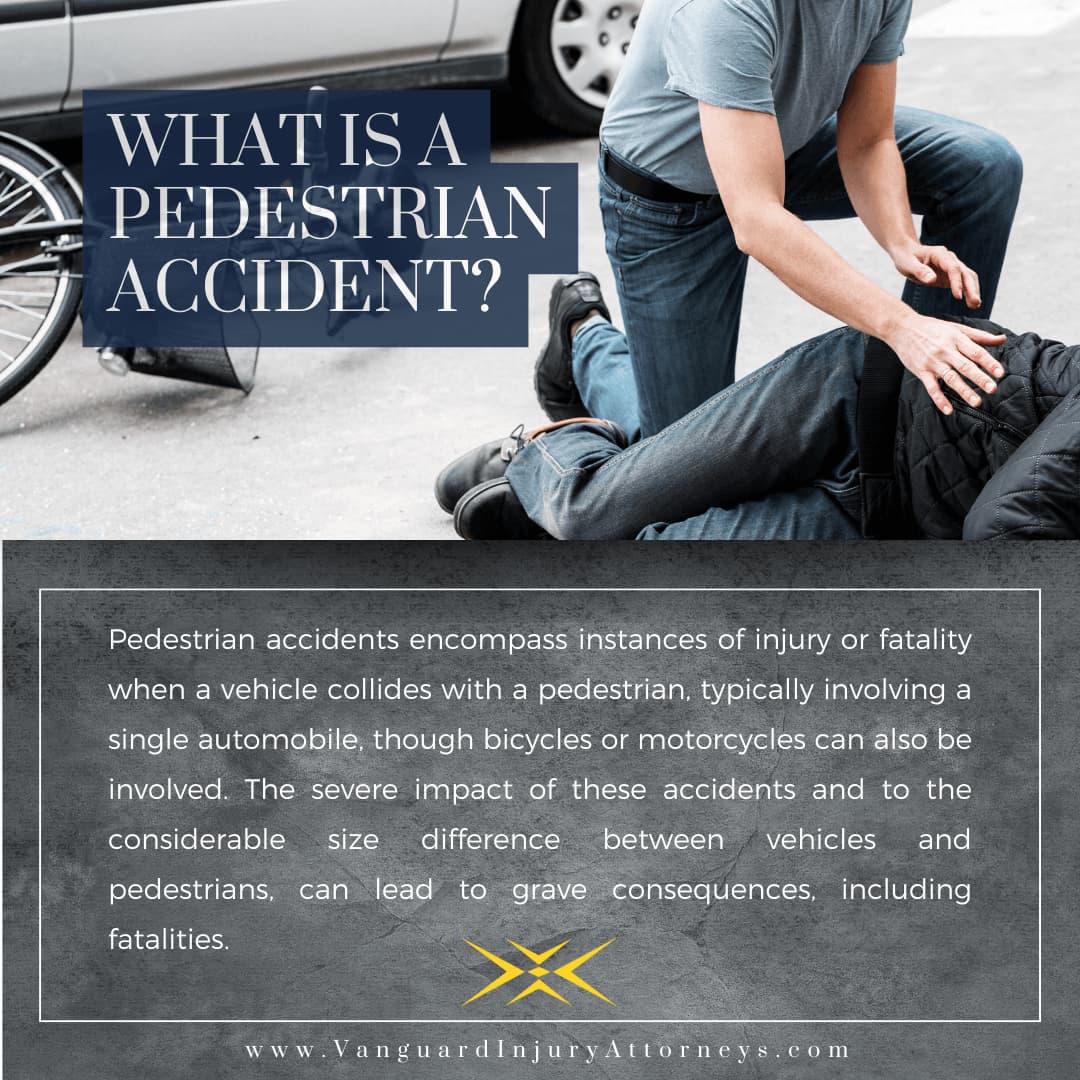 What is a Pedestrian Accident?
Pedestrian accidents involve any case of injury or death resulting from a pedestrian being struck by a vehicle. Most accidents involve a pedestrian and a single automobile, but pedestrians may also be struck by bicycles or motorcycles. Unfortunately, due to the sheer weight and size of vehicles in comparison to people, the results of a pedestrian accident can be detrimental and, in the worst cases, result in pedestrian fatalities.
Can I Pursue Compensation in a Hit And Run Accident?
When an at-fault driver of a pedestrian accident fails to comply with his or her legal obligation to stop at the scene of the collision, a victim's options to pursue compensation may narrow significantly. In these types of pedestrian accident cases, it is imperative that a victim contacts a pedestrian accident attorney immediately. An experienced Tampa pedestrian accident lawyer can examine the fine details of the traffic accident and determine which legal options can help the victim pursue monetary compensation in the shortest amount of time possible.
Common Causes Of Pedestrian Accidents
There are many causes of pedestrian accidents that can contribute to a valid personal injury claim. When motorists fail to drive safely, drive recklessly, or fail to pay attention, nearby pedestrians are at high risk for suffering serious injuries. Many accidents are caused by the following:
Driver's failure to yield to pedestrians
Driver's failure to obey speed limits
Distracted driving (physical, mental, cognitive)
Drunk driving
Drugged driving
Inadequately maintained car equipment (tires, brakes, etc.)
Inadequately maintained roadways
Tampa Pedestrian Injuries
Pedestrian accidents can cause painful and devastating damage. Motor vehicles are much larger and heavier than the average person. When a car hits a pedestrian, he or she can sustain very serious injuries, such as the following.
Internal bleeding and organ damage
Spinal cord injury, including paralysis
Broken bones, especially hips, legs, and arms
Sprains, cuts, and bruises
Death
After a collision, pedestrians often require extensive medical care and recovery time. Many of these injuries result in permanent complications as well, meaning that pedestrian accident victims may need lifelong medical care. Many pedestrians struggle to pay for these medical bills due to lost wages and an inability to return to work in the future, resulting in further hardship. If you lost a loved one in a Tampa pedestrian accident, connect with our legal team about filing a wrongful death lawsuit.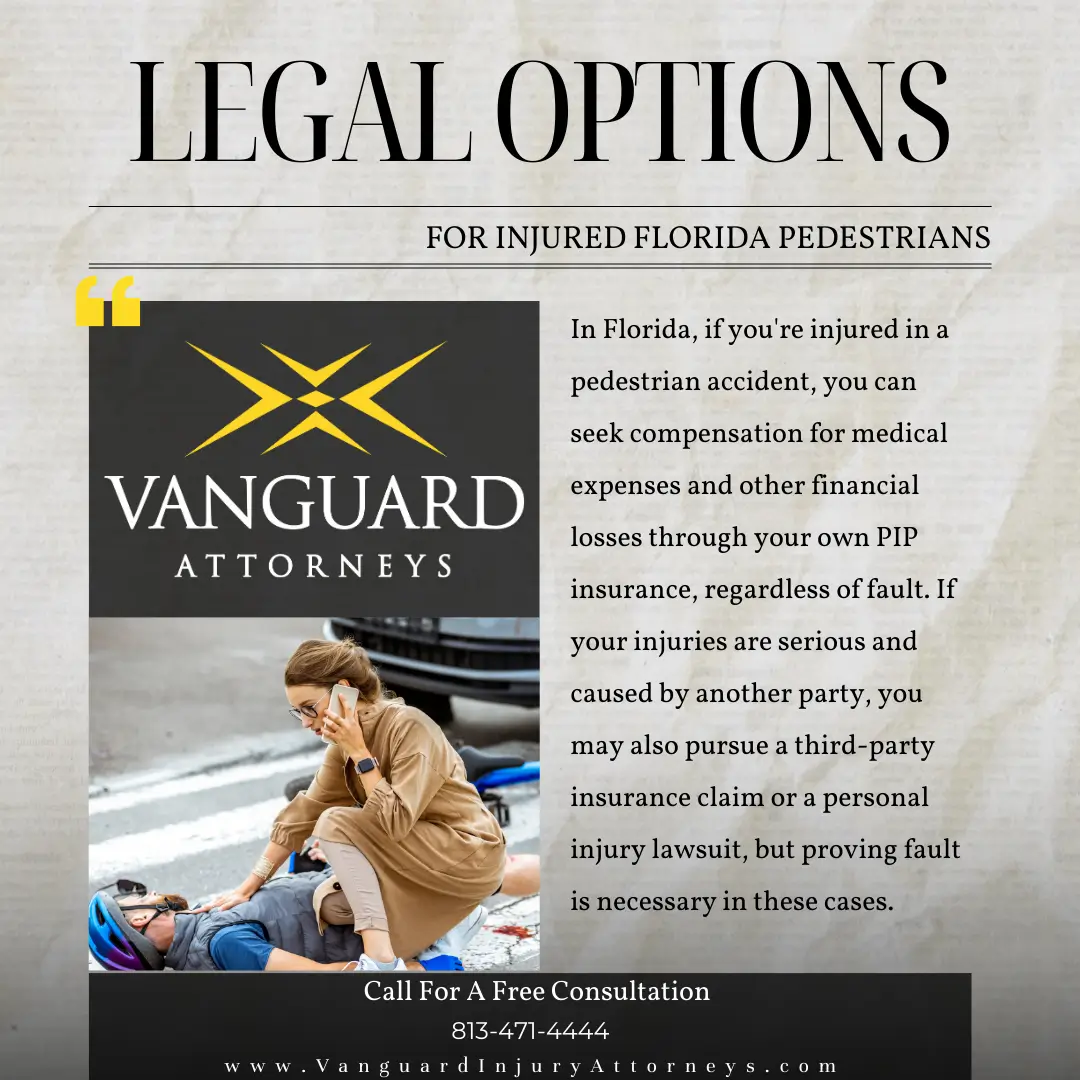 Legal Options for Injured Tampa Pedestrians
If you are injured in a pedestrian accident, you need support to recover from your injuries. Under Florida law, you have the right to pursue compensation for medical care, lost wages, and other expenses associated with your collision.
Florida is a no-fault insurance state that requires all drivers to hold personal injury protection (PIP) coverage. If you are struck by a motorist while walking, you can file a claim against your own PIP insurance and recover compensation for your financial losses, like medical expenses. You can pursue a PIP claim regardless of who caused the accident.
If your injuries qualify as serious under Florida law, you could also pursue a third-party insurance claim against the at-fault driver. However, you will need to prove that the insurance policyholder caused the accident in order to recover compensation. You could also escalate your claim to a personal injury lawsuit in Florida civil court, where you will also need to show that the motorist caused your collision.
Contact the Tampa Pedestrian Accident Attorneys at Vanguard Attorneys
Despite exercising safe habits, pedestrian accidents still occur. If you or a loved one were injured or killed in a pedestrian accident, it may be helpful to contact a pedestrian accident attorney in Tampa to discuss your case immediately. A competent pedestrian injury lawyer with case experience in pedestrian accidents can help to determine any necessary next steps and will work to help get you the compensation you deserve from the insurance company or negligent driver. Contact us today for a free evaluation about pedestrian injuries and pedestrian deaths.