If you are the victim of toxic exposure, you may be eligible for legal action—and the Tampa toxic exposure lawyers at Vanguard Attorneys can help. Contact us today for a free case review.
Toxic chemicals and materials can lead to serious injuries and debilitating injuries. Unfortunately, many Tampa residents are negligently exposed to toxins at home, school, and work, resulting in severe and long-term implications.
Why Choose Vanguard Attorneys
Our Tampa toxic exposure attorneys have decades of combined legal experience and understand how to navigate a complex insurance claim or lawsuit.
We are dedicated to securing a maximum award in your case. We will explore all potential avenues to compensation so you can recover the settlement you deserve.
Our firm believes in open and honest communication. You will work closely with a Tampa personal injury lawyer throughout your case, not a caseworker.
What Can a Lead Poisoning Lawyer Help With?
Most people think consulting or working with a lead poisoning lawyer can only add headaches and confusion to an already difficult situation. However, at Vanguard Attorneys our team of expert lead exposure attorneys in Tampa have the requisite skills to navigate this complicated time for you and your family.
Large corporations like Gopher Resource attempt to protect only their financial bottom line, and our lawyers will not let them bully you. When you have a Tampa toxic exposure attorney working on your behalf, they can help you as you get medical guidance and determine the value of your case against an at-fault employer, like Gopher Resource.
Compensation Available to Toxic Exposure Victims
Toxic exposure can result in long-term complications and affect a victim's physical, emotional, and financial well-being. If you are injured by a toxic substance, you can recover compensatory damages for the losses that you experienced.
Types of damages available in toxic exposure claims include the following.
Lost wages
Medical expenses
Rehabilitation
Disability accommodations
Emotional distress
Permanent disability
Chronic pain
Loss of quality of life
Who is Liable for Toxic Exposure?
If you plan to file a toxic exposure claim, it is important to first determine the source of the exposure and who was responsible for keeping you free from dangerous complications. Depending on the cause of the toxic exposure, multiple parties may be liable for any injuries and illnesses that you experienced.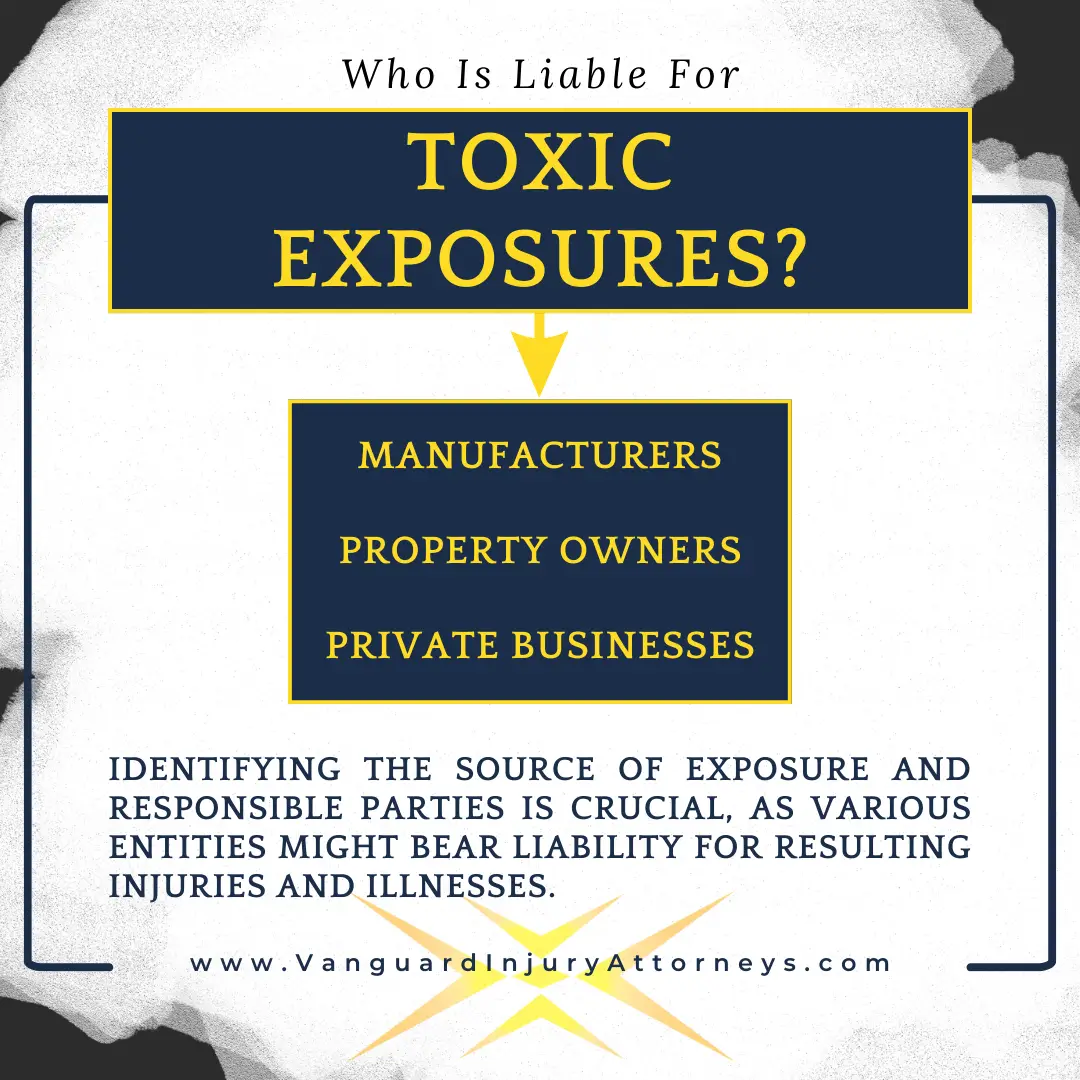 Manufacturers
If you are exposed to a toxic substance through a dangerous or defective product, you could file a product liability lawsuit against the manufacturer of that product. In certain circumstances, you could also name the distributor and retailer of the product in your lawsuit.
Property Owners
Property owners have a duty to maintain safe premises. However, an owner may negligently dispose of toxic chemicals on his or her premises or use unsafe substances while building the property. In these cases, you could file a claim against the property owner.
Private Businesses
If you are exposed to a toxic substance like lead at work, home, school, or while visiting a business, you could file a personal injury claim against the entity. However, you will need to prove that the business's negligence caused your exposure and resulting complications.
It can be difficult to determine the source of toxic exposure. In these situations, the Tampa toxic exposure lawyers at Vanguard Attorneys can help. Our attorneys have the resources to conduct a full investigation into your accident and identify the cause of your injuries. We can also enlist the support of expert witnesses who can assist in our investigation and testify on your behalf.
Tampa Lead Exposure
Those in the Tampa Bay area learned shocking news this spring that local lead smelter Gopher Resource failed to protect their employees from lead poisoning in a report by the Tampa Bay Times. The investigation spanned over 18 months and interviewed more than 80 current and former employees learning about their experience at the Gopher Resource plant. The location of the plant is just six miles east of downtown Tampa and among a neighborhood of small residential homes, auto-repair shops, and places of worship. Members of the Tampa community learned of the shocking news and demanded better conditions for their fellow members of the larger community.
Symptoms and Effects of Lead Poisoning
Lead poisoning can lead to dangerous symptoms and long-term health complications for those exposed, especially when their exposure continually occurs, such as at a place of employment where proper safety protections are lacking. The Center for Disease Control (CDC) determines that lead exposure proves most dangerous when the lead particles are inhaled.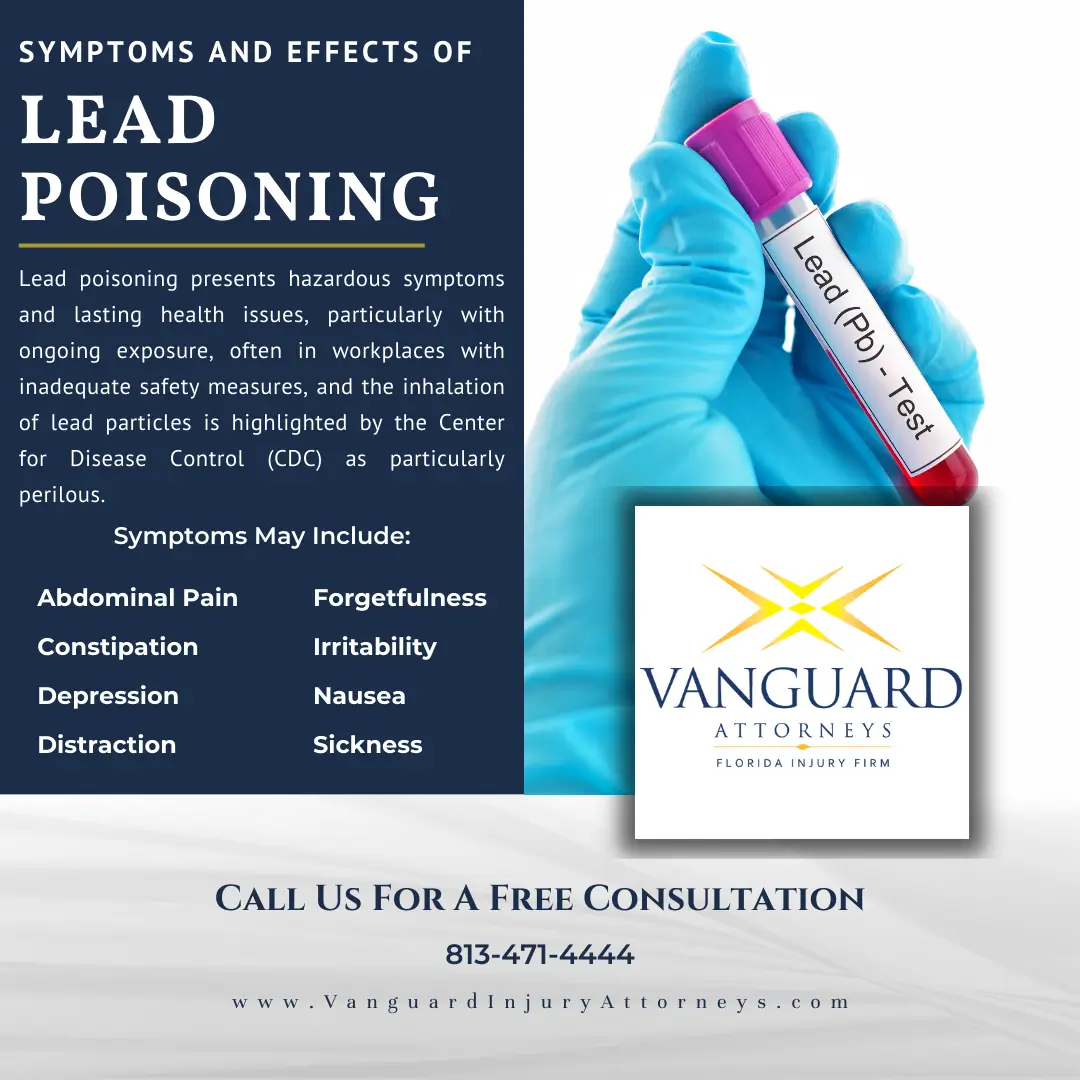 The real danger in prolonged exposure to lead results in many symptoms including abdominal pain, constipation, depression, distraction, forgetfulness, irritability, nausea/sickness. The United States Department of Health and Human Services (DHHS) has determined that lead can also cause cancer in humans. While lead poisoning often has similar symptoms to other conditions, if you think you have lead poisoning, you should consult a medical professional.
Why is Lead Poisoning More Dangerous for Children?
The exposure of children can result in more significant symptoms and long-term health impacts. In the report published by the Tampa Bay Times, current and former Gopher Resource employees cited their concerns about potentially bringing home lead particles on their clothes or shoes and exposing their families including their children.
The American Academy of Pediatrics explains that there is no safe blood lead level in children. While many initial symptoms of lead poisoning in children can present as other nondescript symptoms, lead poisoning can affect the brain development of children. As their brains have not fully developed, the presence of lead in their blood, can lead to clumsiness, agitation or decreased activity and drowsiness. Any children who experience symptoms as a result of lead toxicity should treat the symptoms as an emergency.
Vanguard Attorneys is Here to Support You Through Your Lead Poisoning Lawsuit
Our experience as a Tampa personal injury firm allows our team of attorneys to know this area and how to fight cases for our clients. One of our attorneys, Sean Shaw, was recently the Representative in the Florida House of Representatives for District 61 which includes the area around the Gopher Resource plant. Vanguard Attorneys takes pride in our efforts to fight for clients in underserved communities, including those who could have been affected by the lead exposure at the Gopher Resource plant in Tampa.
Contact a Tampa Toxic Exposure Attorney Today
If you are injured due to toxic exposure, you have options to pursue financial compensation. In these situations, the Tampa toxic exposure lawyers at Vanguard Attorneys can help you recover the settlement that you deserve. Contact us today to schedule your free consultation and discuss your options with a Tampa toxic exposure attorney.