Florida Golf Cart Accident Lawyers
If you were hurt in a golf cart accident, call now for a free consultation with an experienced golf cart accident lawyer. (813) 471-4444.
Golf carts have become a common mode of transportation in retirement communities, residential subdivisions, and even in Downtown Tampa. Golf cart accidents and injuries are happening more often as carts grow in popularity.
Our expert golf cart accident attorneys are here to help you understand your legal options and whether you're entitled to compensation for your injuries. Call

(813) 471-4444

for a free consultation and case evaluation or

Contact Us Online

.
On this page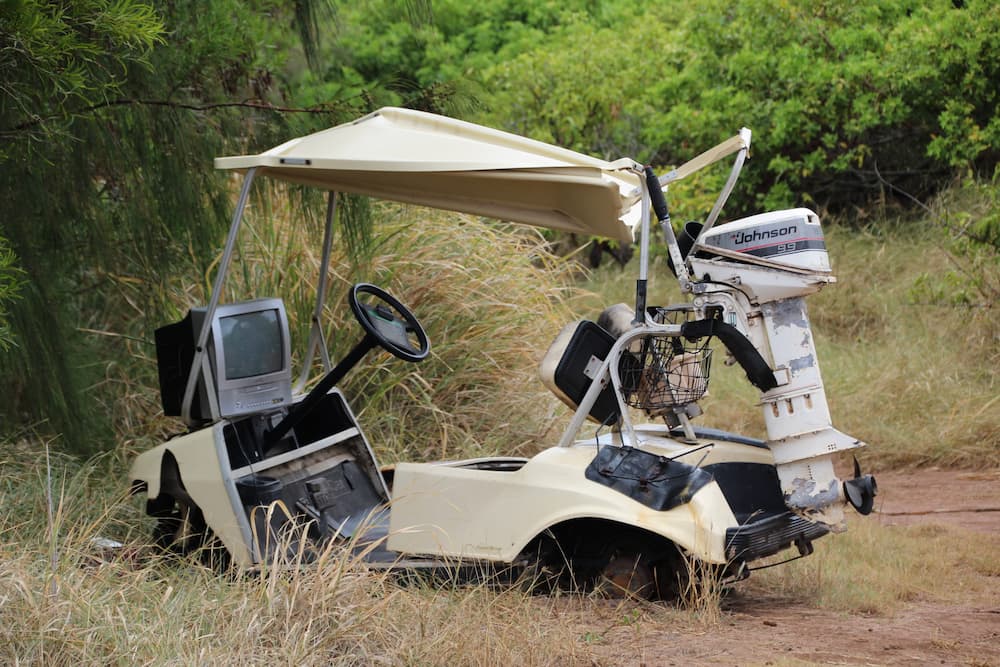 Golf cart accidents can be devastating to individuals and families. Golf carts don't have the safety features of a traditional vehicle, which makes it more likely that the driver and passengers will be catastrophically injured.
If you or a loved one has been injured in a golf cart accident, it's important that you seek legal advice as soon as possible.
At Vanguard, our personal injury lawyers are committed to providing the best possible representation and winning maximum compensation for your injuries. Call for a free consultation or contact us.
Why Choose Vanguard Attorneys
Our golf cart accident lawyers will win the compensation you deserve. We have decades of experience in Florida personal injury law. Let our team handle every part of your case, so you can focus on recovery. Here's an overview of our process:
Providing Legal Advice and Counsel
An attorney can explain your legal rights and options following the accident. They can assess the circumstances of the accident and provide advice on how to proceed, whether it involves negotiating with insurance companies or requires filing a personal injury lawsuit.
Investigating the Accident
Our team works with expert investigators to collect and analyze all of the evidence related to the accident.
We interview any witnesses and third parties that were present at the scene so we have all the information needed to dismantle any misleading arguments the defendant's legal representation tries to use to change the narrative.
Through our comprehensive investigation, our lawyers obtain the evidence, information, and witnesses we need to prove the defendant is liable beyond a shadow of a doubt.
Our expert investigations give us leverage during settlement negotiations when our opponents try to deny liability.
If the defendant is unwilling to pay what you deserve, we won't hesitate to go to trial to win maximum compensation for your injuries.
Filing Insurance Claims
If there is applicable insurance coverage, such as homeowner's insurance or golf cart insurance, our attorneys will handle filing claims and communicating with the insurance providers.
Insurance companies often attempt to unfairly deny coverage to the insured. Our team has decades of experience fighting and winning against large insurance companies.
We aren't satisfied settling for the policy limits because we know the life-changing impact a golf cart injury can have on a family.
Negotiating Settlements
Our attorneys are ranked among the best negotiators in Florida. We regularly negotiate multi-million dollar settlements for clients.
Our firm has established a reputation as expert trial lawyers. Some firms are known to accept lowball settlement offers to avoid going to trial.
When we negotiate, the defendant's lawyers know we won't hesitate to go to court if they refuse to offer a fair settlement.
We'll put in the work to win the compensation you deserve no matter what it takes.
At each stage of negotiation, our golf cart accident lawyers keep you updated and help you understand the value of your claim and whether the defense's offer is reasonable.
The final decision whether or not to accept a settlement is in your hands, and we'll guide you through the process so you can make an informed, confident decision on whether to settle or go to trial.
Constant Communication and Case Updates
Our legal team and staff work hard to maintain constant communication with our clients and to always be available to answer any questions you have about your case.
Our team is selective about what cases we'll take on so we can give every client the attention they deserve.
Supporting You and Your Family
Our golf cart accident lawyers care about our clients. While we work hard to win your case, our team will help you with your recovery, financial needs, emotional support, and anything else you need.
Our team will help with:
Finding the best medical care for your injury
Managing financial concerns like medical bills while your case is in progress
Transportation to and from the courthouse if the case goes to trial
Overcoming day-to-day challenges caused by a catastrophic injury
The work we do for our clients doesn't stop after the case is over, we'll be there for you throughout the recovery process whenever you need us.
Taking Your Case to Trial
If a fair settlement cannot be reached through negotiations, your attorney can represent you in court. They will file a lawsuit on your behalf, present evidence, and argue your case in front of a judge and jury if necessary.
If you're involved in a golf cart accident, our golf cart accident lawyers can help navigate the aftermath of a golf cart accident can be daunting. We are here to help you understand your rights, responsibilities, and the potential paths to seeking compensation if you've been injured. From golf cart regulations to insurance considerations and legal recourse, there is a lot to consider before using a golf cart to enjoy streets of Tampa and its vibrant communities.
When Golf Cart Accident Injuries Occur Who is Liable?
Liability depends on the specific circumstances of the accident, so you should call a golf cart accident lawyer to determine the at-fault party and whether the injured party is entitled to compensation for damages.
Generally, liability can fall on one or more of the following parties:
Golf Cart Drivers
The person driving the golf cart can be held liable if their actions directly or indirectly caused the accident. Negligent behavior like driving recklessly, speeding, or driving under the influence can also lead to the driver being found liable.
Golf Courses and Other Businesses
If the accident occurred on private property like a golf course or other business, the business owner can be held liable if they were negligent. For example, failing to maintain a golf course properly, or a lack of proper safety guidelines.
Golf Cart Manufacturers and Dealers
If a defective golf cart or faulty parts lead to an accident, the manufacturer or dealer may be held liable for injuries and other damages.
Maintenance and Repair Services
If inadequate maintenance or negligent repair work on the golf cart contributed to the accident, the service providers responsible for maintaining or repairing the cart may be held liable.
Pedestrians or Other Drivers
In cases where pedestrians or drivers of other vehicles were involved in the accident, their actions or negligence may contribute to liability. For example, a pedestrian walking into the path of a golf cart or a driver failing to yield the right of way could be at fault.
Irresponsible Passengers
In some cases a passenger who was riding in the golf cart can share liability if their actions or behavior distracted the driver and contributed to the accident.
Liability for golf cart accidents is often determined through investigation, witness statements, and possibly legal proceedings if a lawsuit is filed. With a multitude of potentially liable parties it is important to speak with an experienced attorney who can assess the situation and ensure all liable parties are held accountable.
Are Golf Carts Street Legal in Tampa or Across Florida?
In general, golf carts are not automatically considered street legal vehicles in Tampa or many other parts of Florida. By definition golf carts may be legally driven on some county roads which are approved for golf carts. However, to be operated more generally on streets with a posted speed up to 35 MPH a golf cart needs to be converted to a low speed vehicle with the addition of all safety equipment and meeting registration, title, and insurance requirements.
How Old Do You Have to Be to Drive a Golf Cart?
In 2023 Florida passed a law preventing minors from driving golf carts unless they have a learner's permit or driver's license. If you are unlicensed, you must be at least 18 years old to drive a golf cart.
Floridians must be at least 15 years old to obtain a learner's permit and 16 years old to obtain a driver's license. Anyone 18 or older can drive a golf cart as long as they have a valid government-issued identification.
Violating the new driving age law could result in a noncriminal traffic violation and fee.
Previously Florida law allowed children as young as 14 to operate golf carts. St. John's County Sheriff's Office Director of Patrol Scott Beaver said, "We don't need 14-year-olds operating a golf cart on a highway."
Common Causes of Golf Cart Accidents
Golf cart injuries can occur in various ways, often resulting from accidents or misuse. Here are some common ways golf cart injuries happen:
Collisions
One of the most frequent causes of golf cart injuries is collisions with other vehicles, objects, or even pedestrians. These collisions can happen on golf courses, streets, or in residential areas. Factors such as distracted driving, speeding, or failure to yield can contribute to these accidents.
Rollovers
Golf carts are relatively lightweight and have a high center of gravity, making them susceptible to tipping over, especially when turning sharply or navigating uneven terrain. Rollovers can lead to occupants being thrown from the cart or trapped beneath it.
Falls from the Cart
Passengers and drivers can fall off a moving golf cart or while getting on or off it. This can result from abrupt stops, sharp turns, or instability while standing on the cart.
Overcrowding
Overloading a golf cart with more passengers or cargo than it's designed to carry can lead to accidents and injuries. The added weight can affect the cart's stability and handling.
Improper Maintenance
Neglecting regular maintenance, such as brake checks, tire inspections, and steering system upkeep, can lead to mechanical failures that cause accidents.
Reckless Driving
Speeding, reckless maneuvers, and driving under the influence of alcohol or drugs can significantly increase the risk of golf cart accidents and injuries.
Inadequate Lighting
Golf carts used at night or in low-light conditions should have proper lighting, including headlights, taillights, and turn signals. A lack of visibility can result in collisions.
Terrain and Environmental Factors
Uneven terrain, steep slopes, and adverse weather conditions (rain, snow, or ice) can make golf carts more challenging to control and increase the risk of accidents.
Lack of Safety Features
Some older golf carts may lack modern safety features, such as seatbelts, which can contribute to more severe injuries during accidents.
Inexperienced Operators
Inexperienced or underage drivers may lack the necessary skills to operate a golf cart safely, leading to accidents.
Driving Golf Carts Safely
To prevent golf cart accidents, drivers and passengers should follow these guidelines:
Wear seatbelts when they're available.
Respect the speed limit.
Avoiding overcrowding.
Never drink and drive.
Use proper hand signals when turning.
Be careful when driving at night or in low visibility conditions.
Perform regular maintenance and repairs to keep your golf carts in safe working condition.
Where Do Golf Cart Accidents Occur?
Golf cart accidents are most common in these locations:
Golf Courses
Naturally, golf courses are the most common place that golf cart accidents take place.
Inattentive drivers collide with other golf carts, trees, and bunkers, and other golfers.
Rollovers are also a risk on golf courses when drivers navigate steep terrain and hills and are driving too quickly or make sharp turns.
Residential Communities
Many gated residential communities, retirement communities, and private neighborhoods allow golf carts for transportation within their premises. Golf cart accidents most often occur on the street and sidewalks in these communities.
Carts can hit pedestrians who are walking on the sidewalk and cars hit golf carts that are driving on the street.
Golf cart drivers should avoid reckless behavior when driving on the sidewalk and people driving cars should be cautious and obey the speed limit to avoid hitting golf carts that are on the road.
Public Streets and Roads
In Florida, golf carts are legal to drive on public streets with speed limits up to 35mph.
Driving a golf cart on the road is dangerous since they don't offer the same protection and safety features as cars.
Accidents most often occur at night due to the low visibility of golf carts. Cars speeding through an intersection or turn don't have enough time to come to a stop before colliding with a golf cart.
Industrial and Commercial Sites
Golf carts are sometimes used in large warehouses, factories, manufacturing plants, and other facilities.
Accidents can occur when heavy equipment is being used during loading and unloading operations or while moving materials.
Does Auto Insurance Cover Golf Cart Accidents?
Auto insurance typically does not cover golf cart accidents since golf carts have their own insurance requirements.
Coverage will depend on your specific policy and the circumstances of the accident.
In most cases, insurance carriers craft the definitions and exclusions in policies to limit how much coverage they'll have to pay.
If you're involved in a golf cart accident and an insurance carrier denies coverage, talk to a golf cart accident attorney in case they're acting in bad faith.
Unfairly denying or delaying coverage is illegal and carries heavy penalties for insurance companies, including paying compensation to the injured party.
What are the Golf Cart Insurance Requirements?
In Florida golf carts do not require insurance, however Low Speed Vehicles must be insured with personal injury protection (PIP) and property damage liability (PDL).
Your golf cart may qualify as a low speed vehicle if it has been substantially modified to be street-legal.
Call Vanguard Injury Attorneys for a Free Consultation
Hiring an experienced attorney with expertise in personal injury cases can make a significant difference in the outcome of your golf cart accident claim. Our lawyers will work to protect your interests, negotiate on your behalf, and help you obtain the compensation you deserve for your injuries and losses.
If you've been involved in a golf cart accident in the Tampa area call Vanguard Attorneys. Our team has the experience and expertise to navigate these complex cases, with a track record of proven results. At Vanguard Attorneys, every client is given personal attention and kept informed throughout the entire process, and we mean the entire process! Our trial lawyers don't sit back and wait for a settlement, from the start we are preparing for trial and when necessary will take your case to a jury verdict should the opposition refuse to offer fair compensation. Like all personal injury law firms our lawyers don't get paid unless we are successful in obtaining compensation for you. We are available right now for a free no-cost, no-obligation consultation to discuss your golf cart accident case.
References
https://www.fox13news.com/news/golf-carts-now-allowed-on-downtown-tampa-streets-rentals-available
https://baynews9.com/fl/tampa/news/2022/10/17/golf-carts-hit-the-streets-of-downtown-tampa
https://www.flhsmv.gov/safety-center/consumer-education/low-speed-vehicles/