If you are injured at work, the Tampa work injury lawyers at Vanguard Attorneys can help. Depending on the circumstances surrounding your case, you could pursue a workers' compensation claim or lawsuit—and recover the maximum compensation to support your future needs. Contact us today.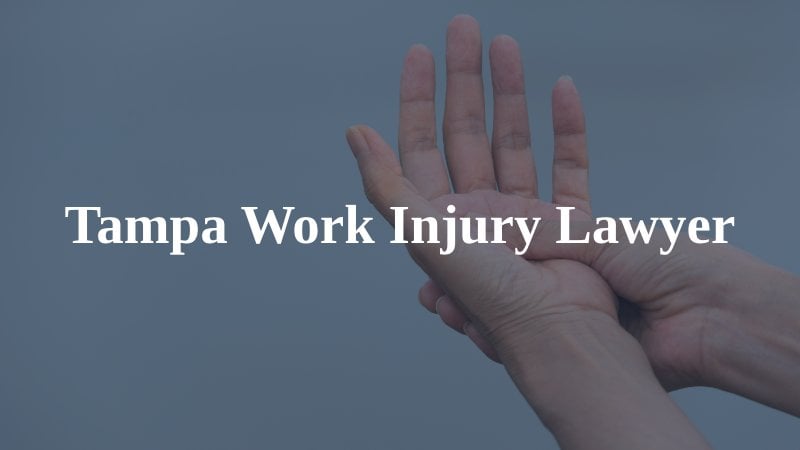 Navigate This Page
Choosing The Best Workplace Injury Attorney
Our Tampa work injury attorneys have represented injured people throughout Tampa for years. We are dedicated to achieving the highest possible settlement in your case.
We are a small firm that provides personalized attention to each and every client. Your Tampa personal injury lawyer will be accessible and responsive from consultation to settlement.
Our firm is active in the Tampa community and has built strong connections. We will leverage our community resources to support your claim.
Do You Need a Lawyer to Support Your Workplace Injury Case?
Navigating a workplace injury claim can be a challenge. You may be unsure about the extent of your damages, or whether you should file a personal injury lawsuit or pursue an insurance claim. In these situations, you need a Tampa workplace injury attorney on your side who can represent your best interests.
A Tampa work injury lawyer from Vanguard Attorneys will have the skills, experience, and knowledge to identify your optimal legal pathway and guide you through each stage of the claims process. Your lawyer can handle all negotiations on your behalf, calculate the full extent of your potential settlement, and advocate for your highest possible settlement.
What Are My Options for Recovering Compensation?
If you suffer an injury or illness on the job in Florida, you have two main options for recovering compensation: a workers' compensation insurance claim and/or a personal injury lawsuit. In Florida, all employers with four or more employees must offer workers' compensation insurance coverage. If your employer has workers' comp insurance, you can file a claim and receive benefits without having to prove negligence or fault.
The workers' comp system is a no-fault program that can pay an injured employee for his or her medical bills, partial lost wages, disability expenses and death benefits. The tradeoff for this no-fault insurance is that an employee gives up the right to sue an employer for negligence. This is why it is important to discuss your legal options with a Tampa work injury attorney before accepting a workers' comp settlement. A personal injury claim requires you to prove negligence, but could result in greater compensation for your losses, including pain and suffering damages.
You may also be able to recover through both types of claims if someone other than your employer caused your accident (a third party). A standard personal injury lawsuit based on negligence may be available if someone was careless and this caused your injury.
If a product or piece of equipment malfunctioned and injured you, you may have grounds for a product liability lawsuit. If you were injured due to a property defect, a premises liability claim may be more appropriate. A Tampa work injury attorney can explore all of your legal options and choose the right one on your behalf.
Your Rights After a Work Injury in Tampa
If you are injured at work in Florida, you have the right to pursue compensation following your accident. Depending on the circumstances surrounding your case, you could pursue a workers' compensation claim or a lawsuit.
Under state law, most employers must provide workers' compensation insurance to their employees. If your employer provides this coverage, you could file a claim and secure benefits for wage replacement, medical care, and other losses. However, you cannot pursue a lawsuit against your employer if you file a workers' compensation claim.
If your accident occurred due to the negligence of another person or company, you could file a personal injury lawsuit in civil court. Multiple parties may be at fault in a Florida workplace injury claim, including the following.
Supervisors
Coworkers
Subcontractors
Drivers of motor vehicles
Manufacturers of defective products
Filing a claim after suffering a work injury in Tampa can help you move forward from a harmful accident. You can hold one or more parties accountable for causing or contributing to your accident, as well as receive the compensation that you need to pay for necessary medical care and make up for other losses.
Causes of Workplace Injuries
Understanding why workplace accidents, disasters, injuries and deaths occur in Tampa, Florida can help prevent them. Many workplace accidents can be prevented with safe workspaces and responsible employers. If a dangerous work environment or negligent employer causes a workplace injury, a victim can pursue financial compensation.
Some of the most common causes of workplace injuries include:
Transportation incidents
Contact with objects and equipment
Electrocutions and electric shock
Violence from persons and animals
Repetitive motions
Statistically, the most dangerous industries for workplace injuries in Florida are construction, transportation, warehousing, freight trucking and waste management. These jobs contain inherent hazards such as heavy machinery and equipment. However, a workplace accident and injury can occur in any industry or job in Tampa.
Common Workplace Injuries
There are many hazards that workers face in Florida. Even if you are performing your job correctly and following all safety regulations carefully, serious and dangerous accidents can occur.
Depending on the type of work that you do, you can sustain any of the following injuries while on the job.
Muscle strains due to overexertion
Burn injuries from fires or explosions
Crushing injuries from heavy equipment or vehicles
Soft tissue injuries
Broken bones
No matter what type of injury you were diagnosed with after a workplace accident, the team of Tampa workers compensation lawyers at Vanguard Attorneys can help you pursue just financial compensation. We can handle even the most complicated cases and catastrophic injury claims in Tampa.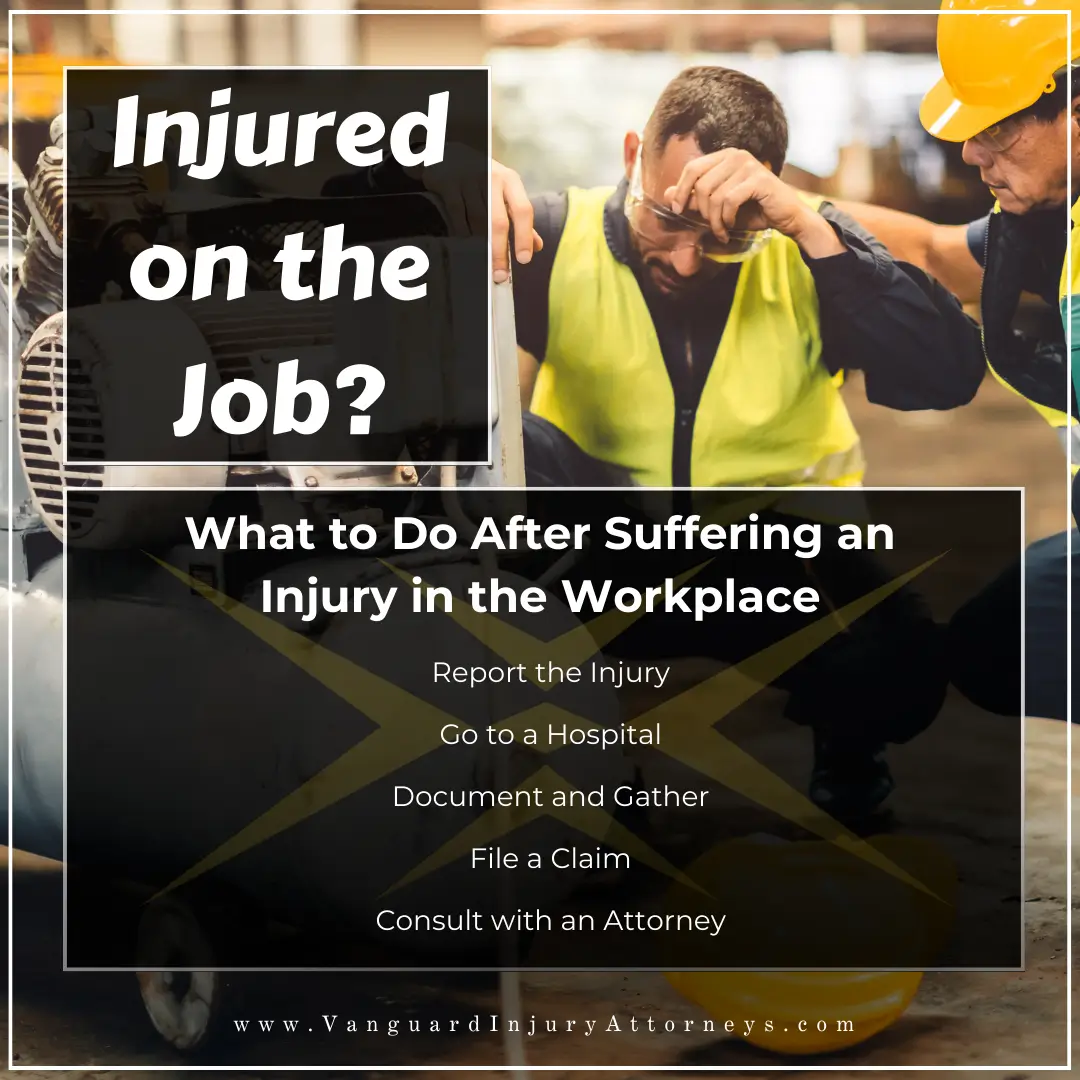 What to Do After Suffering an Injury in the Workplace
If you get injured while performing a task related to your job in Tampa, there are steps that you should take to prepare yourself for the claims process ahead. An insurance company will check to see if you carried out all of the required and appropriate actions after your work accident. Here's what to do:
Report the Injury
Give your employer notice of your accident and injury right away, but within at least 30 days of the incident. This is a requirement under Florida law.
Go to a Hospital
Do not delay in seeking professional medical care for your injury. You must see a doctor that is on your employer's approved list (unless it is an emergency). After your first visit, you can get a second opinion from a doctor of your choosing.
Document and Gather
Collect evidence and information about your accident, such as photographs of the scene, copies of an accident report and a detailed account of what happened.
File a Claim
Work with your employer to file a workers' compensation claim. Before you accept a settlement, however, discuss your options with a Tampa work injury lawyer.
Consult with an Attorney
Request a free consultation with a Tampa work injury attorney so that you can learn more about your rights after suffering a serious workplace injury or the loss of a loved one.
The recovery process after a work accident may not be simple or straightforward. Working with an experienced work injury lawyer, however, can make things easier. Consult with an attorney early on in your case for optimal legal protection.
What if My Work Injury Claim Is Denied?
A work injury claim can be denied for many reasons, not all of which are valid. Insurance companies are notorious for putting their bottom lines over their clients. They are likely to reject valid claims without good reason. If your work injury claim gets denied, the insurance company must give the reason for its decision in writing in your rejection letter. Read the wording of this letter carefully and compare them to the language of the insurance policy to see if they match up.
Reasons given for denying a work injury case may include:
A mistake made on the claims paperwork
Inadequate proof of losses
Missed filing deadline
A lack of coverage available
A lapse in your employer's insurance policy
An assertion that your injury did not occur at work (a pre-existing injury)
Allegations of recklessness or horseplay
A Tampa work injury lawyer can help you combat these reasons for rejection, such as by presenting additional evidence to the insurance company to prove your claim. If the insurance company does not alter its decision after being asked to conduct an internal review, a lawyer can help you file an appeal.
An appeal is an official request for the Division of Administrative Hearings to review your case and potentially change the insurer's decision. A judge will hear both sides of the case to rule on an appeal. If this does not work, your attorney can file a second appeal with the Florida First District Court of Appeals. A work injury lawyer will do everything possible to overturn your claim denial.
Contact a Tampa Workplace Injury Attorney
Work is often the last place that we expect to suffer an injury. Unfortunately, thousands of people sustain injuries while on the job each year, resulting in serious complications and financial hardship.
If you suffer an injury while at work, the lawyers at Vanguard Attorneys can help you recover the settlement that you deserve. Contact us today to schedule your free consultation and discuss your next steps with a Tampa workplace injury lawyer.