If you are injured while riding on a bus in Tampa, you may be eligible for legal action. In these situations, the Tampa bus accident lawyers at Vanguard Attorneys can represent your case and help you secure the compensation that you deserve. Getting injured can set you back physically, emotionally, and financially and can be extremely frustrating. These feelings can be amplified if you were hurt due to the reckless and negligent actions of another.
The bus accident lawyers at Vanguard Attorneys understand your frustration and are here to help. We provide experienced and knowledgeable representation and will fight to win you the compensation you deserve. Contact us today to set up a free consultation.
Why Choose Our Tampa Bus Accident Lawyers
Our experienced attorneys understand personal injury law in Tampa. Our bus accident attorneys will leverage their skills, experience, and resources to craft a compelling case in your favor.
Our firm takes all cases on a contingency fee basis for maximum affordability. If we do not secure a settlement on your behalf, you will not be charged legal fees.
We are a local firm with strong ties to the community. We will leverage our connections and relationships to support your claim.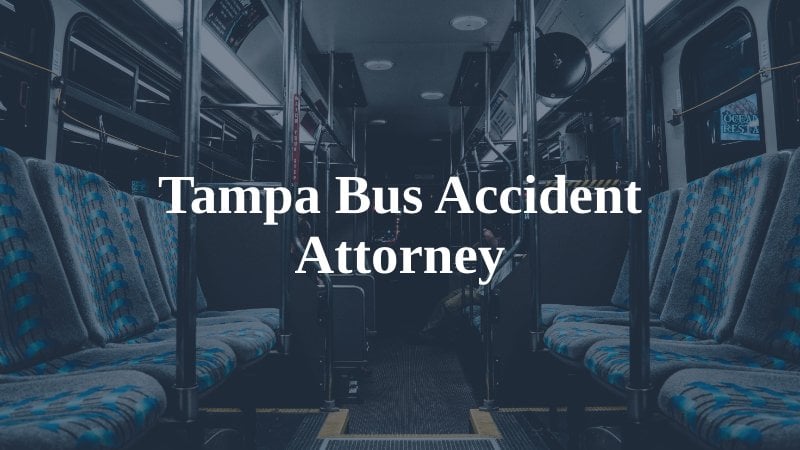 Navigate This Page
Why You Need a Tampa Bus Accident Lawyer
Across the state of Florida, thousands of people rely on buses to travel from place to place. Although buses are generally safe, accidents involving these vehicles can still occur.
If you are injured in a Tampa bus accident, you need a Tampa bus accident lawyer on your side. By hiring a bus accident lawyer from Vanguard Attorneys to represent your claim, you can gain an advocate who will fight aggressively for your best interests and provide several important benefits to your claim.
Determining fault in a bus accident can be a challenge. Your bus accident attorney will have the resources necessary to launch a full investigation into the collision and identify the cause of the collision.
You may not know the full extent of your injuries and losses. Your Tampa accident lawyer can identify all potential avenues to compensation and estimate your financial award, helping you secure the highest possible settlement.
Your bus accident attorney can gather the evidence necessary to prove your case and your right to compensation. He or she can also negotiate with insurance companies and defense attorneys on your behalf.
Bus accident claims can be highly complex, and it can be difficult to handle the process alone after a severe injury. Your Tampa bus accident attorney will have experience handling cases similar to yours and can guide you through the litigation process, helping you prepare for each stage.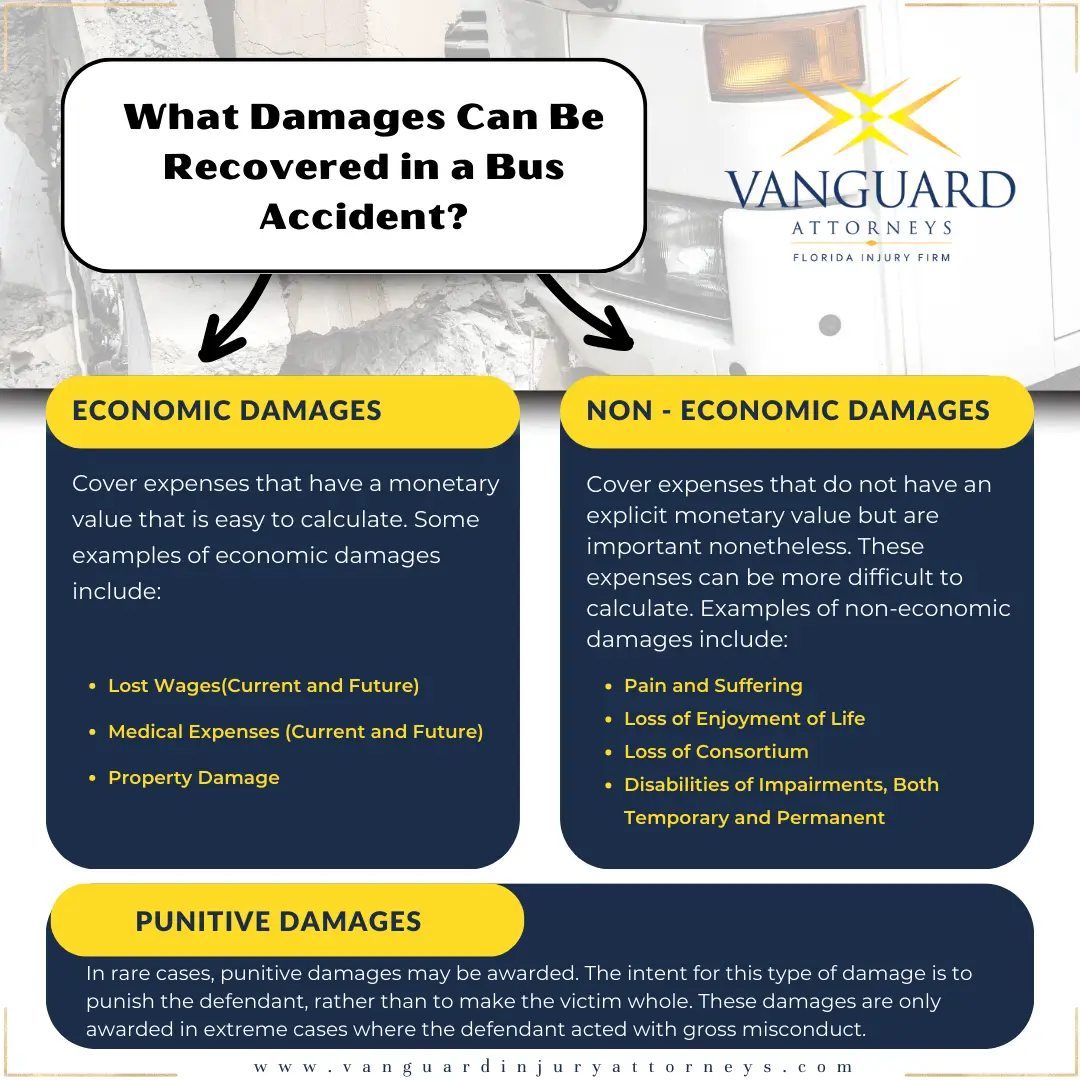 What Damages Can Be Recovered in a Bus Accident?
Along with PIP coverage compensation, bus accident victims are eligible for other compensatory damages such as economic, non-economic, and in rare cases, punitive damages.
Economic Damages
Economic Damages cover expenses that have a monetary value that is easy to calculate. Some examples of economic damages include:
Lost wages, both current and future
Medical expenses, both current and future
Property damage
Non-Economic Damages
Non-Economic damages cover expenses that do not have an explicit monetary value but are important nonetheless. These expenses can be more difficult to calculate. Examples of non-economic damages include:
Pain and suffering
Loss of enjoyment of life
Loss of consortium
Disabilities of impairments, both temporary and permanent
Punitive Damages
In rare cases, punitive damages may be awarded. Punitive damages are different from other types of compensation because the intent for this type of damage is to punish the defendant, rather than to make the victim whole. However, these damages are only awarded in extreme cases where the defendant acted with gross misconduct. For example, if the defendant was driving while impaired, or acted with road rage and caused a fatal accident, they may have to pay punitive damages. It is important to note that Florida places a cap on punitive damages, limiting them to $500,000 or three times the amount of compensatory damages, whichever amount is greater.
Legal Options for Tampa Bus Accident Victims
Florida is a no-fault accident state, requiring all drivers to hold personal injury protection (PIP) insurance. Florida motor vehicle owners are required to have a minimum of $10,000 PIP coverage, this coverage can pay for your financial losses following a collision, such as medical care and lost wages. If you are injured in a bus accident, you could file a claim under your own PIP coverage, if you have it, even if you were a passenger on the bus when the accident occurred.
In many cases, PIP coverage is not sufficient to pay for your losses. In these situations, you could escalate your case to a lawsuit against the bus driver and the company or government agency responsible for the collision.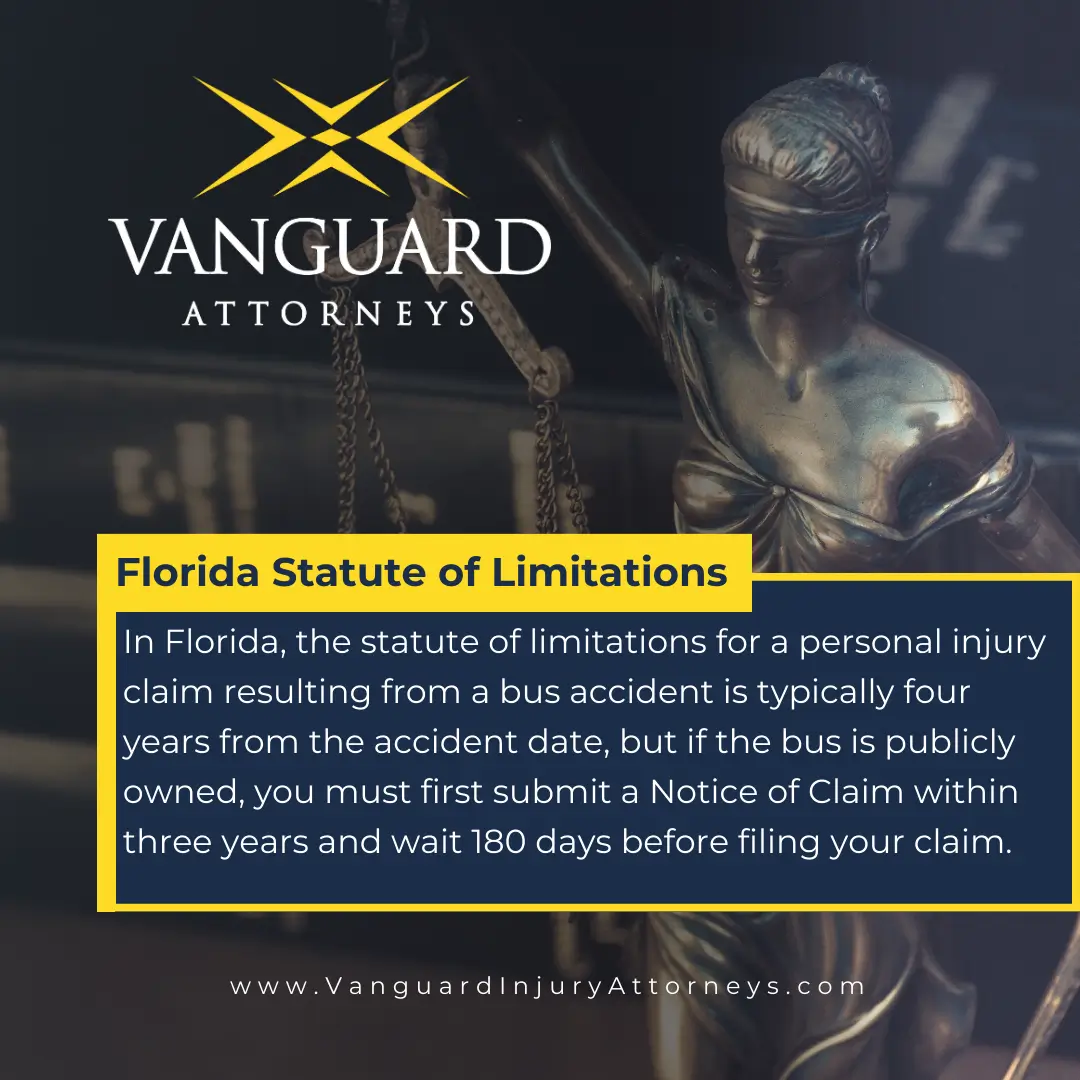 Florida Statute of Limitations
If you were injured in a bus accident in Florida and you want to submit a claim, you must do so within the statute of limitations time frame. In general, you have four years from the date of the accident to file a personal injury claim.
However, if you were injured on a public bus, owned by the city or government, the statute of limitations changes. If this is the case, you must file a Notice of Claim within three years of the date of the accident, and from there wait at least 180 days to file your personal injury claim.
Set up a free consultation with one of our Tampa bus accident attorneys today to get started building your personal injury case.
Who Can be Held Liable for a Bus Accident?
Bus accidents can be caused in several ways which can make it hard to determine exactly who is liable for the accident. The accident could be the fault of the bus driver, another motor vehicle driver, the bus company, the bus part manufacturer, or city or state road maintenance. Sometimes several parties can be found liable.
Determining and proving liability is essential to your case and gaining the compensation you deserve for your accident. However, establishing liability can sometimes be difficult as insurance companies and other lawyers will find ways to shirk responsibility so that they pay less in damages. It is important that you don't talk with any insurance adjusters or accept any money before talking with a lawyer. Call us today to explore your options so that you can seek out the full compensation you deserve.
Common Injuries in Bus Accidents
Bus accidents can result in serious injuries, whether you are a passenger aboard the vehicle or you are involved in a car accident due to a collision with a bus. Common injuries in these types of collisions include the following.
Internal bleeding
Organ damage
Broken bones
Sprains and torn ligaments
Burns and scarring
Lacerations
Some injuries can be so severe, they leave you affected for life, while others may affect you for a short period of time. Either way, you deserve compensation for these injuries that you would not have had to deal with otherwise.
What to do After a Bus Accident
Being involved in any type of motor vehicle accident can be nerve-wracking. If you are involved in a bus accident in Tampa, it is important to remember to stay calm and get help. These are a few steps you can follow:
Call 911 to report the accident and request medical help
Stay at the scene of the accident or somewhere safely nearby
If you are able to do so, gather any names and contact information from others involved and witnesses
Take photos of the accident scene if you are able to do so safely
Be sure to get checked out by the medical personnel that arrive on the scene
Contact your insurance company to notify them of the accident
Keep all documents and related information pertaining to the accident, these may be indispensable in any legal proceedings you choose to pursue
Causes of Bus Accidents
There can be several factors that contribute to bus accidents, the bus driver, other drivers, or even parts manufacturers can be at fault for an accident. Additionally, bad weather and poorly kept roadways can contribute to accidents.
Here are a few examples of bus accidents causes:
Distracted driving
Impaired driving
Driver fatigue
Following too closely
Speeding or reckless driving
Failure to properly check blind spots before switching lanes
Failure or malfunction of a vital part of the bus or motor vehicle
Poor road maintenance
Florida Bus Accident Statistics
Florida Highway Safety and Motor Vehicle (FLHSMV) defines a bus as "a motor vehicle with seating for transporting nine or more persons, including the driver". Additionally, it defines motor coaches and motor homes as bus-type chassis.
Data collected by FLHSMV shows that in 2019:
Bus Accidents caused:
7,862 no injuries
187 possible injuries
71 non-incapacitating injuries
10 incapacitating injuries
0 fatal injuries
Motor Coach Accidents caused:
162 no injuries
6 possible injuries
4 non-incapacitating injuries
1 incapacitating injury
1 fatal injury
Motor Home Accidents caused:
261 no injuries
16 possible injuries
17 non-incapacitating injuries
5 incapacitating injuries
3 fatal injuries
Data collected by FLHSMV shows that in 2020 there were
Bus Accidents caused:
4,535 no injuries
137 possible injuries
43 non-incapacitating injuries
7 incapacitating injuries
0 fatal injuries
Motor Coach Accidents caused:
108 no injuries
10 possible injuries
5 non-incapacitating injuries
1 incapacitating injury
0 fatal injuries
Motor Home Accidents caused:
230 no injuries
25 possible injuries
8 non-incapacitating injuries
6 incapacitating injuries
0 fatal injuries
Contact a Tampa Bus Accident Attorney Today
If you are involved in a bus accident, the Tampa bus accident lawyers at Vanguard Attorneys can help you recover the settlement that you deserve. Contact us today to schedule your free consultation and discuss your case with a Tampa bus accident lawyer. Our contingency fee policy means that you don't owe us anything upfront, and we only get paid if we win compensation on your behalf.