The Tampa truck accident lawyers at Vanguard Attorneys can represent your claim and help you secure the compensation you need to recover from your injuries. Our attorneys will fight to protect your best interests from consultation to settlement, supporting you on your path to recovery. Contact us today for a free case review.
Commercial trucks can inflict a lot of damage. These vehicles can weigh as much as 80,000 pounds, which is much larger and heavier than the average passenger car. If you are involved in a collision with a truck in Tampa, you can sustain catastrophic damage. In these situations, you deserve justice.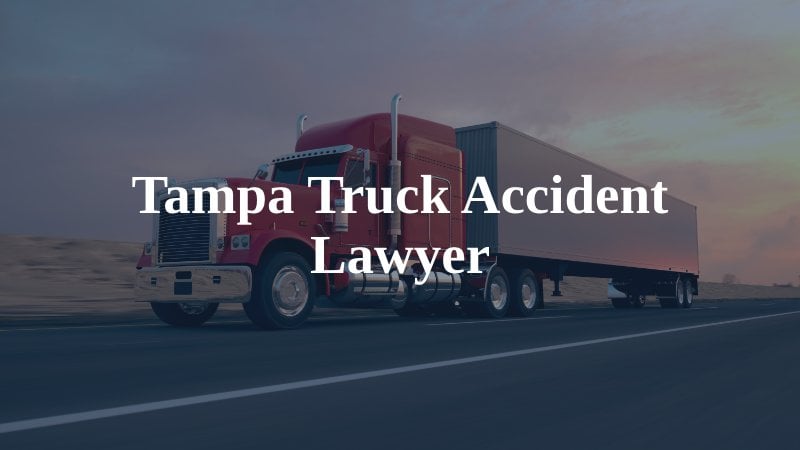 Navigate This Page
Why Choose Vanguard Attorneys?
Our Tampa trucking accident lawyers have decades of combined legal experience, advocating aggressively for the rights of truck accident victims throughout the state of Florida.
We understand how painful a truck accident can be. Our Tampa accident attorneys will handle your entire case so that you can continue your treatment, not focus on litigation.
We have a diverse staff with women and people of color in leadership positions. We will leverage our unique skills and experience to craft a compelling case in your favor.
Accident Case Results
$1.1M in a Tampa truck accident
$1M in a Tampa t-bone car accident
$490K in a multi-car collision on a Florida interstate freeway
You Need the Best Truck Accident Attorneys in Tampa
It takes more than a fancy website or a 1-800 number to learn all that you need in order to hire a Tampa truck crash attorney. Our clients will tell you that we value face-to-face meetings and phone calls with our clients.
When you litigate a trucking accident case it takes a lawyer who has knowledge of several different elements including:
Regulations on both the Florida state and federal level
Requirements for the truck both in terms of size and weight
Necessary driver's license mandatory to drive a commercial truck
The health standards that a truck driver must meet
The role of driver fatigue
What Damages Can I Recover in a Truck Accident Case?
Because trucks can inflict extensive damage, settlements in truck accident claims can be very high, sometimes reaching hundreds of thousands of dollars. If you are pursuing a truck accident lawsuit, you can recover two categories of damages: economic, which involves your financial losses, and non-economic pain and suffering.
Examples of damages in truck accident claims include the following.
Past and future medical expenses
Lost wages
Property damage
Emotional distress
Chronic pain
Loss of quality of life
Truck accident settlements depend on the losses that you experienced as an individual. If you sustain very severe injuries that require months of recovery time, you will likely recover a higher award than a person with minor injuries that require minimal intervention. Your Tampa truck accident attorney from Vanguard Attorneys can evaluate your claim and help you calculate your estimated settlement.
Liability in a Truck Accident Case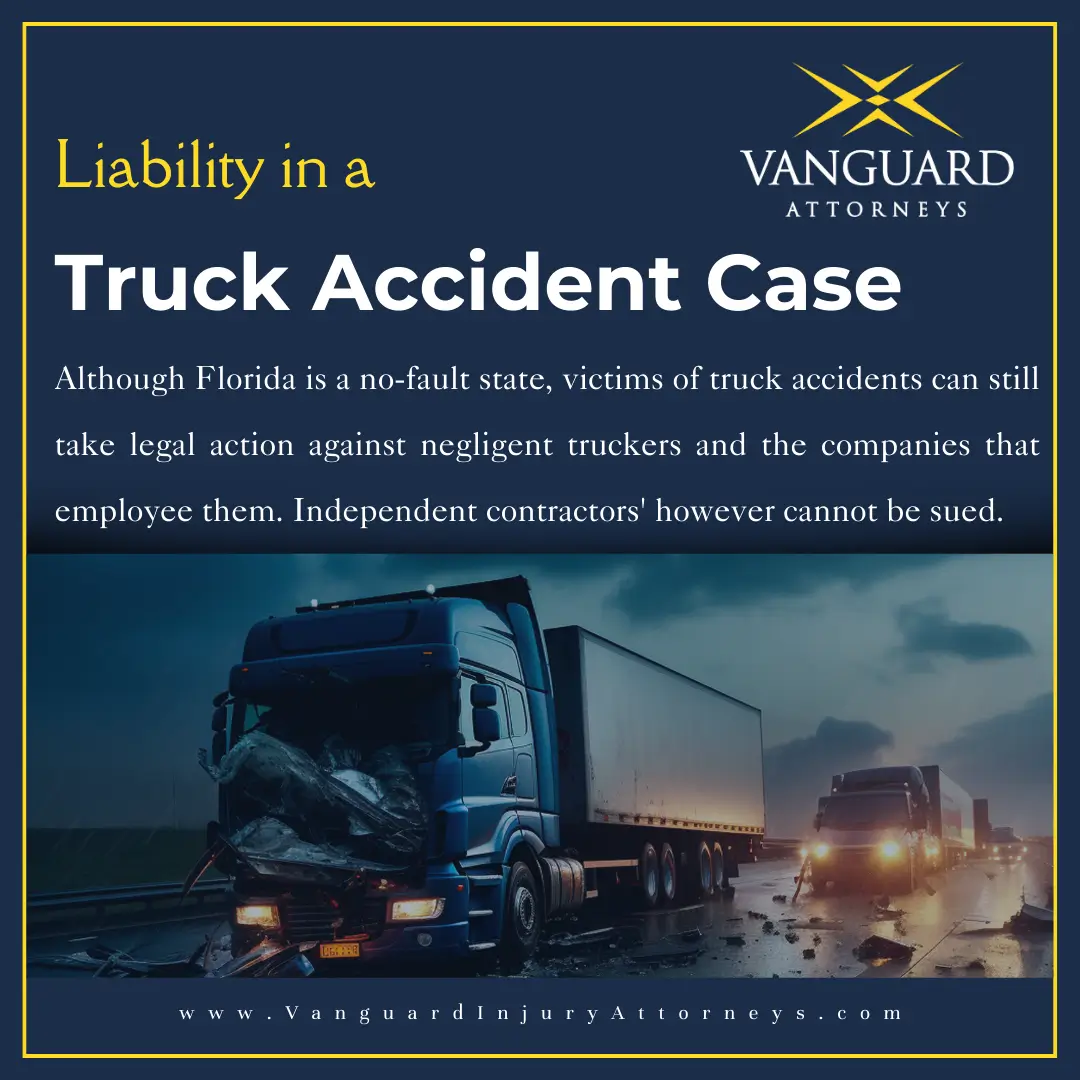 Although Florida is a no-fault state, victims of truck collisions are eligible to pursue legal action against negligent truckers and companies who cause accidents. If you are involved in a collision with a commercial truck, you could pursue a lawsuit against the at-fault parties in Florida civil court.
There are multiple parties that you can name in a truck accident claim. For example, if your accident occurred due to a drunk truck driver, you could file the lawsuit against the trucker. If the driver is an employee of a trucking company, you can name his or her employer in your claim as well. However, you cannot name a company in your claim if the driver is an independent contractor.
In accidents involving defective vehicle parts, you could pursue a lawsuit against the manufacturer, distributor, and even the retailer of the defective product. If the negligence of the company is responsible for your accident, you could pursue a claim against the entity even if the truck driver is an independent contractor.
Causes of Tampa Truck Accidents
Truck collisions can happen due to many factors. In some cases, these accidents occur due to circumstances outside of our control, like poor weather and low visibility. However, defective vehicle parts, negligent driving behavior, and trucking company negligence may also contribute to these serious truck collisions.
Truck Driver Negligence
Many truck accidents occur due to the actions of the driver. Truckers drive long routes and are often under severe pressure to meet deadlines. Lapses of judgment can occur, leading to a serious collision.
Common examples of truck driver negligence include the following.
Distracted driving
Fatigued driving
Speeding
Driving under the influence
Unsafe lane changes
Failure to yield the right of way
Sharp turns and unsafe maneuvers
Reckless and aggressive driving
Trucking Company Negligence
While a truck driver may seem primarily responsible, his or her employer may also contribute to the crash. Unfortunately, some trucking companies try to cut corners in order to save time and money, violating federal regulations in the process. Examples of trucking company negligence include the following:
Hiring drivers who do not have proper training
Failure to routinely inspect and maintain vehicles
Encouraging the use of improper cargo loading techniques
Pressuring drivers to drive for longer periods than allowed
Failure to respond to vehicle or equipment defects
What to Do After a Tampa, FL Truck Accident
The moments after a truck accident can feel dangerous and overwhelming. In these cases, it is important to seek help as soon as possible by calling 911. When the police arrive, speak to the responding officer if you can, and collect his or her information so you can find the accident report at a later date.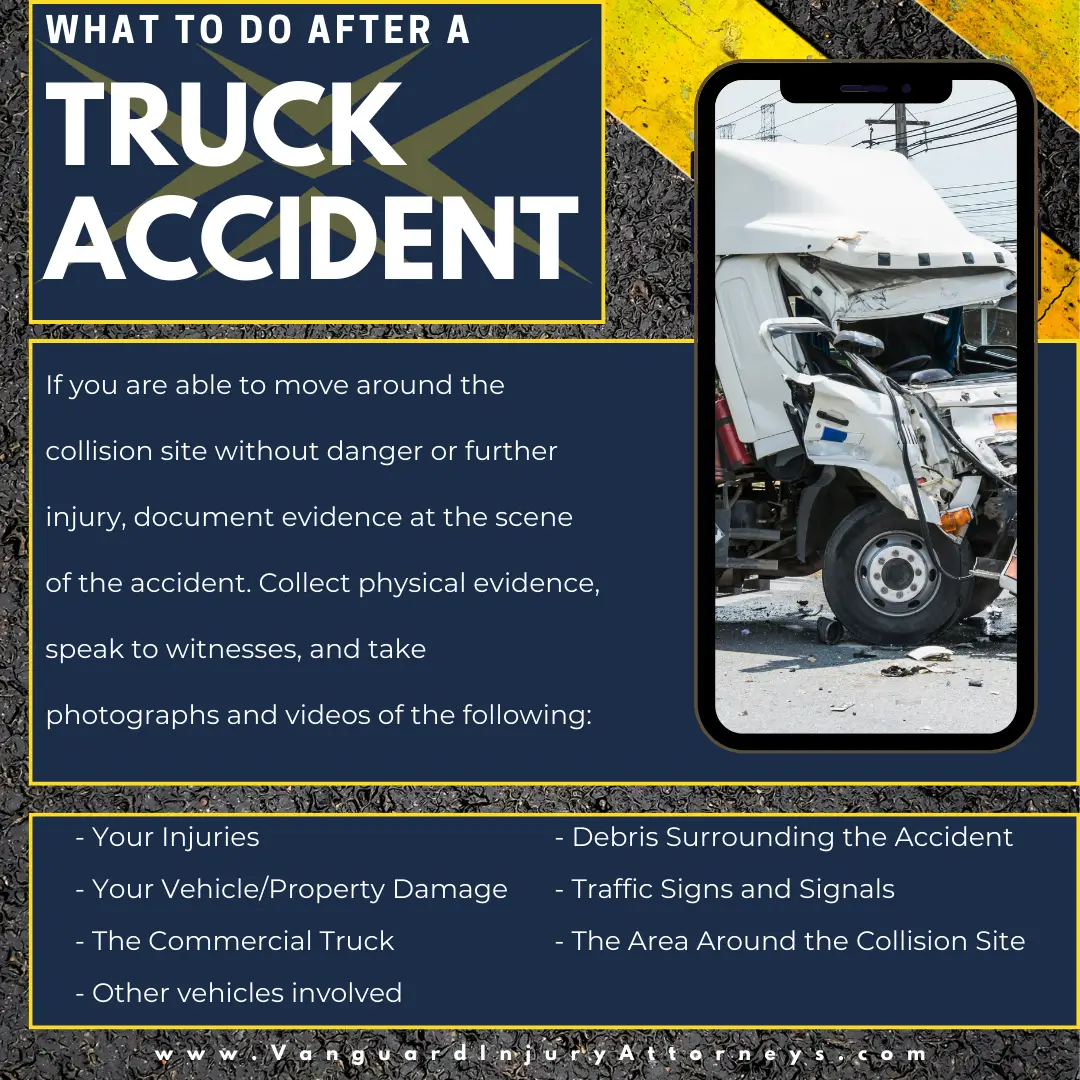 Next, seek emergency medical attention. You should always go to the doctor after a truck accident, even if you do not feel injured. Not only will your medical records serve as important evidence in your case, but you may also have underlying or internal injuries. To avoid potentially life-threatening complications, go to the hospital as soon as you can and save all records related to your treatment and injuries.
If you are able to move around the collision site without danger or further injury, document evidence at the scene of the accident. Collect physical evidence, speak to witnesses, and take photographs and videos of the following.
Your injuries
Your vehicle and property damage
The commercial truck
Any other vehicles involved in the collision
Debris surrounding the accident
Traffic signs and signals
The area around the collision site
Briefly exchange information with the truck driver as well. After you receive the treatment that you need, contact a Tampa truck accident attorney as soon as possible to discuss your next steps. Do not speak with an insurance company or trucking company representative until you speak with a Tampa truck collision lawyer who can represent your claim.
Contact a Tampa Truck Accident Attorney
Your first meeting with our team at Vanguard Attorneys costs you nothing! Our personal injury law firm works on a contingency basis, which means we only collect a percentage of your total recovery. Our team has the experience you need to help you in finding medical providers to guide your care for the injuries you suffered in your accident.
Your ability to get around to and from work may suffer an impact from your accident. Our truck accident attorneys in Tampa will help you resolve the damage done to your personal vehicle as a result of your accident.
If you are injured by a truck driver in Tampa, the lawyers at Vanguard Attorneys can help. Our firm can represent your case and help you secure the settlement that you deserve. Contact us today to schedule your free case consultation and discuss your legal options with a Tampa truck accident attorney. Our personal injury law firm is located in the Ybor City Historic District off of Nuccio Parkway and East 5th Ave. We proudly serve all of Florida, including Tampa, Brandon, Riverview and Town 'n' Country.
---
"Vanguard went way above and beyond. I would recommend them to anyone."

– Michael Terwilliger