Our team of Tampa catastrophic injury attorneys has decades of combined experience, which has given us the opportunity to handle even the most challenging kinds of cases. Our seasoned legal team includes young and passionate lawyers who are at the forefront of their field and infuse our practice with more efficient methods and innovative strategies.
Our small caseload allows us to give each client the high-quality attention their cases merit. This hands-on approach has led to numerous successful results. In fact, our Tampa personal injury lawyers have recovered millions of dollars in verdicts and settlements for our clients.
Navigate This Page
Why Choose the Tampa Catastrophic Injury Lawyers at Vanguard Attorneys?
We are experienced trial attorneys who are ready to go to court to fight for fair compensation for your catastrophic injury case, if required.
We will put you first during your injury case, personalizing our legal strategies to suit your unique needs and goals.
You will communicate frequently with your catastrophic injury attorney. You can call your Tampa catastrophic injury lawyer directly so that you are never left in the dark about your case.
Vanguard Attorneys takes catastrophic injury cases on a contingency fee basis. This means if we don't secure compensation for you, you won't owe us any attorney's fees.
How Can a Lawyer Help My Case?
When you file a catastrophic injury claim in Tampa, you will most likely go up against an insurance company in pursuit of financial compensation for your injuries and medical bills. Unfortunately, insurance companies are for-profit organizations that put their bottom lines first. Insurance companies use claims adjusters to try to convince claimants to settle for as little money as possible for their cases. While this can be harmful to any accident victim, it is especially devastating for someone with future foreseeable medical needs due to a catastrophic injury.
A Tampa catastrophic injury attorney can help with your case by negotiating fair and full financial compensation from an insurance company on your behalf. Your lawyer will have the power to take your case to trial in Hillsborough County, if necessary, to pursue maximum compensation. In addition, you can trust your lawyer to take care of the legal legwork of your case, such as collecting evidence and submitting your claim to the courts. You can rest and concentrate on healing from your serious injuries – or taking care of your loved one – while an attorney handles your case for you.
What Damages Can I Recover After Suffering a Catastrophic Injury?
If you are dealing with a catastrophic injury, we at Vanguard Attorneys can help you address this stressful situation. Our personal injury law firm can help you file an injury claim against the responsible parties or insurance company so that you can pursue the financial compensation you need to pay for injury-related costs, such as medical care, lost wages, physical therapy, emotional damages, and more. The compensation available to you may include:
Medical care. This pays for all past and future medical needs, including surgeries, therapies, rehabilitation, medications, medical devices, and live-in or around-the-clock care.
Lost wages. Damages for wages lost from the time the accident happened to the date you file the claim, including any tips, commissions, bonuses or employment opportunities.
Lost capacity to earn. Compensation to pay for future lost ability to earn a living wage due to a long-term or permanent disability.
Property damage. Payment to cover the cost of repairing or replacing damaged or lost property in an accident.
Emotional damages. Pain and suffering damages for your intangible losses, including physical pain, emotional distress, mental anguish and lost quality of life.
In some cases, punitive damages can also be recovered for catastrophic injuries in Tampa. This is an additional amount paid by the defendant as a form of punishment for especially wrongful or malicious acts, such as gross negligence or intent to harm. Discuss the potential value of your case with one of our Tampa catastrophic injury attorneys before accepting a fast settlement from an insurance company to ensure a fair payout.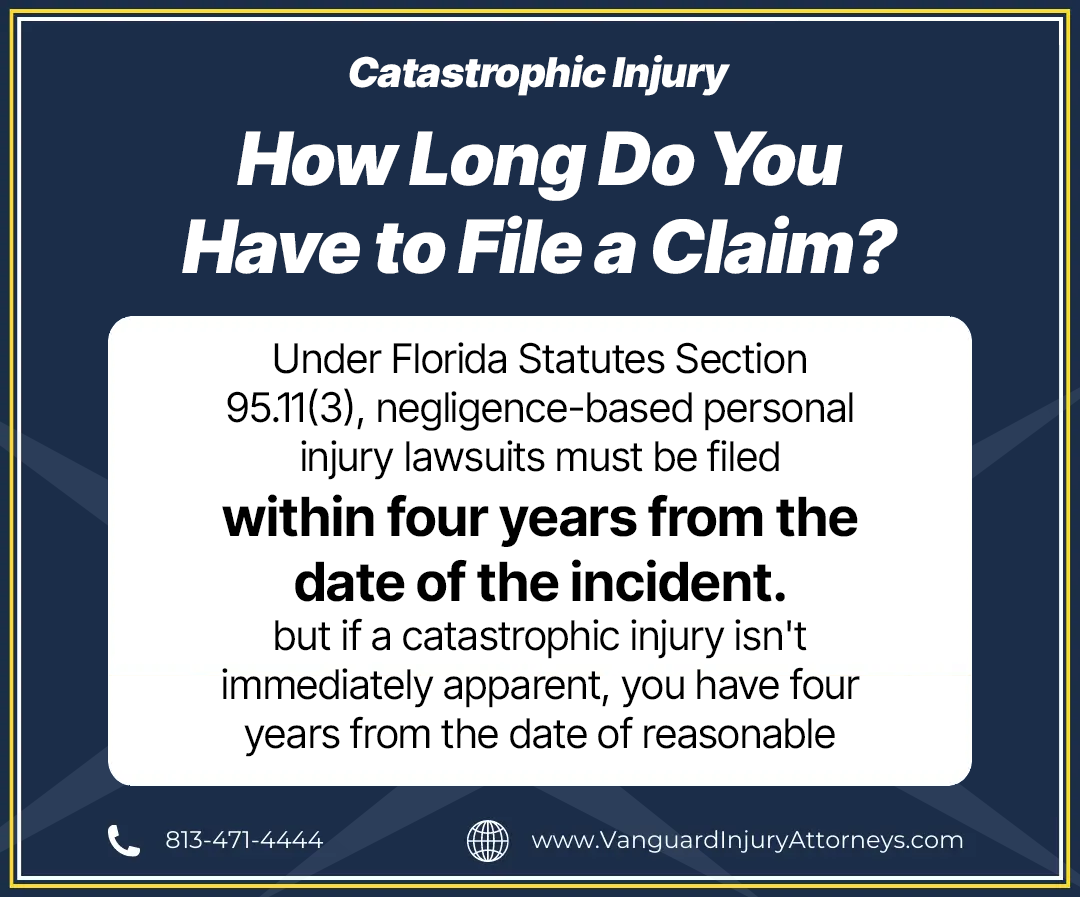 How Long Do I Have to File a Claim for a Catastrophic Injury?
Florida has a law known as a statute of limitations that places a strict deadline on the right to file an injury claim. With only a few exceptions, if you miss your statute of limitations, you will be unable to pursue compensation for a catastrophic injury in Florida. This is why it is important to contact an attorney in Tampa as soon as possible to initiate a case.
Under Florida Statutes Section 95.11(3), a legal action for a personal injury that is founded on negligence must be brought within four years. Typically, the clock starts ticking on the date that the accident takes place. However, if the catastrophic injury was not discovered right away, you will have four years from the date of reasonable discovery to file a claim.
What if I Was Partly At-Fault?
If you were partly at fault for your catastrophic injury, you can still recover partial financial compensation based on your degree of fault or negligence. Florida abides by a pure comparative negligence rule, which states that your percentage of fault will reduce your financial damages but not bar you from financial recovery entirely.
Since Florida uses a pure and not modified version of this rule, you can still recover partial compensation no matter how high your percentage of fault is for your accident. Even if you are apportioned 99 percent of fault for your catastrophic injury, you can still recover the remaining 1 percent of compensation from a defendant.
An example of how this law works is if you are found to be 15 percent responsible for your injury and your case is worth $100,000, your financial recovery would be reduced by your 15 percent of fault ($15,000) for a total of $85,000 awarded to you. While modified comparative negligence laws bar a victim's recovery at a certain percentage – such as 49 to 51 percent – Florida's law does not.
Types of Catastrophic Injury Cases We Handle
With almost a century of combined experience, our personal injury lawyers in Tampa have what it takes to handle any catastrophic injury claim, no matter how challenging. Our lawyers will carefully analyze your specific case and customize a legal strategy based on the laws and facts involved. We have handled injury cases involving:
Loss of limbs
Disfigurement
Severe burns
Hearing loss
Loss of vision
Nerve damage
Neurological damage
Birth injuries
If you or a loved one has been diagnosed with a catastrophic injury in Tampa, it is important to find an attorney with experience handling your type of case. Your Tampa catastrophic injury attorney needs to have hands-on experience to properly litigate your specific kind of claim
Common Causes of Catastrophic Injuries
One of the most common causes of catastrophic injuries in Tampa is motor vehicle accidents. In the state of Florida, the law regulates the way bicyclists and motorists share the roadway. For example, when a motorist passes a bicyclist, the driver must remain a minimum of three feet away from the cyclist. When motorists drive negligently, carelessly, or recklessly, bicyclists and motorcyclists on the road face the risk of suffering serious injuries. Unfortunately, when bicyclists are involved in such collisions, the results are often detrimental and life-altering. Such catastrophic injuries often require specialized and continuous medical care, which can be costly. The same is true when large commercial trucks or 18-wheelers are involved in motor vehicle accidents. Some of the most dangerous roads in Tampa in terms of catastrophic car accidents are I-4, Gibsonton Drive, Hillsborough Avenue and Dale Mabry Highway.
Besides traffic accidents, catastrophic injuries can arise in Tampa due to other types of serious accidents and injury risks, including boating accidents, slip and falls, construction accidents, diving accidents, dog attacks, firearm incidents, negligent security, medical malpractice, toxic exposure, dangerous and defective products, and workplace disasters. No matter what type of incident gave you or a family member a catastrophic injury, you may be entitled to financial compensation from the at-fault party in Tampa.
Contact Our Tampa Catastrophic Injury Attorneys For Help
If you would like to begin filing an injury claim, our catastrophic injury lawyers are ready to assist you in beginning the process. We will take care of all the details so that you can feel more at ease about the direction of your catastrophic injury case. Should you chose to entrust your Tampa personal injury case to our firm, you can feel confident in knowing your case is in good hands. Contact us today.