In 2020, 3,332 people were killed in motor vehicle crashes in Florida – the most road fatalities in the state since 2006.  However, this is not an isolated incident.  After years of decline, fatal crashes have been steadily rising since 2011.  In fact, 2020's numbers are nearly 42 percent higher than the 20-year low of 2,400.
Why have fatal crashes increased so dramatically, even as vehicle safety technology has evolved?  Many experts have agreed that a combination of factors may be to blame.  This includes the rise in distracted driving, the growing size of vehicles, and the increased performance of said vehicles, among others.
While the answer to 'why' is complicated, at Vanguard Attorneys, we set out to find the answer to 'where'.  Specifically, where are the most deadly areas on Florida roads?
We partnered with data analysis and visualization agency 1Point21 Interactive to analyze 20 years of fatal crash data.  During the study period, from 2000 – 2019, there were 54,402 fatal crashes in Florida, claiming the lives of nearly 59,000 people.  These crashes were distributed all over the state and occurred on nearly every type of roadway.
However, we identified nine five-mile stretches where a disproportionate number of fatal crashes took place.  Below, we examine the deadliest road stretches in Florida.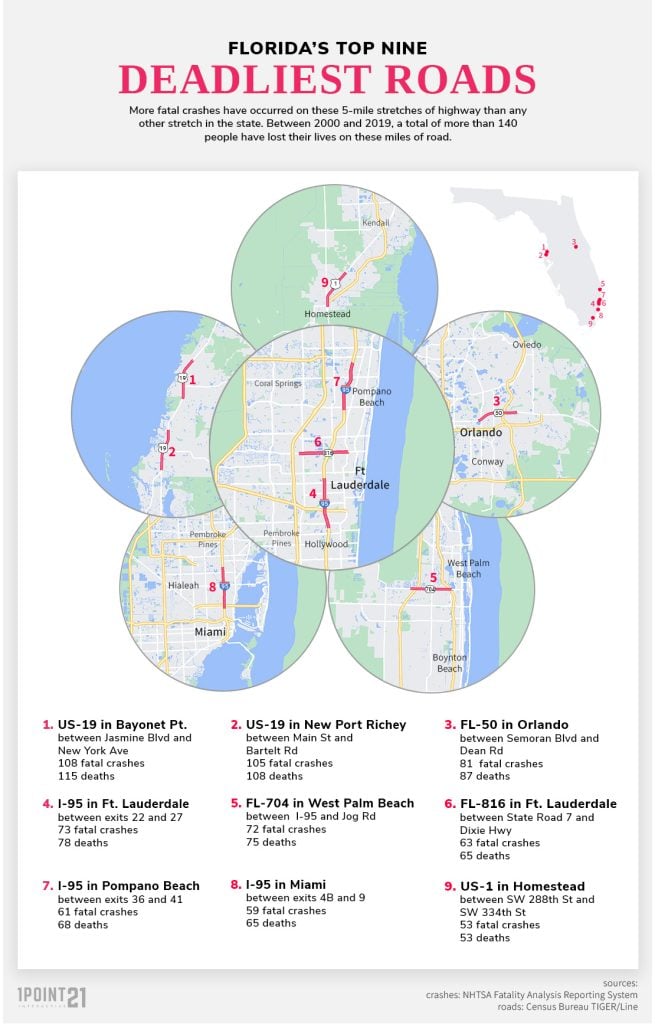 Data Table: The Deadliest Roads in Florida
| Rank | crashes | deaths | City | Road | Exits |
| --- | --- | --- | --- | --- | --- |
| 1 | 108 | 115 | Bayonet Point | US-19 | Jasmine Blvd – New York Ave |
| 2 | 105 | 108 | New Port Richey | US-19 | Main St – Bartelt Rd |
| 3 | 81 | 87 | Orlando | FL-50 | Semoran Blvd – Dean Rd |
| 4 | 73 | 78 | Ft Lauderdale | I-95 | exits 22-27 |
| 5 | 72 | 75 | West Palm Beach | FL-704 | I-95-Jog Rd |
| 6 | 63 | 65 | Ft Lauderdale | FL-816 | St Road 7 – Dixie Hwy |
| 7 | 61 | 68 | Pompano Beach | I-95 | exits 36-41 |
| 8 | 59 | 65 | Miami | I-95 | exits 4B-9 |
| 9 | 53 | 53 | Homestead | US-1 | SW 344th St-SW 280th St |
Interactive Map: Explore the Data
This map is interactive – zoom in and hover over each road segment to reveal more details.  If viewing on a mobile device, rotate to landscape mode for best viewing experience.
Just how deadly are these road segments? Consider that Florida has just over 180,000 miles of roadways.  During the 20-year study period, the 54,402 fatal crashes amount to just over .3 fatal crashes per mile of roadway.
The average on these nine stretches of road was 15 fatal crashes per mile – nearly 50 times that of all roads.
Of course not all roads are equal.  All of the roads that we identified are either primary or secondary roads, consisting of limited access interstate highways, U.S and State highways, and main arteries.  While many of these roads see significant traffic volume, the fact remains that more fatal collisions and traffic deaths occur in these areas than anywhere else in Florida.

#1 US-19 in Bayonet Point: From Jasmine Blvd to New York Ave
With 108 fatal crashes from 2000-2019, the five-mile stretch of US 19 from Jasmine Blvd to New York Ave in Bayonet Point is the deadliest road in Florida.
U.S. Route 19 runs for 264 miles along Florida's west coast and is among the most highly traveled arterial road in Pinellas and Pasco counties.  According to our analysis, the two deadliest places on Florida roads can be found on there, just a few miles apart. This road has been a focus of the Florida Department of Transportation, with efforts to improve pedestrian and bicycle safety.
While there has been substantial investment made toward improving the safety of the corridor, including crosswalk installations and construction, median modifications, and intersection improvements, traffic safety remains a serious concern – and the results of our study bear that out.

#2 US-19 in New Port Richey: From Main St to Bartelt Rd
Less than five miles from the number one road on our list, this section of US 19 in New Port Richey is the second deadliest place on Florida roads.  Stretching from Main St to Bartelt Rd, 108 people lost their lives in 105 fatal crashes.  As previously mentioned, the US 19 has and continues to be a focus of infrastructure improvements and traffic safety studies.

#3 FL-50 in Orlando: From Semoran Blvd to Dean Rd
With  81 fatal crashes and 87 fatalities, this area of FL-50 in Orlando – also known as E. Colonial Drive –  is the third deadliest road stretch in Florida.  It may come as no surprise to residents, as articles as far back as 2004 have reported the danger of this roadway.  One such Orlando Sentinel piece referred to E. Colonial Drive as a 'death trap'.
#4 I-95 in Ft. Lauderdale: From exit 22 through 27
The first of three separate sections of I-95 to make the list, this stretch was the site of 73 fatal crashes that killed 78 people.  While exits 22 and 27 are the closest ramps to the start and finish, this segment essential begins just south of the Fort Lauderdale International Airport and ends just before NW 6th Street.

#5 FL-704 in West Palm Beach: From the I-95 interchange to Jog Rd
Also known as Okeechobee Blvd, the fifth deadliest segment on our list runs from I-95 to N. Jog Rd in West Palm Beach.  From 2000-2019, 75 people were killed in fatal crashes. This major thoroughfare sees heavy traffic and is home to several problematic intersections.  In fact, in March 2022, a pedestrian was struck and killed while crossing Jog Road on Okeechobee Blvd.

#6 FL-816 in Ft Lauderdale: From St Road 7 to Dixie Hwy
An area of FL-816 in Ft Lauderdale – also known as W Oakland Park Blvd – comes in at number six with 63 fatal crashes and 65 deaths.  Beginning just before State Rd 7, the segment terminates at N. Dixie Hwy.  Again, this road has continued to be an issue as evidenced by a fatal crash near the 900 block of West Oakland Park Blvd in August 2021.

#7 I – 95 in Pompano Beach: From exit 36 to 41
The second area of I-95 on the list, this section can be found in Pompano Beach from just after SW 3rd St to just beyond NE 48th St.  61 fatal collisions claimed the lives of 68 people here.

#8 I-95 in Miami Beach: From exit 4B to 9
With 59 crashes and 65 fatal crashes, the third I-95 stretch comes in at number eight.  Located in Miami, this section runs essentially from NW 32nd St to just beyond NW 111th St.

#9 US-1 in Homestead: From SW 344th St-SW 280th St
Lastly, number nine on the list can be found in Homestead.  Also known as Homestead Blvd and Dixie Hwy, this section of US-1 saw 53 fatal crashes that killed 53 people. US -1 is the main artery to enter the Florida Keys.
Methodology and How to Use This Information
Our study is based on fatal crash data from the National Highway Traffic Safety Administration (NHTSA) for the years 2000-2019.  Despite the fact that Florida saw over 3,300 fatal crashes in 2020, they are rare and more difficult to predict in comparison to injury and property damage-only crashes.  However, by using 20 years of data, we believe that the results of our study are clear and credible.
Many of the roads on our list are already (or have already been) subject to safety studies and infrastructure improvements.  We hope that this data can be useful to municipalities in the future to help continue to improve safety on Florida roadways.  Further, our more immediate goal is for our study to inform individual motorists and pedestrians on areas of increased risk.  We believe that having such information can help them make choices, adjust behaviors, and perhaps even amend their routes in ways that keep them safer.
If you would like to report on the findings or republish this study, please link to this page to provide attribution.