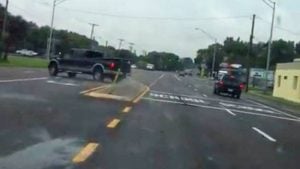 On Monday, March 24th, a woman who claims to have been the victim of a road rage tailgating incident also says she witnessed "instant karma" when the driver of a pickup truck elected to pass her on the right on wet pavement and then lost control of his vehicle and crashed on a grassy median.
The incident took place when the woman behind the wheel, identified by local Tampa area news stations as Tracy Sloan, took out her smartphone and began filming video of a large, Heavy Duty Ford pickup truck tailgating closely behind her on US Highway 41 in Hillsborough County.
Sloan claims the pavement was slick and that she was just trying to drive carefully. The driver of the pickup truck, later identified by Florida Highway Patrol as Jeffrey White, age 33, appeared to stay on her tail. The video then shows White pulling up alongside Sloan in the right lane and making an obscene gesture. In the video, as White pulls ahead and appears to cut her off, he loses control of his truck and skids into the left turning lane and across a wide grassy median. The truck then crashed into a light pole.
Troopers said Sloan ultimately pulled to the side of the road and waited for help to arrive, but White fled the accident scene on foot. On March 26th, Florida Highway Patrol arrested him for leaving the scene of a traffic crash, careless driving, and failure to wear a seatbelt. The video, posted on YouTube and entitled "Redneck Karma," has already had almost 1.2 million views.
Safe driving etiquette and many state laws require motorists to drive in the right lane on highways and interstates and use the left lane to pass.
Some viewer comments posted on news websites featuring the story allege that both drivers are guilty of unlawful, unsafe behavior. Other comments criticize Sloan for not moving over to the right lane and for using her cell phone to shoot video while her vehicle was still in motion. Respectively, many user comments also agreed that White's reaction was grossly inappropriate and unsafe.
References: