Yes, it is illegal to drink and drive on a golf cart in Florida. You can get a DUI while driving a golf cart under the influence.
In Florida, golf carts have become more than just fairway transportation—they're a common sight in neighborhoods, beach communities, small towns, and even big cities like Tampa. A common question at social gatherings when someone arrives on a golf cart is: "Can you get a DUI driving a golf cart in Florida?" The answer is Yes.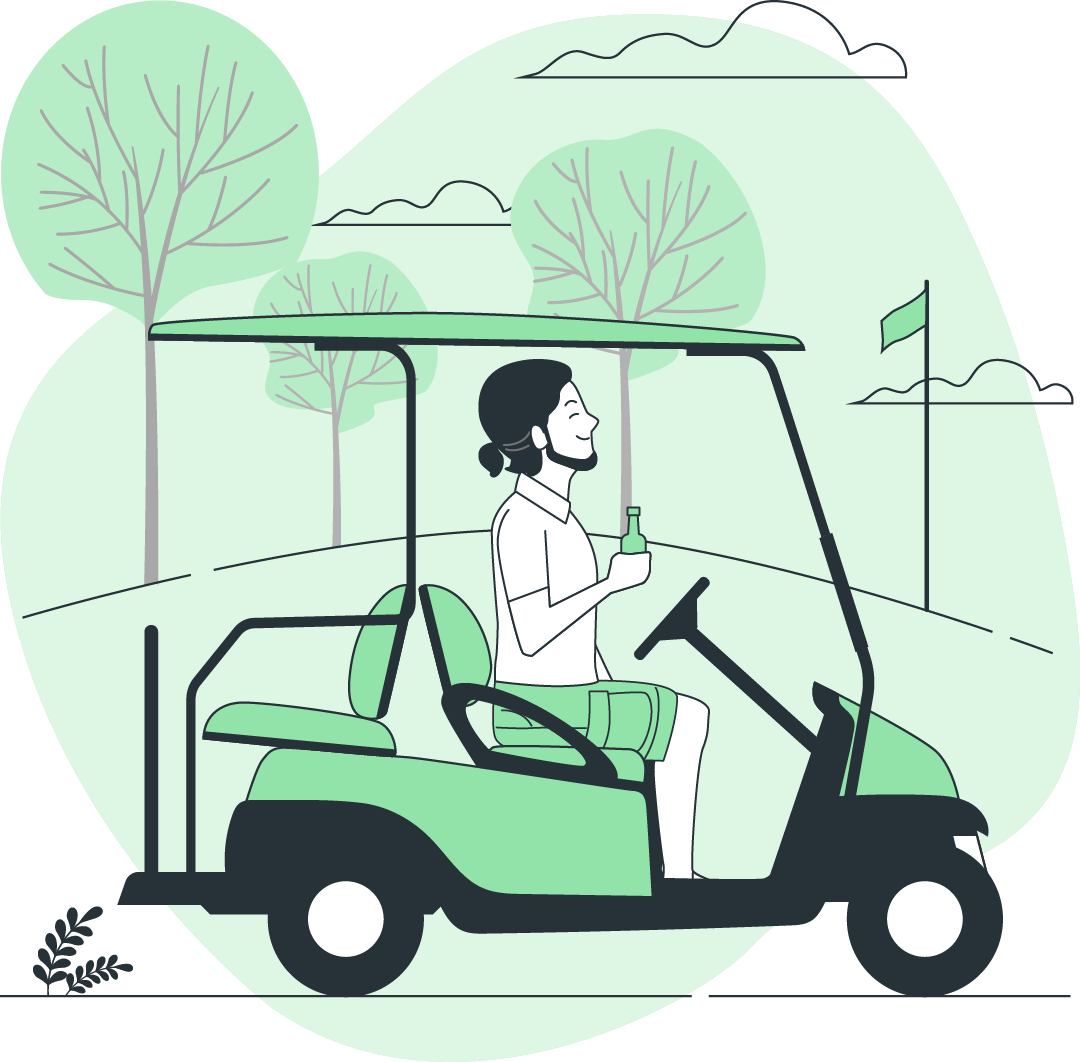 DUI Laws Apply to Golf Carts in Florida
Contrary to popular belief, operating a golf cart under the influence is subject to the same DUI laws as driving a car. This includes potential fines, license suspension, mandatory alcohol education programs, and even the possibility of imprisonment.
Florida's DUI laws are strict and apply to all motor vehicles, including golf carts. Driving a golf cart under the influence is a serious offense, carrying potential legal consequences that should not be underestimated. If you are driving a golf cart under the influence, you may be arrested.
When someone chooses to drive a golf cart while under the influence, they endanger others in the community in addition to putting their own health at risk. Our Tampa personal injury lawyers have seen firsthand the injuries and heartache families suffer after a golf cart accident. Operating a golf cart while drunk is not only unsafe, it's illegal. Make the right decision, don't drink and drive any vehicle!
Recent News About Golf Cart DUI Arrests
In September 2023, the Monroe County Sheriff's Office arrested a 20-year-old individual, James Jackson, for driving a Key West Golf Club golf cart under the influence. The arrest occurred after reports of a drunken golf cart driver leaving a gas station, leading to a traffic stop on U.S. Highway 1. The sheriff's office reported finding several opened and unopened bottles of alcoholic drinks in the golf cart, along with visible damage, including dents, bent portions, a missing windshield, and damage to the front tires. Further complicating matters, the Key West Police Department is investigating damage to the Key West Golf Club course and a stolen golf cart. Jackson now faces a myriad of charges, including DUI, larceny, vehicle theft, criminal mischief/property damage, possession of alcohol while underage, and possession of a fake ID. This case serves as a noteworthy example of the legal consequences individuals may face when driving a golf cart under the influence and the potential escalation of charges based on additional offenses committed during the incident.
Source: https://www.wtsp.com/article/news/crime/florida-dui-golf-cart-key-west-20-year-old/67-f16dba9f-abfc-4f5d-a86f-de582d771920
Former Florida Panthers coach Andrew Brunette was arrested near his Boca Raton home on suspicion of drunken driving in a golf cart. The incident unfolded when a Broward Sheriff's Office deputy ticketed Brunette's illegally parked golf cart outside Kahuna Bar & Grill in Deerfield Beach. Observing Brunette leaving the bar unsteadily on his feet and slurring his speech, the deputy overheard his wife advising him not to drive due to the police presence. Despite this, Brunette was later spotted driving the golf cart, running two stop signs, leading to a traffic stop in Boca Raton. Initially denying driving and claiming his wife was behind the wheel, Brunette, seated in the driver's seat, started roadside sobriety tests but abruptly walked off, requesting his attorney. Ultimately, he refused to submit to a breath test, adding layers to the legal complexities of the case. This incident exemplifies the potential legal consequences individuals may face for DUI, emphasizing the importance of adhering to traffic regulations and law enforcement instructions.
Source: https://www.wptv.com/sports/former-panthers-coach-andrew-brunette-arrested-on-dui-charge-in-golf-cart
Responsible Golf Cart Operation
To keep yourself and others safe, operate your golf cart responsibly. Respect speed limits, don't drive recklessly, and never operating a golf cart while under the influence.
Ultimately, the answer to the question is yes—you can get a DUI driving a golf cart in Florida. At Vanguard Attorneys, we advocate for responsible and informed use of golf carts. If you find yourself facing legal issues related to injuries which occur as a result of an intoxicated (or simply negligent) golf cart driver our team of personal injury attorneys is here to provide the expert guidance you need.